Top Benefits Brokers and Corporate Wellness Programs in Tennessee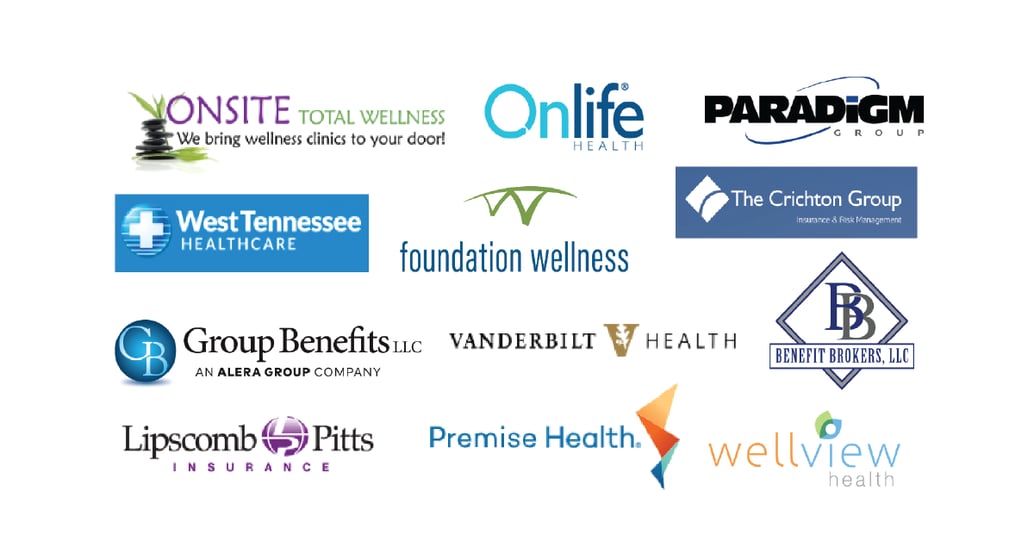 More organizations recognize workplace wellness is a key strategy to boost employee health, engagement and productivity. To deliver on these programs, check out these Tennessee-based brokers and wellness companies that deliver corporate programs.
As a former benefits adviser, I know first-hand that clients look to their broker to provide guidance and support beyond standard benefits and insurance coverage. They are also looking for effective ways to control health costs and attract and retain good staff - wellness is a great option but it's important to recognize the level of wellness expertise can vary.
I'll be the first to admit that as a broker some may say they are a 'wellness expert' because 'wellness' is in their job title and they have some general knowledge about health and wellness; however, it's important to provide 'expert advice' to clients which means giving them access to resources with in-depth knowledge and training in health and wellness promotion... it's more than just a title.
But let's be clear, wellness expertise can include options:
Introducing clients to your in-house coordinator (if you have one) OR
Partnering with a third-party, wellness company that specializes in providing workplace wellness programs OR
Simply introducing a client to a third-party wellness provider.
There is choice!

Looking to Expand Wellness Program Offerings?
Why Tennessee Providers?
You may wonder why Tennessee providers was our focus for this post? Good question!
CoreHealth is getting ready to attend the upcoming Workplace Benefits Renaissance Conference in Nashville, TN on Feb 20-22nd and this got me wondering if wellness programs are a common offering by brokers in the Tennessee area. So, I started doing some research and decided to share it in this post. I specifically sought larger Tennessee-based brokers that appear to have a comprehensive wellness program (promoted on their public corporate website or company LinkedIn profile) and resources (either in-house or via a third-party) to support and implement their client's health and wellness strategy.
CoreHealth is the
wellness technology vendor
for global
wellness providers
, including insurers and brokers providing wellness services, so I was pleasantly surprised to see there are numerous wellness leaders in the region - both brokers and providers.
Tennessee-Based Benefits Brokers and Their Wellness Programs
Here we consolidated some of the larger Tennessee-based brokers that offer comprehensive workplace health and wellness services to clients. Each has their own unique programs and services so please contact them directly to learn more. Continue reading to the end of this post to see additional Tennessee-based wellness providers and US-based providers.
The descriptions are excerpts from their company LinkedIn page or corporate websites and are listed in alphabetical order:
Benefit Brokers, LLC
Note: While there was little information about wellness programs and services on The Benefit Brokers corporate website and LinkedIn company page, they did mention they provide a range of wellness and preventative health initiatives in the following areas:
Smoking succession

Nutritional labels

Walking and FitBit programs

Humana Go365 promotions

United HealthCare Rally & Motion promotion

Aetna Healthy Connections promotion
The Chrichton Group
Note: While there was little information about wellness programs and services on The Chrichton's Group corporate website and LinkedIn company page, they did mention they provide comprehensive services in the following areas including wellness. Please contact them directly for further details.
Employee Benefits Consulting
Actuarial Services
HR Consultation
Compliance
Benchmarking
Health Advocacy
Wellness (Note: while wellness was noted on their website, CoreHealth was unable to confirm the scope of their wellness programs/services.)
HR Technology
Affordable Care Act Analysis
Location: Nashville, TN
Paradigm Group
Paradigm Group | OneDigital Health and Benefits has earned a reputation for excellence in strategic design and delivery of employee benefits for some of Tennessee's most recognized employers. Paradigm Group can help your organization provide more value to your employees by developing an overall wellbeing strategy. They begin by working with your organization's leadership to determine the organization's goals and evaluate its current wellness offerings.
Gain senior level support
Support implementation of wellness committee
Assess culture and review data to identify target initiatives
Assist in establishing program vision, objectives, and branding
Recommend appropriate wellness initiatives
Paradigm provides ongoing program support, program evaluation and catered recommendations.
Location: Nashville, TN
Contact: Jaclyn Pollock at jaclynpollock@paradigmgroup.net
Group Benefits LLC – An Alera Group Company
Group Benefits LLC can help you find the right wellness program vendor to meet your needs, develop strategies to actively engage employees, and measure the success of your program.
Wellness Options Include:
Participation-Based Programs
Outcomes-Based Programs
Employee Assistance Programs (EAPs)
Health Risk Assessments
Health / Lifestyle Coaching (onsite, web, or telephone based)
Smoking Cessation
Weight Management
Disease Management
Financial Counselling
Location: Memphis, TN
Lipscomb & Pitts
Lipscomb & Pitts will assist with the creation of a wellness strategy and selection of a program to meet your specific needs. A successful program will create a culture of wellness within the organization.
Location: Memphis, TN
Not on our List?
We are sorry if we missed you. Please email marketing@corehealth.global and we would be happy to add you.
Other Tennessee-Based Providers of Corporate Wellness Programs
In addition the brokers mentioned above, here is a list of corporate wellness companies that deliver wellness programs to corporate clients.
Foundation Wellness LLC
Foundation Wellness, LLC is a Nashville-based company, providing onsite wellness services throughout Middle Tennessee. They are a community of exercise physiologists, registered dietitians, trainers, health coaches, group-exercise instructors, and other professionals, who help Tennessee businesses and organizations increase their productivity as they improve the bottom line.
Location: Nashville, TN
Onlife Health
Onlife Health brings end-to-end simplicity to population health and wellness, connecting and integrating people, technology, and benefit design through our user-friendly engagement platform to guide members to the next right thing to do in their health care journey.
Specialties include: Dedicated Health Coaching, Health Assessments, Worksite Health and Wellness, Onsite Services, Positive Living, Expert Tips and Tools, Health Promotion Efforts, Life Strategies, and Health Challenges
Location: Brentwood, TN
Onsite Total Wellness
Onsite Total Wellness will work with you each step of the way to implement a wellness program that is easy for you to administer and successfully achieve high employee participation and satisfaction rates. Wellness programs include: flu shot clinics, biometric screenings and stress management.
Location: Shelbyville, TN
Premise Health
Premise Health is the world's leading direct healthcare company. For over 50 years, they have helped organizations around the globe prioritize workplace health and safety by establishing a program to prevent and respond to work-related injuries and illnesses. Premise Health offers occupational health, biometric screening, vaccines, wellness coaching and so much more.
Specialties include: Onsite Health Centers, Primary Care, Occupational Health, Wellness, Employer-based Health Centers, Worksite Health, Patient-centered medical home, Pharmacy, Physical therapy, Laboratory services, Dental care, Vision care, Radiology, and Health coaching and wellness.
Location: Brentwood, TN
Vanderbilt Health

Vanderbilt Corporate Relations offers streamlined access to Vanderbilt University Medical Center and the Vanderbilt Health Affiliated Network for corporate partners. They work as an advocate for partners when care is needed, and provide best-in-class health and wellness information for employees.
Vanderbilt provides the following corporate health and wellness programs:
Location: Nashville, TN
Wellview Health
Wellview Health simplifies healthcare for employers and employees. Wellview is a healthcare continuum management company that is changing the way people access their healthcare. From wellness services to chronic condition care and everything in between, their proprietary high touch / high tech model helps consumers navigate the complexities of healthcare to create measurable outcomes. They provide a simple, convenient and single trusted source for navigation of all things health, resulting in the highest employee utilization rates in the industry.
Location: Nashville, TN

West Tennessee Healthcare
West Tennessee Healthcare is a public, not-for-profit organization. Their anchor hospital is Jackson-Madison County General Hospital
They provide on-site Employee Clinics and Wellness Services including:
Other Health and Wellness Services offered on-site
Health Risk Assessments
Disease Management
Population Health Management
Tobacco Cessation
Exercise is Medicine Program
Health Coaching and Goal Setting
Education Sessions
Ergonomics Testing and Job Analysis
Physical Therapy Services
Team Building Exercises
Workplace Wellness Challenges
LIFT Wellness Center Memberships at a Discounted Corporate Rate
Behavioral and Mental Health Services
EAP Services and Contracts
Location: Jackson, TN
Contact: Shelley Hayes, Corporate Wellness Manager, at 731.422.7902 or shelley.hayes@wth.org.
Other Wellness Providers
In addition to the Tennessee providers noted above, also discover these health and wellness providers:
Top 10 US Benefit Consultants and their Employee Wellness Programs
Top US Disability Management Companies and their Wellness Programs
These top US disability management companies work hard to get employees back to work healthy and well. Discover which companies also offer wellness programs to encourage holistic health.
EAP Providers
While employers tend to associate Employee Assistance Programs (EAPs) with providing counseling and support to employees to overcome personal issues but you may not know that many EAPs also provide wellness corporate solutions too! Check out our list of EAP Providers That Offer Wellness Corporate Solutions.
All of these employee wellbeing specialists are can help your organization and its employees enjoy greater health, lower absenteeism, and increase productivity.
Your Wellness Technology Partner
CoreHealth helps leading wellness providers design, deliver and administer their wellness solutions for corporate clients using our wellness management software. We would be excited to power your programs!
We make health and wellness fun and efficient!
About CoreHealth Technologies
CoreHealth Technologies Inc. is a leading all-in-one corporate wellness platform trusted by wellness providers to power their health and wellbeing programs for 3+ million employees worldwide. At CoreHealth, we believe that developing the best employee wellness programs is all about giving providers the right code, design and access to best-in-class innovations. With the most customization, integrations and reliability of any software in its class, CoreHealth's powerful platform lets users focus on growing great wellness companies. For more information, visit the CoreHealth website.
About The Author
CoreHealth Marketing
CoreHealth Technologies Inc. is a total well-being technology company trusted by global providers to power their health and wellness programs. Our wellness portals help maximize health, engagement, and productivity for 3+ million employees worldwide.