Top California Wellness Companies Delivering Employee Health Programs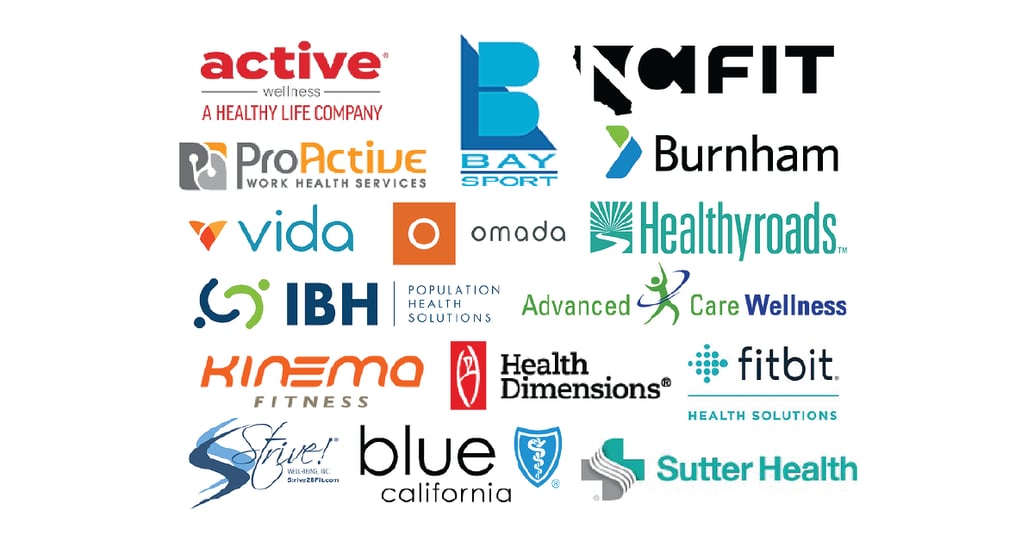 These leading California-based corporate wellness companies help employers design and deliver their workplace wellness programs throughout the state and beyond. Read on to learn more.
CoreHealth is the wellness technology vendor for global wellness providers, including corporate wellness companies, insurers and brokers providing wellness services. We've consolidated some of the larger California-based providers that offer comprehensive workplace health and wellness services to clients (some of which are our customers). Each has their own unique programs and services so please contact each provider directly using the links below to learn more.
Also, check out our other listings of providers in Texas, Florida, Kentucky and Tennessee.
Descriptions are excerpts from their company LinkedIn page or corporate website and are listed in alphabetical order:
Active Wellness
Active Wellness understands that attracting and retaining your talent is a high priority in a competitive job market. You can count on them to make it their priority as well. Active Wellness's fitness and wellness management model enables them to provide an enhanced, sophisticated, and technology-supported corporate wellness offering to encourage a healthy, happy and ACTIVE workforce. Since 1991, their expertise and innovative wellness solutions have delivered real results to their Bay Area partners for companies of all sizes. From employee memberships to onsite fitness programs and online wellness resources, our customized offerings empower healthy, happy workforces.
Head Office: San Francisco, CA
Advanced Care Wellness
Advanced Care Wellness (parent company is Dignity Health) offers comprehensive wellness programs that are customized to your populations needs. From assessment, risk identification and targeted interventions, they deliver results-guaranteed! Even if you have an existing wellness program, they can supplement your offerings, increase participation and results with scalable and flexible solutions.
Their services include:
Fitness Testing
Health Risk Assessments
Disease Management & Smoking Cessation Programs
Health Education & Health Fair organization
Physician Speakers
Safety Training
On-site Flu Vaccinations
Wellness Challenges
Health Coaching
Medical Claims Analysis
Custom Web Portals
Head Office: Bakersfield, CA
BaySport
BaySport Wellness Programs include services and tools to help your employees (and their families) pursue a healthy lifestyle and make informed health care decisions.
Health Screenings: BaySport believes that offering on-site health screening programs provides individuals with valuable personal information about their health. The beauty of on-site screening programs is that BaySport can provide immediate health related data, and take advantage of that "teachable moment" with the responsive audience (the participant).
Incentives & Rewards: BaySport has created a number of wellness "games" for clients aimed to enhance a healthy approach to lifestyle choices (diet and exercise), encourage a team effort, promote a company product launch, or tie in with a seasonal event. They work with clients to develop innovative and creative programs that suit the individual needs of the corporate wellness project.
Nutrition Services: BaySport is able to enhance your corporate wellness program with on-site or online nutrition services - the ideal combination to get results.
Massage chairs: BaySport also offers a quality massage experience whether you select their On-the-Run Chair Massage or Full Body Massage. Each are customized to meet the personal needs of the participant. BaySport Massage Therapists are certified by the National Certified Board for Therapeutic Massage and Bodywork and/or members of the American Massage Association.
Locations in: Los Gatos, Redwood City and San Francisco, CA
Blue California
Blue Shield of California's Wellvolution SM offers online and in-person programs for general well-being and disease reversal. It leverages the power of your lifestyle and combines it with decades of research and leading technology. You set your goals, and they'll help you achieve them with an easy-to-follow plan and all the tools and support you need along the way. Some of their programs and services include weight loss, stress management, fitness and smoking cessation programs and telemedicine services.
Head Office: San Francisco, CA
Burnham Benefits
Burnham Benefits Insurance Services is a privately held, full-service employee benefits consulting and brokerage firm headquartered in Irvine, Calif. The firm is among the largest in the state to specialize solely in strategic employee benefits consulting and brokerage services. Burnham's highly developed wellness plans are geared toward helping employees make healthy lifestyle changes. Using their defined planning process, Burnham will develop a program that speaks to your company's unique needs.
As part of their strategic approach to wellness, they will:
Assess organizational/individual risks and identify strategies that will mitigate those risks.
Engage your employees to ensure a successful launch and sustained momentum.
Develop a culture of health awareness and accountability through organizational alignment.
Measure and evaluate outcomes to improve your plan year over year.
Wellness program services include:
Health Risk Assessment
Biometric Screenings
Wellness Website
Worksite Evaluation and Employee Surveys
Health Coaching
Wellness Seminars/Webinars and Health Fairs
Incentives
Health and Fitness Activities
Newsletters and Targeted Communications
Head Office: Orange County, CA
Fitbit Health Solutions
Fitbit Health Solutions develops health and wellness solutions to help increase engagement, improve health outcomes, and drive a positive return for employers, health plans and health systems.
Products include: Wellness, Health Coaching and Devices
Head Office: San Francisco, CA
Health Dimensions
For 27 years, Health Dimensions continues to be the leader for Corporate Health & Lifestyle Expos. Health Dimensions creates exciting, educational, and interactive Health Fairs and Wellness Programs for some of the most renowned Corporations, School Districts, Government Agencies, and Hotels in the country that include a wide variety of unique, interactive and educational exhibits, numerous types of health screenings and a year long program of free quarterly lunchtime speaker programs.
More than 250,000 people per year attend 500 Heath & Lifestyle Expos coordinated by Health Dimensions. Their company employs a staff of twenty-two, and they've grown into a successful, thriving, and expanding business that proclaims the message of health and wellness to working men and women in three states.
Head Office: Carlsbad, CA
Healthyroads
The Healthyroads® population health program is one of the nation's largest, serving millions of members and hundreds of employer groups and health plans across the country. With a mission to empower individuals to live healthier and longer, we offer a broad portfolio of evidence-based population health and wellness solutions which inspire, engage and challenge our members, and deliver meaningful outcomes for our clients.
Healthyroads provides close collaboration and consultation with real people who will keep your long-term population health goals and objectives always in the forefront. Their customized approach ensures the long-term engagement of their members with programs such as weight management, fitness, nutrition, stress management and more designed to meet the demands of both employers and their employees, as well as health plans and their members.
Services include:
Tailored wellness programs

Configurable incentive plans

Dedicated support team

Member reporting
Head Office: San Diego, CA
IBH Population Health Solutions
Integrated Behavioral Health (IBH) provides innovative technology based tools and effective treatments for employee assistance, workers compensation programs, substance abuse and opioid addiction, behavioral health, and wellness management. For over 30 years, IBH has serviced 20,000+ customers and touched the lives of 7 million employees and their families. With a focus on positive outcomes through clinically validated methods and tools, IBH reduces claims and costs for organizations while improving the lives of its people.
Specialties: Behavioral Health & Chemical Dependency Plans, Employee Assistance Programs, Psychiatric Disability & Disease Management, WorkLife Services, TPA Services for Self Insured Groups, Resilience Coaching, Wellness Programs, Workers Comp Opioid Programs, Workers Comp, and Opioid Risk
Head Office: Costa Mesa, CA
Kinema Fitness
Kinema Fitness are best in class fitness center operators with a pure love for wellness in the pursuit of creating an incredible experience for our members. Kinema Fitness is a full service fitness management and staffing company that specializes in providing a high level of fitness services and design consulting to the commercial real estate and corporate markets.
Specialties include: Corporate Fitness Center Management, Fitness Center Design, Group Fitness Classes, Fitness Assessments, Web based platform, Personal Training, Equipment Sourcing and Procurement, Wellness Challenges, Employee Engagement, and Wellness Programming.
Head Office: Los Angeles, CA
NC Fit
NC Fit Workplace Wellness is headquartered in the Bay Area and was founded in 2008 on principles of fitness, community, accountability, and integrity. It is their mission to offer the best possible service aimed at helping people of all fitness levels improve their quality of life. They offer community-based strength and conditioning fitness programs have been proven effective globally and deliver unparalleled results.
NCFIT offers Corporate Wellness for several companies, some of which include Western Digital, Silver Spring Networks and GoPro.
Head Office: Bay Area, CA

Omada Health
Omada Health has pioneered digital behavioral medicine: a new approach to tackling the growing epidemic of type 2 diabetes, heart disease, and obesity. Our online programs combine world-class science, technology, and design to inspire and enable people everywhere to live free of chronic disease.
Their approach has been embraced by major employers across the country, including Costco and Iron Mountain, as well as leading health plans, such as Kaiser Permanente and Humana.
Specialties: Disease Prevention, Diabetes Prevention, Digital Health, Behavioral Science, Digital Therapeutics, and Health Benefits
Head Office: San Francisco, CA
Paragon Body
The Paragon Body Corporate Wellness Program is an all-encompassing program focusing on all the pillars of wellness including: Mindfulness, Stress Relief, Activity, Mobility, Pain, and Nutrition.
They offer Wellness Classes, 1:1 consulting, and Weekly Health Reminders. The goal of their program is to connect employees through wellness, building a strong community around our classes and webinars. We want to be part of the team, and provide the platform to create strong bonds from instructor to employee and bring the team together through our program.
Nutrition consulting
Yoga, full-body fitness, meditation, stretch and breathe, cooking classes, stress relief, and work-life balance webinars
Wellness newsletters
Team challenges
Specialty: Wellness classes and webinars
Head Office: San Jose, CA
ProActive Work Health Services

ProActive Work Health Services provides a full continuum of services which ensures your employees have immediate access to all levels of care under one umbrella -It is a convenient, cost-effective approach. From treatment of simple lacerations to complex back injuries, your employees receive specialized care for their work-related injuries, with control of all treatment and follow-up.
Comprehensive education programs including wellness education series, work injury seminars, supervisor training, and more.
Head Office: Los Angeles, CA
SelfHelpWorks

SelfHelpWorks is the leading provider of online video-based cognitive interventions to reduce population health risk. The evidence-based interventions are designed to eliminate unhealthy behaviors that cause chronic disease. Delivered digitally, they provide an engaging simulated "live" user experience based on live courses taught by certified instructors for almost two decades. They are primarily offered by corporate wellness programs, health plans and health/wellness providers. The interventions consist of pre-recorded video training/coaching delivered by experts in their field, supported by interactive quizzes and other tools designed to increase engagement and mindfulness. Interventions are currently available for smoking/tobacco, weight/unhealthy eating, inactivity, stress and resiliency, alcohol, sleep and diabetes.
While SelfHelps isn't a full service wellness provider, their digital programs are widely used in wellness programs. SelfHelpWorks is also a CoreHealth partner. Their digital programs seamlessly plug into our wellness technology.
Head Office: San Diego, CA
Strive Well-Being
Strive Well-Being is a nationwide fitness and wellness management company that provides a full spectrum of on-site fitness and wellness services. Their team serves a variety of customers in the workplace wellness, community health, and government markets. Their solutions address population health management, physical activity, fitness, nutrition, stress management, strength and conditioning, injury prevention, physical rehabilitation, physical therapy, mental health, and musculoskeletal issues. Ultimately, they provide the boots-on-the-ground and can fully administer and coordinate a turnkey wellness program. As a recognized partner by the Centers for Disease Control and Prevention (CDC), their evidence-based programs improve the culture of health, increase measurable levels of engagement, and contribute to reductions in health risks.
Head Office: San Diego, CA
Sutter Health
Sutter Health is one of the nation's leading not-for-profit healthcare networks, which includes award-winning physician organizations, acute care hospitals, surgery centers, medical research facilities and specialty services. They also offer Occupational Health Services including accident and injury treatment, testing and screening and a comprehensive Employee Assistance Program that gives employees and managers 24/7 support on topics including mental health issues, legal or financial questions and drug and alcohol problems. Sutter Employer Program also provide wellness programs such as on-site health fairs and lunch-and-learns to make health information and services accessible to your busy workers.
Head Office: Sacramento, CA
Vida Health
Vida Health is a virtual care company that combines a human-centric approach with technology to address chronic and co-occurring physical and behavioral health conditions. They provide personalized chronic condition management combined with health coaching and therapy through a mobile and online platform that supports individuals in managing and significantly improving conditions such as diabetes, hypertension, obesity, depression, anxiety, etc. Vida is in the business of enabling self-insured employers, health plans and providers to take better care of their employees and members.
Head Office: San Francisco, CA
Not on our List?
We are sorry if we missed you. Please email marketing@corehealth.global and we would be happy to consider adding you.
Your Wellness Technology Partner
CoreHealth helps leading wellness providers design, deliver and administer their wellness solutions for corporate clients using our wellness management software. We would be excited to power your programs!
About CoreHealth Technologies
CoreHealth Technologies Inc. is a leading all-in-one corporate wellness platform trusted by wellness providers to power their health and wellbeing programs for 3+ million employees worldwide. At CoreHealth, we believe that developing the best employee wellness programs is all about giving providers the right code, design and access to best-in-class innovations. With the most customization, integrations and reliability of any software in its class, CoreHealth's powerful platform lets users focus on growing great wellness companies. For more information, visit the CoreHealth website or visit our YouTube Channel.
About The Author
CoreHealth Marketing
CoreHealth Technologies Inc. is a total well-being technology company trusted by global providers to power their health and wellness programs. Our wellness portals help maximize health, engagement, and productivity for 3+ million employees worldwide.