Top Health and Wellness Providers in Texas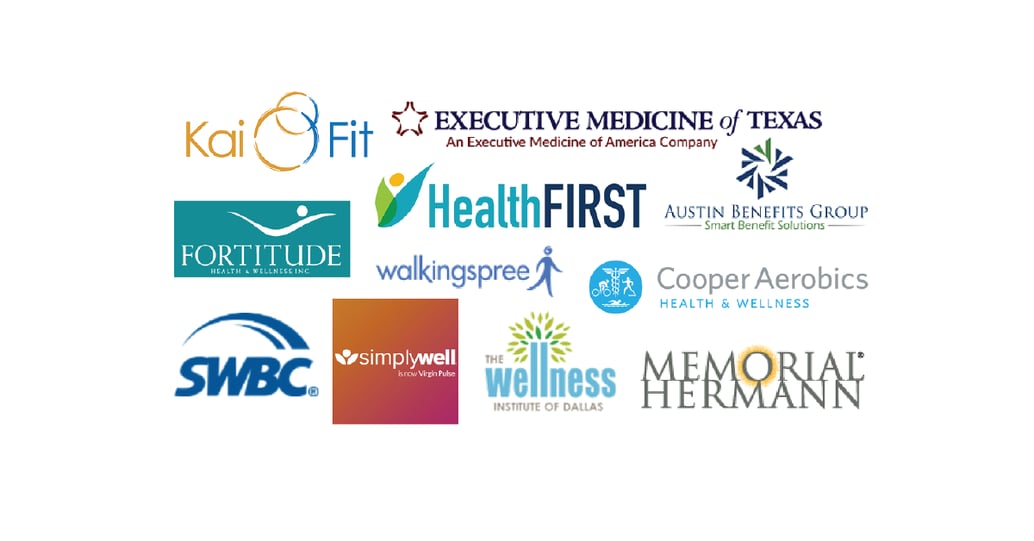 These leading Texas-based wellness companies help corporate employers design and deliver their workplace wellness programs in Texas and beyond. Read on to learn about these vendors.
CoreHealth is the wellness technology vendor for global wellness providers, including corporate wellness companies, insurers and brokers providing wellness services, and consolidated some of the larger Texas-based providers that offer comprehensive workplace health and wellness services to clients (some of which are our customers). Each has their own unique programs and services so please contact each provider directly using the links below to learn more.
Also, check out our other listings of providers in Florida, Kentucky and Tennessee.
The are wellness providers dedicated to delivering health and wellness programs and services to corporate clients as a core part of their business strategy.
Descriptions are excerpts from their company LinkedIn page or corporate websites and are listed in alphabetical order:
Cooper Wellness Strategies
Cooper Wellness Strategies, a Cooper Aerobics company, specializes in population health and wellness. A recognized authority in health and wellness, Cooper Aerobics has helped millions improve the quality and quantity of their lives since 1970.
Primary areas of service include:
Medical Fitness - Medically-integrated health and fitness centers play an integral role within a health care company's core business.
Corporate Fitness - In today's highly ambitious corporate world, the pathway to success is a strategic, well-designed, well-managed corporate fitness program.
Active Aging - In today's active aging environment, a well-designed, well-managed fitness and wellness program is not only key to the health and well-being of your residents, but also to your business' success.
Community Fitness - From high-end gated communities and active aging communities to homeowner association-managed communities to urban communities and municipalities, virtually all can benefit from a community fitness center. Benefits of such centers extend well beyond physical health.
Commercial Fitness - Traditional fitness center models are shifting. Operating a successful commercial fitness center in today's ever-changing, technology-driven environment is an attainable challenge.
Location: Dallas, Texas
Executive Medicine of Texas
Executive Medicine of Texas offers a number of different corporate health and wellness programs. We understand that healthy employees are more productive, have higher moral, and give your company an advantage over your competition.
Human Resource Directors and Benefit Managers find Executive Medicine of Texas to be a great fit for their executives, as well as their other employees. Corporate wellness initiatives work best if there are a number of options. It's important to choose a provider who understands corporate health and is dedicated to providing you with a custom program tailor made to the needs of your company.
Some of the Programs they offer include:
Executive Physical Programs
Concierge Health Plans
Path to Wellness
Retreats and Workshops
Speaking Engagements
Health fairs
Corporate "Lunch and Learn" wellness presentations
Weight loss contests with nutritional education
Work/Life balance coaching
Corporate health retreats
and much more…
Location: Southlake, Texas
Fortitude Health and Wellness Inc.
Fortitude Health & Wellness, Inc. is a boutique, full service wellness company specializing in Health Risk Assessments, (HRA's), wellness initiatives focused on prevention, and evidenced-based outcomes. Fortitude understands the correlation between risk and cost, and how to measure cost savings by reducing risks, which also includes benchmarking ROI and client satisfaction. Their wellness initiatives include participation tracking metrics, biometric measurements, behavioral change, employee satisfaction, incentives, and claims analytics; three A's (Assessment, Awareness, and Action). We implement program models that offer participants tools needed to develop healthy lifestyle habits and live a healthy life. We offer tailored approaches and provide "turn-key" delivery services to clients.
Location: Dallas, TX
HealthFirst TPA
HealthFirst is a third-party administrator specializing in helping private employers, government entities, and institutions provide complete, competitive benefits packages to their employees. They work with clients throughout Texas and serve employees in 49 states. Working with employers, consultants, and our vendor partners, we develop the healthcare solutions to best fit each group's unique employee population and company resources.
With Memorial Hermann Employer Solutions, you can choose from a customizable menu of health solutions to address your company's healthcare challenges.
Their wellness offerings include:
Health Perks
Health Risk Assessment
Wellness Portal
Health and Wellness Fairs
Health education and tips
One-on-one coaching
Individual treatment plans
Location: Tyler, Texas
KaiFit
KaiFit offers highly customized corporate wellness programs to fit the unique requirements, culture and goals of companies. Some of their services include:
Consultation on optimal build-out of on-site corporate fitness center.
Comprehensive implementation management, and staffing of on-site wellness programs tailored to fit your employees' needs and goals (i.e., bootcamp, core, strength, and yoga classes; chair massage; measurable quarterly weight-loss and fitness challenges, etc.)
Exclusive strength + fitness classes at Kaifit's location for smaller companies that lack onsite fitness facilities.
Location: Austin, Texas
Memorial Hermann Employer Solutions
Memorial Hermann Employer Solutions can assist your company and your employees with managing health and associated healthcare costs. Their comprehensive Health and Wellness Services help companies maintain a healthy workforce and reduce healthcare costs by identifying, addressing and reducing health risks before they turn into significant medical issues. These services also help employees improve overall health, by engaging members to be proactive in the management of their personal health and wellness through education, behavior modification, and health risk analysis.
Wellness programs include:
Biometric Screenings
Health Navigator
Health Coaching
Mental Health and Chemical Dependence Treatment Programs
Counseling
Healthy Living Programs
Location: Houston, Texas
SWBC Employee Benefits Consulting Group
SWBC provides customized health benefits and wellness programs that focus on the well-being of your employees. Headquartered in San Antonio, SWBC is a diversified financial services company providing a wide range of insurance, mortgage, and investment services to financial institutions, businesses, and individuals. With offices across the country, SWBC is committed to providing quality products, outstanding service, and customized solutions in all 50 states.
Their wellness programs include:
Access to wellness resources - You'll receive access to annual program calendars, monthly wellness newsletters, assistance with weight loss challenges that have been tailored to your workforce—plus much more.

Wellness Program Manager - as a value-added bonus to clients, you'll receive access to our Certified Wellness Program Manager that will take the time to learn your workforce and their habits, and who is ready for the challenge to create a successful and life-changing wellness program for your employees.

Their professional Wellness Program Manager can offer you and your employees tailored wellness programs, nutritional advice, and help guide you in scheduling biometric screenings—potentially helping to reduce and prevent illnesses and disease.

SWBC provides employee health and benefits clients an unmatched level of complimentary wellness consulting and value-added services to help keep your organization strong and healthy.
Location: San Antonio, Texas
The Wellness Institute of Dallas
The Wellness Institute of Dallas has developed a premier wellness system which consists of nutritional education, smart meal preparation, metabolic evaluation, and fitness all conducted in a series of seminars which are tailored to your organization's particular needs. All major components of health are addressed with programs designed to improve:
Energy and Vitality
Digestion
Sleeping
Body Composition
Fitness & Strength
Anxiety / Depression
Chronic Pain
Hormonal Imbalance
Feelings of Well-Being
Location: Dallas, Texas
Viverae/SimplyWell (now Virgin Pulse)
In November 2018, Virgin Pulse, the largest global health and wellbeing company, announced that it acquired Viverae, a leading wellness management company focused on helping organizations improve and simplify health for their employees.
Virgin Pulse and SimplyWell have spent decades shaping the employee health and wellbeing market, with each company delivering best-in-class solutions and services tailored to the specific needs of their respective client bases. Together, the companies are focused on maximizing their collective experience and resources to deliver health and wellbeing engagement and outcomes at scale for employers and employees across a broad range of organizations. SimplyWell is now Virgin Pulse. The combined organization will be headquartered in Providence, R.I., and maintain an office in Dallas, Texas, along with five additional U.S. offices as well as global centers of excellence in multiple international locations, including Australia, Canada, the United Kingdom, Switzerland, Bosnia, Brazil and Singapore.
Location: Viverae was originally headquarted in Dallas, Texas
Walkingspree
Walkingspree is a leading corporate wellness company with 12 years of experience providing physical activity-focused, digital health solutions to improve employee and patient wellness. Our outstanding support makes the programs easy to implement and helps to drive our award-winning engagement.
Walkingspree is an innovative software-based wellness provider delivering customizable, physical activity-based programs on an open platform to corporations of all sizes. Their engaging and customizable walking programs bring wellness into the workplace or as digital health solutions.
They offer three corporate programs to serve small businesses to complex organizations.
Location: San Antonio, TX
Not on our List?
We are sorry if we missed you. Please email marketing@corehealth.global and we would be happy to consider adding you.
Other Texas Health and Wellness Resources
Work Well Texas provides guidance and resources to public and private employers to create a foundation for effective wellness programs. This approach creates healthier worksites to support healthy behaviors among employees. Work Well Texas is a free resource for people interested in exploring wellness and networking with other employers. Our team is here to support businesses, agencies, and staff to achieve a healthy workforce by creating a healthy worksite.
Your Wellness Technology Partner
CoreHealth helps leading wellness providers design, deliver and administer their wellness solutions for corporate clients using our wellness management software. We would be excited to power your programs!
We make health and wellness fun and efficient!
About CoreHealth Technologies
CoreHealth Technologies Inc. is a leading all-in-one corporate wellness platform trusted by wellness providers to power their health and wellbeing programs for 3+ million employees worldwide. At CoreHealth, we believe that developing the best employee wellness programs is all about giving providers the right code, design and access to best-in-class innovations. With the most customization, integrations and reliability of any software in its class, CoreHealth's powerful platform lets users focus on growing great wellness companies. For more information, visit the CoreHealth website or visit our YouTube Channel.