Top 10 US Benefit Consultants and their Employee Wellbeing Programs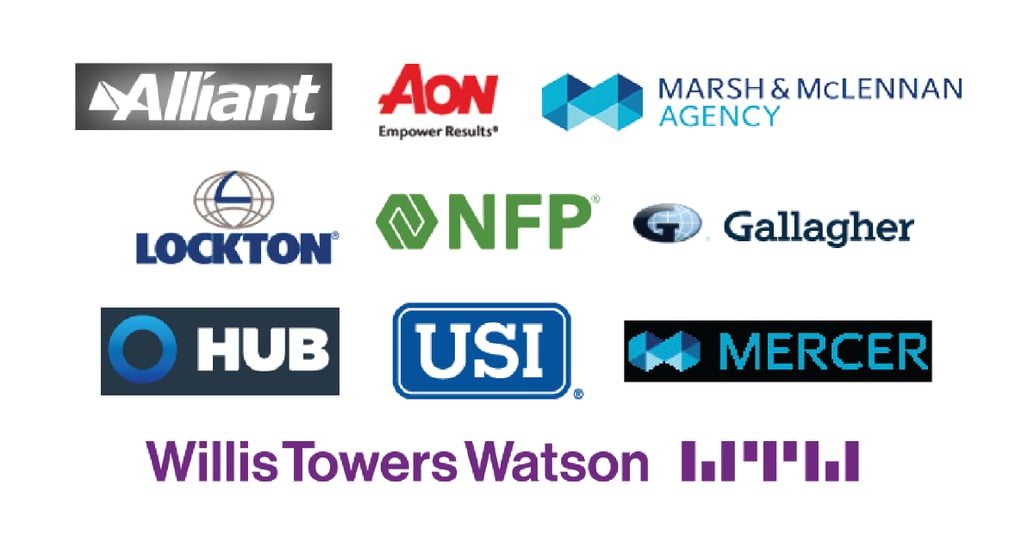 There is an increasing interest by benefits brokers to provide services beyond group benefits and retirement products. Here are 10 consultants with highlights of their workplace wellbeing programs.
Clients, including plan sponsors and administrators are asking for proactive ways to reduce insurance premiums and improve overall workplace health and productivity. They are looking for the guidance and support by their broker to help them develop and implement a formal workplace wellness strategy. The brokerages noted below highlight the caliber and variety of wellbeing programs offered by the largest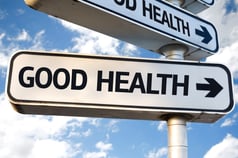 service providers; however, even if you are a smaller broker, you can still meet the wellness needs of your clients. Check out our Free Wellness Guide: Worksite Wellness 101 for Benefits Brokers to learn how.
This case study speaks to how a Florida-based broker grew their revenue offering health and wellness – with the help of CoreHealth's wellness software.
Leading Brokerages and their Wellness Services
The following is a list of the top 10 biggest US benefit firms (based on revenue reported by the Employee Benefit Adviser) with highlights about the workplace health and wellness programs they provide to client workforces.
Note: the information has been sourced directly from their corporate websites.
Aon Consulting – Employee Health and Benefits Consulting

Health care management fosters improved and holistic changes in your employees' health and productivity through well-thought-out intervention, reduced hospitalizations, and decreased accumulated lifestyle risks. Aon Hewitt delivers a turn-key solution. They have the consulting expertise and administrative resources to plan, design, execute and deliver your health benefits strategy. Their actuarial, medical, clinical, and legal expertise and influence with national carriers enable them to help you manage health care costs through a combination of approaches, including continued cost shifting and tougher negotiations with health plans.
Aon Hewitt benefit consultants provide industry-leading, integrated data warehousing services to help you address issues across the health benefits management spectrum:

Measurement and benchmarking
Audit services across medical claims, disability, pharmacy and medical management vendors
Government regulations and compliance
Health and productivity
Health plan performance
Purchasing efficiencies
Clients have access to our proprietary vendor RFI database, client-centric RFP process, predictive modeling technology—DxCG—for identification of high-risk members, customized survey tools to assess employee interest and readiness to change lifestyles and targeted employee communication templates.

AON Planning and Strategy services include:

Comprehensive strategic planning session
Wellness cultural readiness assessment
Root causes and avoidable claims cost analysis
Employee and executive data gathering
Benchmarking
Health risk or diabetes risk studies
Networks discount and fee benchmarking
Provider quality analysis
On-site or near-site clinic feasibility analysis
Marsh & McLennan Agency – Population Health Improvement

They have developed and implemented comprehensive wellness programs for many employers. They recommend developing a multi-year strategy, with each year progressing in the breadth and scope of the program and use of premium contributions and benefits to differentiate those who are actively participating and/or improving their lifestyles and controllable risk factors.
Employers must implement wellness programs to strategically impact medical trend and their health care dollars. They use fact based data and analysis which is critical to understand what to focus on, and their customized employee communications result in wellness programs being done "with employees" instead of "to employees" which leads to greater success.
They'll create training, educational events and initiatives that target specific well-being areas to start improving your employees' lives and your bottom line today.
Additional Services:

On-site training
Free seminars on well-being topics
Lockton Cos. – Employee Health & Wellbeing

Health and wellbeing are tightly linked. That's why many employers are finding it helpful to look beyond traditional medical benefits to address some of the challenges that affect their employees' wellbeing. At Lockton, they help companies like yours create program that focus on:

Physical wellbeing, such as managing or avoiding chronic conditions
Mental health concerns, such as depression or stress
Social issues, such as childcare and work-life balance
Environmental factors, such as occupational safety
Economic worries, such as personal debt

Their employee benefits consultants will help you identify your company's key issues, set measurable goals, and develop targeted strategies. By designing a tailored health and wellbeing programme that demonstrates your commitment to your employees, Lockton Benefits can help you:

Reduce absenteeism
Improve morale
Increase retention

Alliant Insurance Services – Health & Productivity

As pioneers in this space, Alliant developed a proprietary process-driven approach to create tailored, effective, measurable health and productivity programs based on your organization's employees, culture, and budget. Their highly experienced team of clinicians and wellness consultants help you design, implement, and measure ongoing results for your health and productivity program. Employees are engaged through tailored communication strategies and incentive programs that help them make informed care decisions and healthy lifestyle choices.
Clients with a long-term program like this in place have claims costs that outperform trends and report positive cultural shifts. It just makes good business sense to let Alliant create a custom program that boosts the health and security of you and your employees.

HUB International – Employee Wellness Programs and Consulting

To develop a wellness program that supports your employees' physical, mental and financial health, they'll collaborate with you on a process that starts with an assessment of your workplace culture and unique needs. They'll find out what is driving your benefits plan costs and identify the employee health risk areas that will help you target your wellness program for best results.
Then, they'll present health and performance initiatives that will generate those results in productivity, cost containment and employee health and well-being. And they'll help you roll out those initiatives, supported by consistent communications to maximize employee engagement.
Foundation data can be produced through self-reported and professionally analyzed evidence. Claims analysis can produce a clear picture of where your organization can improve employee health and productivity, while alleviating costs and liability.
Health risk assessments and employee surveys educate and engage employees. Asking employees to help shape the wellness program demonstrates your organization's commitment to their good health.
Employee and Family Assistance Plans (EFAP) are a key component to any organization's wellness program. Employees are offered 24/7 access to confidential, professional counseling services to help them address any health and wellbeing concerns. As an employer, you can access education sessions, while employees receive access to online tools and resources.
An online BeingWell portal provides integration between the EFAP, your benefits and retirement plans, and your organization's brand of wellness. A 100% proactive, educational tool for employees, BeingWell gathers a wealth of information about total health in a single online experience that reflects the top concerns in the workforce today. Multiple social media platforms promote wellness at home and at work, and provide direct access to local and national support resources.
A communication strategy and usage reports ensure that employee awareness and engagement are maximized for the highest potential return to your organization.
NFP – Health & Wellness Programs

No Canned Plans - Done right, a health and wellness program can engage employees and even help your bottom line by reducing absenteeism and health insurance costs. "Right" means forgetting about pre-packaged solutions that don't take into account your unique culture and the different types of people who make up your company. That's why they evaluate your company's:

Culture
Mission and vision
Demographics and psychographics
Strategic goals

They also ask your employees and leadership what inspires them each day and what aspects of wellness they care most about. Then you get a roadmap for an effective, evidence-based health and wellness program from NFP. A roadmap designed specifically for your company, not "everybody."
Realistic Costs with Real Returns - you need realistic budget parameters that take into account hard and soft costs. You should also be able to expect reasonable returns. NFP services help you make both a reality. They'll work with you on everything from building incentive programs to developing metrics and ROI targets to analyzing wellness and disease management platforms.

Wellness strategy development
Planning tools
Claim analytics, risk scores and ROI tracking
Wellness champion training
Incentive design and funding strategy
Customizable marketing resources, including employee wellness campaigns and newsletters
Intervention and program templates
A wellness research library, filled with case studies, best practices and more
Access to preferred wellness vendors and discounted pricing opportunities
RFP assistance for third-party wellness vendors
Strategic employee-facing communications
As you can see, these programs and services are very comprehensive and cover the range of wellbeing offerings (Shameless plug: some of these brokers use our corporate wellness technology to power their programs).
Already provide wellness programs to clients?
If you are looking for a more efficient way for your wellness team to design, deliver and administer your programs with the help of new, industry-leading technology, let's chat. We can discuss your current challenges to see if/how we can help you take your programs to the next level and build stronger relationships.
Just starting out with wellness?
We can help too! Our technology is used by leading wellness providers that work with brokers to service clients with wellness program design and support. We would welcome the opportunity to better understand your needs to help you deliver the most effective and affordable solutions available – either working with us directly or with one of our partner re-sellers.
About CoreHealth Technologies
CoreHealth Technologies Inc. is the leading corporate wellness platform trusted by more than 1000 organizations, ranging from medium-sized businesses to Fortune 500 enterprises. At CoreHealth, we believe that developing the best employee wellness programs is all about giving wellness companies the right code, design and access to the latest innovations. With the most customization, integrations and reliability of any software in its class, CoreHealth's powerful platform lets users focus on growing great companies. For more information, explore the CoreHealth website.
About The Author
CoreHealth Marketing
CoreHealth Technologies Inc. is a total well-being technology company trusted by global providers to power their health and wellness programs. Our wellness portals help maximize health, engagement, and productivity for 3+ million employees worldwide.