EAP Providers That Offer Wellness Corporate Solutions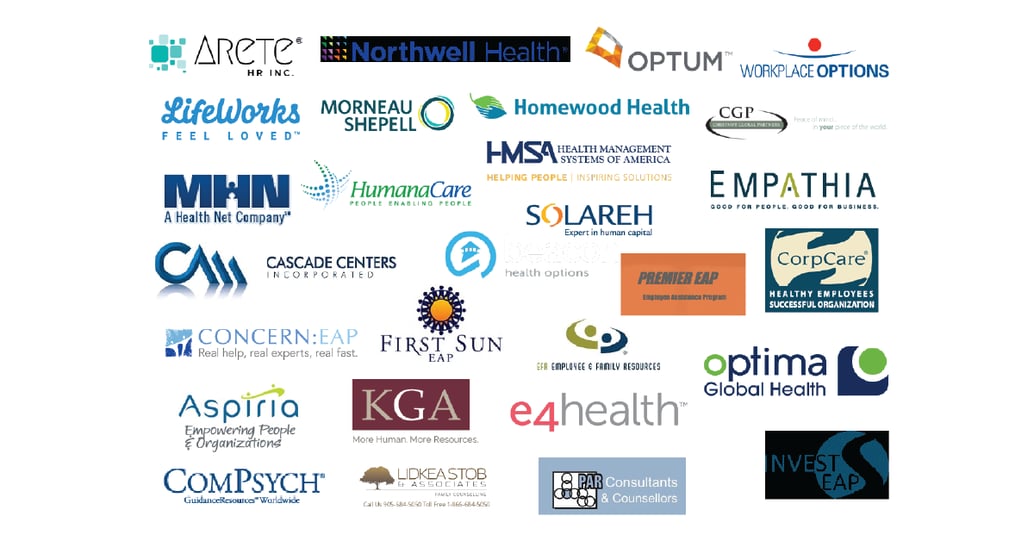 Employers tend to associate Employee Assistance Programs (EAPs) with providing counseling and support to employees to overcome personal issues but you may not know that many EAPs also provide wellness corporate solutions too!
We often hear from organizations looking for assistance with worksite wellness programs and didn't know their employee assistance program EAP providers offered wellness corporate solutions. Unfortunately, some EAP providers are missing out on potential revenue by neglecting to promote their wellness solutions.
Worksite wellness programs and EAPs work hand-in-hand since wellness programs often prevent issues that EAPs frequently cover, and reduce those issues before they become large-scale problems. EAPs are always great tools for maintaining a healthy employee population. but this is especially true when their full potential is achieved through wellness.
Largest EAP Providers
Below, we've compiled a list of EAP companies that offer worksite wellness programs in addition to more traditional counseling and support offerings, organized by the area they service.
Don't be surprised if the list seems long – wellness is becoming more common among the largest EAP providers as more businesses demand it.
Worldwide
Beacon Health Options
Beacon Health Options' has developed health education and disease prevention resources for program leaders that are easy to roll out and easy to integrate with any existing programs. These online support tools can help motivate and prepare individuals to make behavioral changes in support of their health—from good sleep to healthy weight management to heart-healthy practices, and more. They can also help organizations create and sustain a culture of health and engagement.
ComPsych
ComPsych's innovative health and wellness programs address the full continuum of emotional and physical issues of an employee to improve well-being and performance. HealthyGuidance® is a comprehensive solution to improving corporate health and productivity, empowering employees to make healthy lifestyle changes while helping them overcome barriers to success such as emotional and mental health issues. HealthyGuidance® wellness programs include health assessments, tobacco cessation, weight management, lifestyle coaching, worksite wellness challenges, incentive tracking, education and communications.
Chestnut Global Partners
Chestnut Global Partners offers a wide range of wellness services, including wellness coaching for topics such as diabetes to depression and everything in between, through secure video chat and telephone meetings. They also offer a workplace Health Risk Assessment, leadership trainings, organizational review, online behavioral health education resources, and more.
CGP Wellbeing Zone target areas include: mental resilience, finance, smoking, healthy eating, activity, alcohol, sleep, caffeing and water.
LifeWorks
LifeWorks (formerly known as Ceridian Lifeworks) provides a full wellness program with HRA, health coaching, online workshops, trackers and challenges, and also offers a private social network for employees to boost morale and increase social wellbeing.
Optum
Optum Global Wellness Solutions takes on wellness from a practical point of view, by facilitating biometric screening, on-site services, tobacco cessation programs, wellness coaching, health and well-being portal
Optum's Employee and Family Assistance Program (EFAP) assists employees and covered family members with personal problems affecting family life, work life or general well-being. For managers and supervisors, the EFAP helps address critical workplace events and crises.
Optum's manage population health solutions support employee wellness and guide them to the right care and resources, while managing costs.
Morneau Shepell
Morneau Shepell's organizational wellness program, called Total Health Solutions, is a robust approach to organizational health and wellness. It delivers:
Employee and family assistance programs to reduce costs related to employee health benefits, disability, and absenteeism
Fitness coaching
Individual health screening
Traumatic event support
A reach-out program called Echo that proactively finds employees entering new life stages (new job, having a baby, turning 50, etc.) and confidentially sends them information to their home to help them navigate change
Customized programs
Workplace learning solutions
Disability Management Services that give employers the resources across all areas of employee absense - casual absence, disability leave and workers' compensation
With Shepell, you work with one provider, delivering world class health and wellness solutions to support your people and organization.
Workplace Options
Workplace Options is the world's leading employee wellbeing provider. Headquartered in Raleigh, N.C., it is a company that provides emotional, physical, and practical support services to employees and their family members across the world. Through clinical services, work-life support, and employee wellness programs, Workplace Options provides services to help employees to be happier, healthier, and more productive at work and throughout their lives. Through Global Service Centers in the U.S., Canada, UK, Ireland, France, Portugal, Belgium, United Arab Emirates, India, Indonesia, Singapore, China and Japan, we provide support to more than 58 million people across 90,000 organizations across 200+ countries and territories.
Specialties include: Employee Assistance Programs (EAPs), Work-Life Programs, Wellness Services, and Employee Benefits
Canada
Aspiria
Aspiria offers seminars and one-on-one wellness counseling on a range of topics, including addiction recovery, anxiety, stress reduction, work-life balance, medical health, medical resource referral, and nutrition. They also offer educational resources for distribution to employees.
Empathia
Empathia EAP offers a program called LifeMatters® which combines EAP, work-life balance and wellness. These services can be focused on several wellness-related issues determined by the needs of the organization, but commonly include emotional and family counseling, tobacco cessation and interactive training programs. Empathia serves the US and Canada.
Culture1st®: Workplace culture assessment and optimization
Wellbeing Coaching: Individual behavior change support
Homewood Health
Homewood Health approaches wellness from two perspectives.
The first is keeping healthy employees at work including:
On-site health education presentations
Crisis management
Online health challenges and events
Wellness consultations
Health kiosks where a registered nurse temporarily comes to the workplace in a kiosk for personalized health consultations including blood pressure checks, BMI measurement, stress tests, etc.
Nutrition clinics where employees can meet with a dietitian for 20 minute sessions
The second is bringing unhealthy employees back to work, including:
Occupational health services
Health assessments
Case management
Lidkea Stob and Associates
Lidkea Stob and Associates is a family counseling firm that offers EAP and worksite wellness. Their worksite wellness programs are customizable but are based on counseling to increase wellbeing and self-care. These counseling sessions are done via SKYPE.
Optima Global Health
Optima EAP's wellness add-on offerings include health education activities, medical evaluations, trainings for managers, educational video clips, and workshops and conferences. Optima Global Health closely monitors the physical and psychological health of close to 1,000,000 Canadian employees.
PAR Consultations and Counselors
PAR Consultations and Counselors offers counseling on a range of health topics such as addictions counseling, family and workplace interventions, emotional disorder therapy, and wellness workshops, groups, and seminars.
Solareh (acquired by Morneau Shepell Dec 2016)
Solareh's employee wellness and performance improvement program is called Syntonia and include:

Seminars on a range of health-related topics
Interactive workshops designed to generate active participation by allowing participants to talk with a professional about a specific subject
Health and wellness booths staffed by experts
Clinics that allow employees to meet one-on-one with a professional to assess their physical health
Manager training that gives people-leaders an opportunity to improve their people-management skills and competencies
United States
Adventist HealthCare

Adventist HealthCare has partnered with LifeWork Strategies for customized employee assistance and wellness programs available across the U.S. Their employee assistance and wellness programs focus on determining the unique wellness goals for businesses and their employees, tailor employee assistance and employee well-being services to the workplace culture, and they work closely with their customers to ensure the program is a success.
Cascade Centers
Cascade Health is for organizations interested in taking their wellness program to the next level with the aim to integrate behavioral health services from Cascade's EAP into our wellness solutions. Solutions include: health screenings, "WholeLife" Scale behavioral health risk assessment, financial wellness, health coaching and onsite classes and seminars.
Concern EAP
Concern EAP offers wellness seminars on a range of topics, including healthy sleep, exercise motivation, financial services, and nutrition.Concern's Workplace Resilience Tools provide employees with guided help, engaging multi-media content and useful toolkits that help them create their own personalized resilience strategy. With that strategy, they can better manage many common stress-related health issues, resulting in better health and work/life satisfaction.
CorpCare
CorpCare offers a full selection of wellness services, in a program called EAP Wellness Advantage. Each member gets 6 face-to-face counseling sessions per year with master's level counselors, plus unlimited access to a telephone triage line and on-site services including seminars, critical incident response, trainings, etc. They also have access to work-life assistance, newsletters, discounted gym memberships, an online wellness portal, wellness reporting, an incentive program, HRA, and more. CorpCare Wellness Advantage Plus provides all of the services noted above plus many more.
E4 Health

E4 Health offers a program called HealthMap. Based on clinically validated research, it combines the historically disparate products of EAP, Wellness and Care Coordination to help organizations capture the unique power of human behavior in order to contain costs while improving individual health and wellbeing. E4's Wellness component combines an interactive HRA, personal coaching, mobile apps, wearable devices, web tools, text messaging, and traditional services, such as flu shots, biometric screenings and challenges.
Empathia
Empathia EAP offers a program called LifeMatters® which combines EAP, work-life balance and wellness. These services can be focused on several wellness-related issues determined by the needs of the organization, but commonly include emotional and family counseling, tobacco cessation and interactive training programs. Empathia serves the US and Canada.Culture1st®: Workplace culture assessment and optimizationWellbeing Coaching: Individual behavior change support.
EFR Employee & Family Resources
EFR Employee & Family Resources offers wellness that is balanced and touches on well being across the physical, emotional, intellectual, social, environmental, spiritual, financial, and occupational aspects of members' lives. They offer a range of services including consulting, training, culture audits, and wellness workshops (via webinar).
Employee Resource Systems
Employee Resource Systems (ERS) offers Wellness Concierge – a comprehensive wellness and health

management program offering access to fitness, nutrition and health resource and referral, enhanced wellness-related web content and online assessments, fitness and nutrition consultation, healthcare advocacy and nurse line services. Its specific services are customized by company.
First Sun EAP

First Sun EAP offers in-person or online counseling for wellness-related issues, such as stress, alcohol abuse, weight management and nutrition. They also provide workplace risk management to assist in managing behavioral risks regarding job performance, crisis management, absenteeism, substance abuse and behavioral concerns.
Health Management Systems of America

Health Management Systems of America provides a full menu of workplace wellness solutions, including telephonic and online counseling, an implementation and promotion kit, 24-hour nurse line, individual and aggregate reports, HRA, and programs for exercise, weight loss, stress, smoking cessation, and over-eating. HMSA's Work/Life and Wellness programs help employees and their families identify, resolve, and gain control over problems that interfere with daily life activities, health, and work performance.
Invest EAP
Invest EAP program members can expert on-site wellness workshops and workplace wellness program development that focuses on many aspects of wellness.
KGA
KGA offers a variety of health and wellness events based on current wellness trends, best practices and unique workplace environments. These include onsite seminars, information tables, chair massage, and wellness demos, in addition to online live webinars and group chats. They also offer wellbeing consultations on a range of topics and specialize in stress management solutions.
MHN
MHN provides all members with health resources available on the member website that are designed to help individuals make healthy changes including health and wellness workshops and personalized wellness coaching services.
Northwell
Northwell's services include onling health risk assessments and cancer risk assessment, informational resources, smoking cessation programs and emotional support groups.
Optima Health
OptimaHealth EAP services focus primarily on EAP programs including short and solution focussed counseling; however, as per their LinkedIn profile, they offer innovative programs for members with chronic illnesses, customized wellness programs, integrated clinical and behavioral health services, and pharmacy management.
Premier EAP
Premier EAP is a smaller, regional EAP company that provides customized wellness presentations for employees in addition to regular EAP offerings.
The Premier Exam Network is a specialized division that maintains a network of highly skilled, experienced psychologists and psychiatrists who perform evaluations of employees referred by their employer who are exhibiting changes in mood and/or behavior suggesting psychological problems, safety concerns, conflicts with co-workers, cognitive problems, sudden decline in job performance, and side effects from possible substance abuse or prescription drugs.
EAP Provider Seeking Software?
If you are an EAP provider looking for new wellness management software to take your wellness programs to the next level, request a demo and we'll show you how we help other providers deliver worksite wellness programs to clients.
Additional Resources You May Like
Check out these other wellness providers:
About CoreHealth Technologies
CoreHealth Technologies Inc. is the leading corporate wellness platform trusted by more than 1000 organizations, ranging from medium-sized businesses to Fortune 500 enterprises. At CoreHealth, we believe that developing the best employee wellness programs is all about giving wellness companies the right code, design and access to the latest innovations. With the most customization, integrations and reliability of any software in its class, CoreHealth's powerful platform lets users focus on growing great companies. For more information, explore the CoreHealth website https://corehealth.global/.
About The Author
CoreHealth Marketing
CoreHealth Technologies Inc. is a total well-being technology company trusted by global providers to power their health and wellness programs. Our wellness portals help maximize health, engagement, and productivity for 3+ million employees worldwide.