Top Canadian Insurance Carriers Providing Wellness Solutions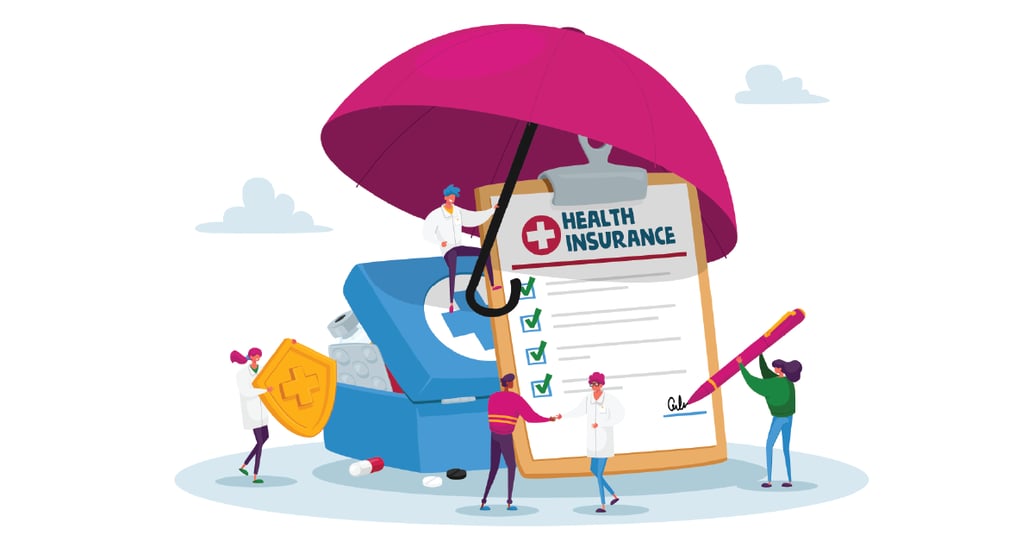 The services provided by Canadian insurance carriers go beyond standard insurance products but not everyone knows that. Most offer wellness solutions to employers to help employees get healthy and well.
When you think of health insurance carriers, you may just relate it to insurance-based products; however, most insurance companies are also taking the lead on proactive employee wellness. Some carriers are better than others about promoting their solutions to clients (we often hear from clients who didn't know their carrier provided wellness!). But, employee health is something every organization and person should strive for.
Wellness in Canada vs. the U.S.
In the United States, employee wellness programs are fairly commonplace as their healthcare system is privately funded and group benefit premiums can be discounted if proactive wellness programs are in place – saving both employee and employer cash. What a motivator!
In Canada, it's a little more complicated as essential healthcare services are mostly government-funded and employers do not receive the same group benefit premium discounts from insurers when they provide wellness programs to employees.
Canadian Insurers Are Helping to Achieve Employee Health and Wellness
Canadian Insurers and their Wellness Solutions
Here is a list of Canadian insurers and their wellness offerings as posted on their websites:
Assumption Life
Assumption Life's Health and Wellness Program is available online or by phone. It gives access to numerous resources and provides useful and reliable information. The helpline and web portal offer tools and resources that are recommended by physicians, pharmacists, and other health professionals. The portal provides those who register with the information they need to make the best health-related decisions.
Learn more on the Assumption Life website.
The Co-operators
The Co-operators wellness program, called Wellness Now™, provides you with tools and information to support and improve plan member health and productivity:
Wellness Now™ Online - Free online health and wellness education for plan members. Online tools include questionnaires to evaluate lifestyle habits, an electronic personal health record, a health library and goal setting tools.
Wellness Now™ Prevention and Assistance Services - A series of integrated programs to help plan sponsors and plan members address plan member health, absenteeism and presenteeism. Services are available individually or in combination.
Wellness Now™ Insights - Wellness campaigns designed to provide plan sponsors with an overview of the health and wellness of their workforce. Get aggregate reports about plan member health and wellness based on their responses to the wellness assessments available on Wellness Now™ Online.
Learn more on the Co-operators website.
Desjardins Insurance
Desjardins Insurance offers Health is Cool 360°, a platform that helps plan members navigate the Canadian healthcare system, find reliable information and get answers to their questions—online or by phone. Its interactive approach makes it easier for plan members to manage their health.
Health is Cool 360° provides:
A global snapshot of your workforce's health, thanks to the Health Evaluation tool
An idea of where to focus your health promotion efforts
A way to help employees manage stress, depression and other health problems that can lead to absences
Health is Cool 360° also includes the Health PACT service, which offers prevention, assistance and telephone counselling services. It's designed to:
Help employees stay at work through proactive intervention
Identify serious issues and the sources of absenteeism and higher group insurance plan costs
Learn more on the Desjardins website.
Equitable Health
Equitable Health offers online access to Canadian health and wellness resources. Through a holistic approach to group benefits, they provide information, tools and support to deal with physical and mental issues. The resources at EquitableHealth.ca can help improve work-life balance and the overall health of clients and plan members and are offered at no charge as part of all Equitable Life group benefit plans.
Equitable Life clients have the opportunity to add any or all carefully selected employer paid HealthConnector services to their plans. Equitable HealthConnector® services are designed to further support plan members dealing with specific life and health events - when they need it the most. These services are offered in addition to the health and wellness resources available to all plan members at no-charge through EquitableHealth.ca.
Learn more on the Equitable Life website.
Empire Life
Wellness services and an online wellness portal are part of Empire Life's Employee Assistance Program, called AssistNow EAP provided by Aspiria Corp. It includes:
24-hour response center, for instant access to expert support, whenever it's needed
Choice of in-person or telephone counseling
Single point of contact for a wide range of services and information that can improve employee wellbeing and reduce lost time at work
Work-life and wellness web portal providing reliable health information, training, 24/7 e-coaching, to help individuals take charge of their health and wellbeing, and minimize illness and lost time at work
Management consultation to help resolve challenging employer-employee issues
Crisis/trauma/critical incident service providing expert emergency response in case of a workplace traumatic event
Learn more on the Empire Life website.
Great West Life
Integrated workplace wellness and disability management programs can help your organization improve employee health, limit absenteeism and enhance your recruitment and retention strategies, and reduce rising benefit costs.
Whether you're looking for basic solutions or a comprehensive plan, their programs offer a customizable, innovative approach to providing your employees the support they need, when they need it.
With over 1,000 disability professionals across the country, they have the knowledge and experience to work with you to implement a wellness and disability plan that meets your organization's unique needs.
Learn more on the Great-West Life website.
Humania Assurance
Humania Assurance offers value-added services including:
An online health information and navigation program that helps employees navigate the Canadian healthcare system.
A health risk assessment that provides insight into each employee's health condition and provides customized tips for improving health
A manager support and intervention program, which helps leaders identify and support any employee who is going through a difficult time
Learn more on the Humania website.
Industrial Alliance
Some wellness services provided through their Employee Assistance Provider Solareh (which was recently acquired by Morneau Shepell as per this January 2017 press release.)
Learn more on the Industrial Alliance website.
La Capitale
La Capitale's wellness program, called VIVA Workplace Health and Wellness, is customizable to the needs of each company. It includes health challenges and monthly health bulletins.
Learn more on the LeCapitale website.
Manulife
Manulife supports your efforts to help your plan members improve their health with:
Personalized wellness programs
Wellness services in your workplace

Coaching for healthier lifestyles

Education and risk assessment

Financial Wellness Assessment

Help navigating the health care system

Mental health support for plan members, along with manager training
Learn more on the Manulife website.
*Note: Standard Life Canada is now part of Manulife.

Medavie Blue Cross
Discover My Good Health Enhanced – your Wellness Portal and Health Risk Assessment resource for engaging and understanding the health and wellness of your employees.
My Good Health Enhanced provides your organization with reporting, tools, insights and customized data to track areas of concern and implement changes to assist your employees to improve their health. It provides a strong foundation for your wellness strategy and is a powerful resource for designing health and wellness programs that foster a healthy, productive workforce.
Learn more on the Medavie Blue Cross website.
Sun Life Financial
The wellness team at Sun Life Financial includes certified workplace wellness professionals and those with specialized expertise in nutrition, fitness, and human resources. Together they offer help companies do the following:
Identify employee health needs and wants
Establish benchmarks and baseline data
Set objectives aligned to organizational objectives
Provide targeted programming to address top health risks
Measure results as you go to assess program value
Adjust strategy/approach to maximize results
Continue to make the business case for wellness
Learn more on the Sun Life website.
Sun Life has also partnered with CoreHealth Technologies to be their wellness technology provider helping their clients to design, deliver and administer their wellness programs.
Pacific Blue Cross
We take a holistic approach to wellness. We establish a partnership with you to understand your organization's needs, goals and budget, and then work with you to customize your workplace health strategy that makes sense for your business.
In 2012, Pacific Blue Cross launched a comprehensive health resource site called My Good Health.
We look for ways to integrate your wellness strategy with your benefit program and ensure clear goals and strategies are established that naturally fit into your organization. Then we work with you to establish programs that engage your workforce in achieving change toward healthier living.
This is the approach we have taken with our own workplace health program and we've been quite successful. We've been awarded the Worklife BC Award of Merit for promoting work/life balance and the Who's Who Award in Workplace Wellness from Benefits Canada.
Learn more on the Pacific Blue Cross website.
RBC Insurance
RBC's wellness program, called Elevate, includes
A customizable communication toolkit which Includes ready-to-use templates to tell employees about the program
Helps managers administer health assessments
Helps employees learn about the programs and resources available at no extra cost
Helps managers monitor health progress
Sends a regular newsletter, each one focused on a different health topic, and includes information about related resources available to employees
Learn more on the RBC website.
SSQ Financial Group
Designed specifically to improve health and well-being, our Health InSight program aims to develop and implement a health culture in your organization through concrete solutions.
Specifically, Health InSight is a team of specialists and trained partners that offers:
unique expertise
support with the various steps of your project
affordable tools adapted to your organization
assistance services such as Health Support and the Employee Assistance Program (EAP)
improved workplace attendance management
a real impact on the health of insureds
Learn more on the SSQ website.
UL Mutual
UL Health's 3-part program includes:
An online health information and navigation program that helps employees navigate the Canadian healthcare system
A health risk assessment that provides insight into each employee's health condition and provides customized tips for improving health
A manager support and intervention program, which helps leaders identify and support any employee who is going through a difficult time
Learn more on the UL Mutual website.
Wawanesa
No wellness programs indicated on website.
Learn more on the Wawanesa website.
Your Partners in Wellness
While workplace wellness may still be up-and-coming in Canada, opportunities to implement wellness solutions in your workplace are readily available through insurance carriers, EAPs, and private providers. As your partners in wellness, these worksite wellness solutions can help your organization and its employees enjoy greater health, lower absenteeism, and increase productivity.
Take Your Wellness Programs to the Next Level
CoreHealth works with leading insurance carriers and wellness providers to design, deliver and manage their wellness solutions for clients using our wellness management software. We would be excited to power yours! Contact our team today!
About CoreHealth Technologies
CoreHealth Technologies Inc. is the leading corporate wellness platform trusted by more than 1000 organizations, ranging from medium-sized businesses to Fortune 500 enterprises. At CoreHealth, we believe that developing the best employee wellness programs is all about giving wellness companies the right code, design and access to the latest innovations. With the most customization, integrations and reliability of any software in its class, CoreHealth's powerful platform lets users focus on growing great companies. For more information, explore the CoreHealth website.
About The Author
CoreHealth Marketing
CoreHealth Technologies Inc. is a total well-being technology company trusted by global providers to power their health and wellness programs. Our wellness portals help maximize health, engagement, and productivity for 3+ million employees worldwide.