CoreHealth Partners with Sun Life to Power Workplace Wellness
Jul 18, 2017
CoreHealth Technologies has been selected by Sun Life's Integrated Health Solutions to be their new technology partner in providing an all-in-one corporate wellness platform to help develop and deliver innovative workplace wellness programs to improve employee health.
COREHEALTH'S PLATFORM POWERS WELLNESS
As published by PRWeb July 18, 2017.
Kelowna, BC (PRWEB) July 18, 2017 - CoreHealth Technologies announced today they have partnered with Sun Life Assurance Company of Canada ("Sun Life") to provide Sun Life Group Benefits clients with CoreHealth's leading health and wellness technology to maximize Sun Life's commitment to promote and support employee wellness.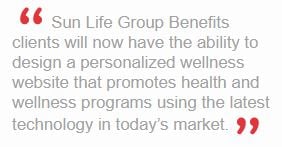 CoreHealth's all-in-one corporate wellness platform powers programs for leading wellness companies, insurers, benefits brokers, employee assistance providers and HR consulting firms around the world.
"We are excited to be selected as one of Sun Life's preferred wellness technology providers to help them support their clients. Sun Life Group Benefits clients will now have the ability to design a personalized wellness website that promotes health and wellness programs using the latest technology in today's market," says Anne Marie Kirby, CEO & Founder of CoreHealth.
Sun Life helps clients set and achieve their healthy workplace objectives through a 3-step model beginning with assessment, setting a clear strategic plan, and guiding the implementation of the right programs to meet each employer's unique goals. This model helps employers connect the dots across physical, mental and financial health, and spans the continuum of health including prevention and wellness, productivity and engagement at work, and absence and disability management.
"We've seen first-hand that organizations with a wellness program benefit from having more engaged employees able to meet their individual health goals," says Jennifer Elia, Assistant Vice-President, Client Experience, Integrated Health Solutions, Group Benefits, Sun Life Financial Canada. "CoreHealth's innovative digital features will allow us to bring our Clients wellness solutions that meet their needs and help employees live healthier lives."
ABOUT COREHEALTH TECHNOLOGIES:
CoreHealth Technologies Inc. is the leading corporate wellness platform trusted by more than 1000 organizations, ranging from medium-sized businesses to Fortune 500 enterprises. At CoreHealth, we believe that developing the best employee wellness programs is all about giving wellness companies the right code, design and access to the latest innovations. With the most customization, integrations and reliability of any software in its class, CoreHealth's powerful platform lets users focus on growing great companies. For more information, visit the CoreHealth website.
MEDIA CONTACT: