Skyrocket Revenue: Tailor & Personalize Corporate Wellness Programs
Oct 28, 2019
The most successful workplace wellness programs are those that are tailored to an organization's culture and to each employee. Say good-bye to one-size-fits-all programs with the Wellness Compass!
This the fourth and final blog in the 4 Ways to Skyrocket Revenue in Your Wellness Company series.
As a health and wellness provider, you want to be innovative and deliver programs that are unique and get results. You want to attract new clients while continuing to impress your existing clients and keep them coming back. To do this, a tailored approach is a must!
How Do I Tailor Corporate Wellness Programs?
Tailor to the Organization
As mentioned in the series introduction blog, organizations like to incorporate their unique culture, values and commitment to employee health in their programs.
Successful wellness providers know that to design and deliver the most effective programs, leadership input and participation is essential.
Work with company leaders to identify what values are most important to them (hopefully you know this already but if not, talk about it!)
Does the organization…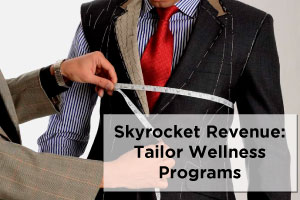 Have clear health and wellness objectives

?

Do the leaders want to improve morale and get employees engaged?
Ramp up engagement in programs and drive health improvements?
Realize measurable results and deliver world class wellness?

Provide wellness activities already? Or are they just getting started?
Support employees with taking time during the work day to exercise?
Encourage employees to volunteer in the community?
Have health-minded leaders? (if they are unfit themselves, you know where to start!)
Offer facilities to support healthy activity? (e.g. bike racks, showers, fitness facilities, etc.)
Know who the higher risk employees are? (if not, a health risk assessment may be in order)
Know the historical trends in absences and disability claims?
Offer a flexible work environment that enables employees to be active when it best suits them?
Understand where the most significant health costs are coming from? (e.g. look at health and prescription costs)
Have employees in one city, region, country or around the globe? Depending on the answer, wellness programs may need to adjust to different languages and cultures.
Once you understand the organization's goals and objectives, you can better tailor programs. Using the right corporate wellness solution can make all the difference, making it easy for you to tailor programs and measure results.
3 Ideas to Align Wellness Programs with Company Goals
Here are 3 (of numerous) possible ideas that may be relevant to an organization's goals and culture:
1. Community Engagement
If your organization has a strong presence in your community and you want to encourage employees (and their dependents) to volunteer and get active, then offer a wellness challenge that celebrates (and potentially incents) employees who do random acts of kindness, volunteer, or help a stranger/friend - all of which can go a long way to boost morale and health. Volunteering is good for body and mind.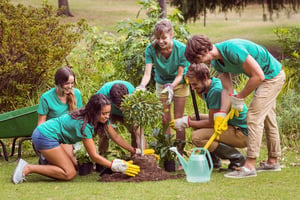 Employer-Supported Volunteering can be measured in a variety of ways including personal benefits (e.g. volunteer hours), employee engagement (e.g. surveys), community awareness, donations (corporate-only donations, corporate-match to employee donations, or employee-only) which can potentially be captured in your wellness technology.
See how a leading global health and care organization engaged their 1,800 employees around the world to boost health, connect with each other and give back to the community.
2. Engage ALL Employees Including Global & Remote Staff
Many organizations start with grass-roots programs but hit a barrier when they have employees working in a variety of locations, around the world and/or from home-based offices. How do you engage employees when they are sitting in their PJ's from home?
An "Around the World" activity challenge may be an excellent solution. See how HRG North America took their grass-roots employee wellness program to the next level.
3. Incent Employees to Take a Break
In today's technology age, constantly being 'connected' can negatively impact an employee's mental and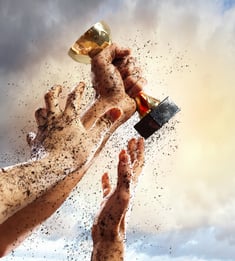 physical health. More companies are encouraging employees to 'unplug' from their devices and truly 'switch off'. Why not incorporate these ideas as part of a wellness program?
Employees could earn points for:
Unplugging by 9pm each night and leaving their device outside of the bedroom (which can help employees who have troubles sleeping).
Taking vacation without logging in so employees return refreshed and energized.
Attending/listening to mindfulness programs (employees learn to be mindful everyday).
Go for a walk 'without' their phones (truly getting back to nature).
The better you align wellness programs with an organization's culture, the more likely you will see improvements in employee health and well-being.
If you need help selling corporate wellness to the c-suite, know your workplace wellness strategy and present it in a format leadership can understand with this powerpoint presentation template.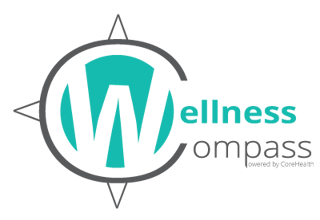 Personalize to Each Participant
Beyond tailoring for an organization, employees need tailored options too. It's time to move past the one-size-fits-all approach – employees want personalized, engaging and trackable programs that are 'made' just for them and achievable at their own pace.
If you design 'mini' wellness programs that users can pick and choose from to formulate their own 'personalized wellness program' to support their goals, it can be quite effective.
Most wellness providers would love to deliver tailored programs; however, often hit the limit as they can be complicated to design and a nightmare to administer. CoreHealth frequently heard this feedback from customers and launched the Wellness Compass to make the process easy and effective.
The Wellness Compass Replaces One-Sized-Fits-All Programs with a Personalized Wellness Journey - Revolutionizing the Industry
What Does a Personalized Program Look like?
As an example, for employees wanting to quit smoking, give them a menu of tools and resources to choose from but let them pick those that suits their interests and schedule (if it's relevant to them, they will be more likely to participate and complete).
This can be a hassle to manage but if you use the right wellness technology, a tailored employee experience doesn't have to be an administration nightmare.
Here is an example of a personalized program using the Wellness Compass: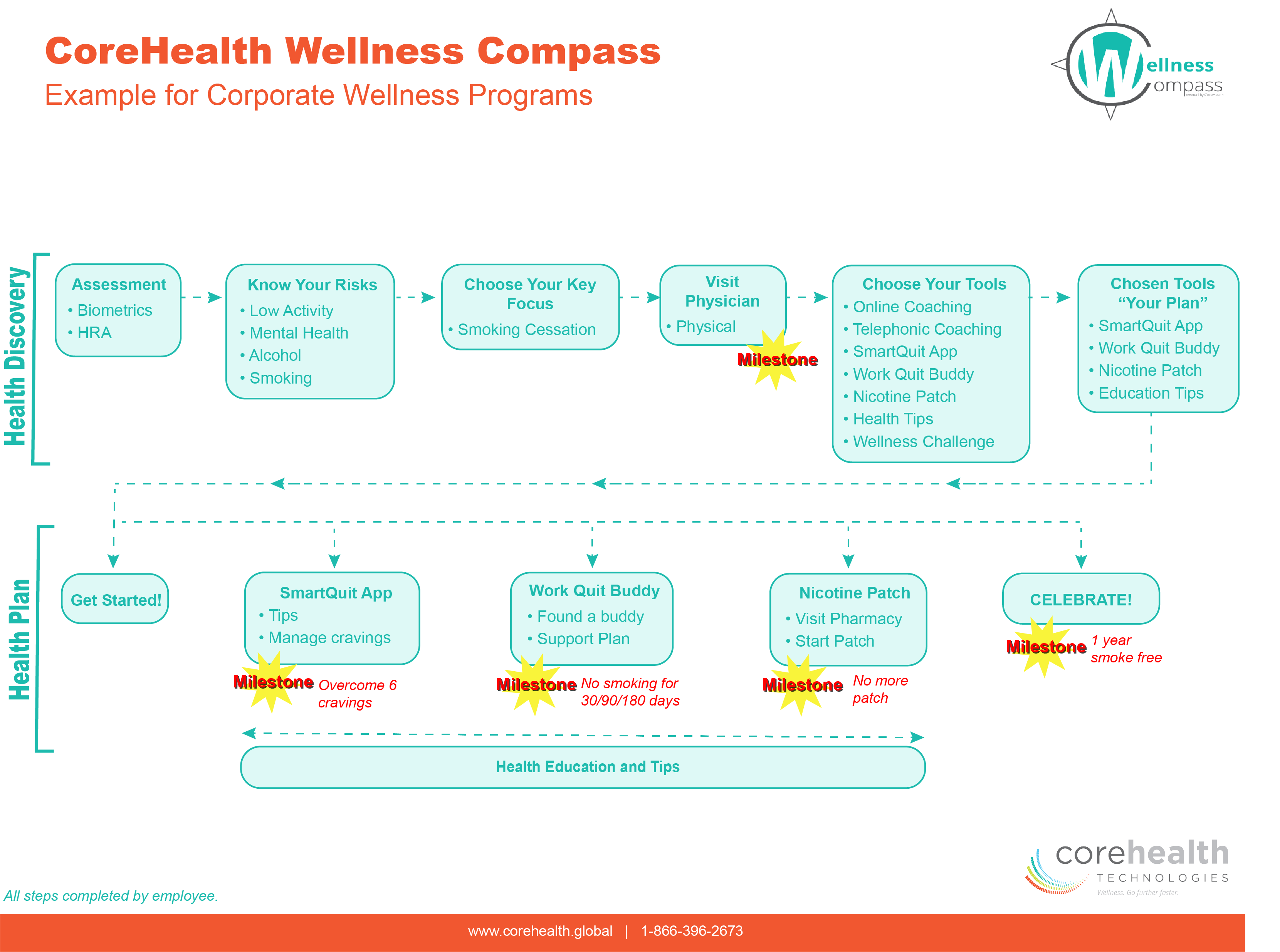 Partner With Best-in-class Third Party Vendors
Health and wellness providers typically have a variety of clients with different needs – some will be just starting out with their programs and others will be more sophisticated always looking to push the boundaries and may be living the Results-Driven Wellness Strategy. For these clients, you need to kick it up a notch and go beyond the ordinary wellness programs.
Sometimes you have the creativity and know-how to do this on your own but if you don't (or don't have the bandwidth in-house), you can always seek business partnerships with wellness vendors that provide complementary services. There are too many to mention here.
CoreHealth has an Integrated Marketplace of third-party, best-in-class corporate wellness vendors that 'bolt on' to our wellness technology. They specialize in common-practice or niche-focused products or services including:
Health and Wellness Articles and Newsletters
Coaching
Health Assessments (including mental health)
Financial Wellness
Incentives
Nutrition
Devices
Fitness
Health and wellness and
More!
If you don't have the technical capabilities to tailor programs to the company culture or personalize to the participant, we should talk.
Ready to Tailor & Personalize Programs?
CoreHealth would love to show you how you can.
Additional Resources You May Like
Check out these other great resources to help you grow your wellness revenue.
Or pick your business to find resources relevant to your needs:
About CoreHealth Technologies
CoreHealth Technologies Inc. is a total well-being technology company trusted by global providers to power their health and wellness programs. Our wellness portals help maximize health, engagement and productivity for 3+ million employees worldwide. We believe people are the driving force of organizations and supporting them to make behavior changes to improve employee health is in everyone's best interest. With the most flexibility, customizations and integrations of any software in its class, CoreHealth's all-in-one wellness platform helps grow great wellness companies. Simple to sophisticated, based on you. For more information, visit the CoreHealth website or YouTube Channel.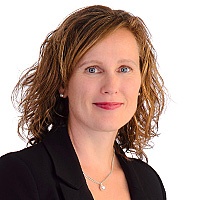 Cindy Danielson is CoreHealth's Marketing Maverick and team leader with a passion for connecting people and technology. In addition to marketing, she has experience as a Benefits Brokers, HR Professional and Project Manager. She loves sales and marketing process while leveraging systems such as Salesforce, Microsoft Dynamics CRM and HubSpot.