4 Ways to Support Men's Health Through Employee Wellness Programs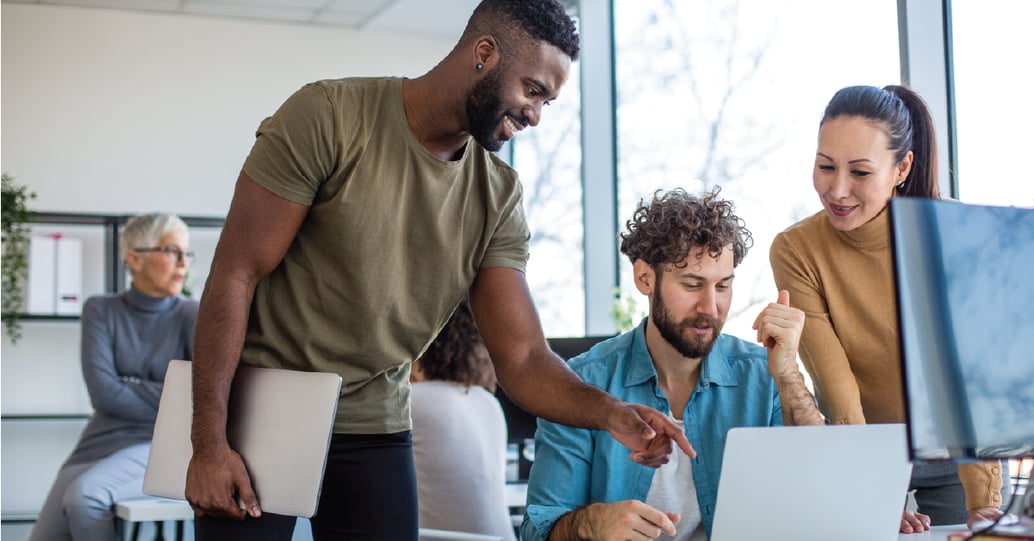 As an employer, providing a healthy and safe environment is fundamental for the success of your business and its employees. Ahead of Men's Health Week, we're sharing actionable tips leaders can take to boost the health of this large segment of the working population.
When it comes to men's health, creating initiatives and wellness challenges that aim to promote employee wellbeing can often be overlooked. To avoid this, here are some strategies workplace leaders can enact to help promote men's health, for the benefit of all:
1. Men's Health Month Wellness Challenges
Create a "Men's Health Month" initiative with wellness challenges. During this month-long campaign, you can educate employees about healthy lifestyle choices and screenings, as well as stress signals and how to address them.
Awareness and education is key to early detection and prevention of conditions such as heart disease and prostate cancer. Additional services like online health coaching, a comprehensive platform to schedule and take appointments, and automated screening reminders can give your program added value.
2. Employee Wellness Challenges for Physical Activity
Construct a wellness challenge campaign to boost physical activity. For example, a walking challenge or running club could be a great way to encourage healthy physical activity and strengthen employee relationships. Here's how to make it a success:
Make it fun. Give the challenge a theme on the digital platform and in the promotional materials. For example, why not a pirate or a zombie challenge? The skies the limit (or is it?) so be creative to bring out the fun factor!

Enact enthusiasm. A company's wellness team needs passion and wellness champions that model employee health and wellbeing. This will inspire others, and there is likely to be more participation. If you need someone that's passionate about wellness to run your challenges, CoreHealth Wellness Network partners could help.

Include leadership support. The 3 P's of leadership support are: promote it, participate in it and create policy for it. Leaders can't just sit by and watch it all happen. Truly influential leaders will participate in the wellness program, actively promote it so that employees know it's happening and create healthy company policy to make wellness the central component of the company culture. Policies can include flex time to support wellness activities, and the option for hybrid or remote work.

Incentives. People are motivated by intrinsic and/or extrinsic rewards, so offering wellness incentives for both types is a key to success. A water bottle or a gift card may work for some, but others might prefer recognition for their efforts in the company newsletter.

CoreHealth's advanced Comprehensive Wellness Platform makes it easy to motivate your employees with customizable challenge milestones, a configurable wellness score for your annual incentive program and real-time reports to download for program administrators - all through an integrated, fully-digital platform to equally involve in-person, hybrid, and remote workers.


Customization is key. Be sure to offer challenges that are relevant and personally meaningful for your population. To facilitate this, CoreHealth's comprehensive platform uses baseline data from health assessments to guide each individual participant to the most relevant and personally meaningful challenges. Not only will this boost engagement, but it will also improve effectiveness as participants make improvements to their personal risk factors.
3. Screenings and Health Risk Assessments
Facilitate health screenings, including regular health risk assessments. Make sure employees are aware of their recommended annual wellness visits and preventative screenings, based on their age and specific risk factors. The CoreHealth platform will automatically generate these and send screening reminders to participants using data provided in the health risk assessment.
Health risk assessments, including biometric screenings, are helpful because they:
Promote health and prevent disease.

When employees learn about their health standing, often they get motivated to make improvements. Armed with new information, they can take action against early warning signs of chronic disease and prevent further issues. Biometric screenings give greater insight than online health assessments, where the user inputs information, because employees learn things they didn't know already.
Provide baseline data. Once your organization begins tracking employees' health numbers, it can begin building data to document changes over time. This is essential for determining whether your wellness program is having an impact on employee health.

Show what would benefit the population.

Once you know what your employee population needs, you can design specific wellness challenges, health coaching programs (see our

Introductory Guide to Employee Health Coaching), early interventions, and more. These data-driven, customized wellness activities will be much more effective than a generic, one-size-fits-all wellness program.

Boost morale by showing concern for employee health.

High employee morale is known to increase

productivity, company loyalty

and lower turnover and absenteeism. Offering a wellness program, including biometric screenings, is an effective way to turn the dial on these critical issues. Screenings are an all-inclusive way to kick off a new year of your corporate wellness program, and remind your employees what's in it for them.

Decrease health insurance claims costs.

Let's face it – for many organizations, ROI is the main motivation for offering wellness. It's also a

huge selling point for leaders

who may be unsure about starting a wellness program. If saving money is the overall goal, biometrics may be the key. Simply put, it's a lot cheaper to cure a disease in its early stages than later when it becomes a major problem. Biometric screenings raise red flags that indicate something is wrong, and allows early interventions to take place. This saves your company and employees time and money.
4. Create a Culture of Mental Health
Make sure mental health screenings, counseling and other services available to your employees. Additional ways to improve mens' mental health at work:
Talking about it. One of the best ways to improve employee mental wellness is by helping employees talk openly about mental health. This can be especially impactful for men, who historically may have been told to hide their feelings. Identifying the issue and letting it be an acceptable topic of conversation – removing the taboo around acknowledging work-related stress - can create progress by itself, helping employees realize they aren't alone.

Encourage physical and emotional health.

When management encourages healthy physical and emotional practices, it influences the whole workplace. But leadership involvement is key. When leaders introduce and are involved in workplace health challenges, incentive programs, and overall wellness programs not only does employee health improve but also there are marked healthcare savings, and increases in productivity and morale. More about a company's new wellness program taking off with high participation rates here.

Provide mental health resources. There are countless programs that foster mental wellbeing in the workplace. Programming that combines education and personalized activities can help employees feel supported and provide effective tools and coping strategies. For example, CoreHealth offers the MindQ suite of mental well-being challenges, which combine the key components of resilience, life satisfaction, and lasting emotional health.

Additionally, mental health assessments can examine various aspects of an employee's psychological strengths and challenges in the context of their work experience. Wellness Checkpoint by Carebook offers a suite of mental health assessments including Resilience, Psychological Well-being, Financial Well-being and Stress@Work.

These and other assessments offer an aggregate view of an employee population's mental health needs and provides a starting place for effective, relevant mental health programming.

Provide an EAP. Counseling and support offered by employee assistance programs is the first step many companies take towards greater corporate well-being. In fact, 97% of large companies now offer EAPs. As the focus on mental health in the workplace has shifted, these companies have emphasized programs aimed at chronic stress, anxiety, depression, burnout, and more. For more information on making the most of your EAP, click here.

Create a healthy work environment. Avoid toxic masculinity or a 'macho' culture. The work environment is known to have a significant impact on employee mental wellness, productivity, job turnover and overall profits. Leaders can influence a healthy workplace environment by having an open-door policy, keeping employees informed of developments, departmental changes, business goals, and policies. These provide direction, build trust, and reduce employee stress.

Show you care.

Ways your organization can show care include offering community service days, family activities, recognizing excellent employer-employee cooperation, and promoting the voices of employees and management in community meetings and activities. Read more extensively about the importance of care in the workplace on our blog here.
Even though men represent a major segment of the working population, men's health is frequently overlooked. This Men's Health Week we encourage you to recommit to initiatives and best practices to enhance mens' health and to boost overall quality of life for male employees. As a result, you'll see better organizational culture and improved engagement and effectiveness of your current employee wellness program offerings.
About CoreHealth Technologies
CoreHealth by Carebook is a total well-being company trusted by global companies to power their health and wellness programs. Our wellness portals help maximize health, engagement, and productivity for over 3.5 million employees worldwide. We believe people are the driving force of organizations and supporting them to make behavior changes to improve employee health is in everyone's best interest. With the most flexibility, customizations, and integrations of any software in its class, CoreHealth's all-in-one wellness platform helps achieve great wellness outcomes.
From simple to sophisticated, it's up to you. For more information, visit the CoreHealth website.