Revolutionize Employee Health: Benefits of an Employee Wellness Platform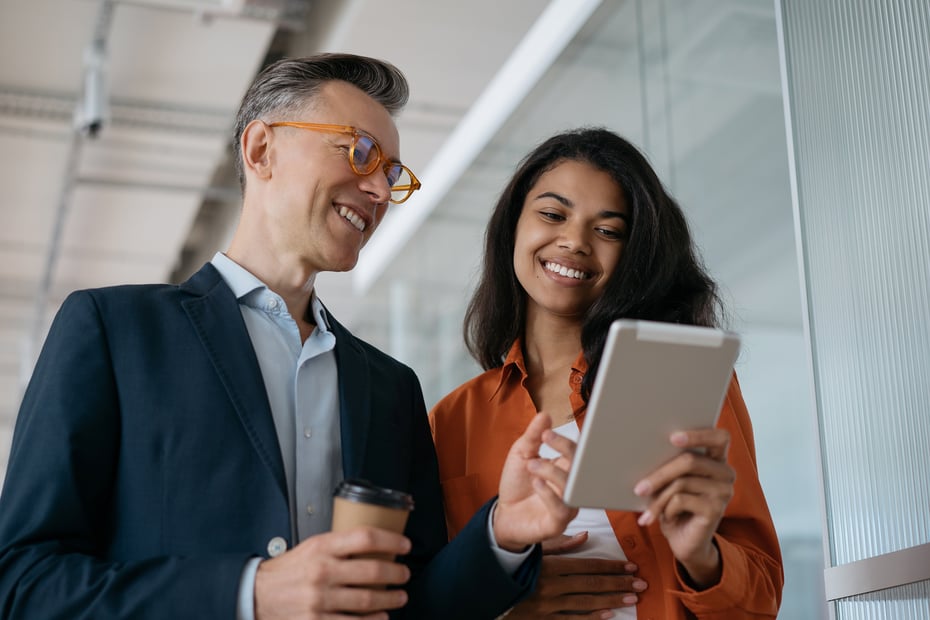 An employee wellness platform can bring any wellness program up to date - and keep it there, with automatic updates and custom employee health journeys.
What is an Employee Wellness Platform?
Like a portal, an employee wellness platform is a website or multi-functional app used in worksite wellness programming that lets participants access software associated with the program. It centralizes various parts of the program to avoid using multiple pages and logins to participate. Employee wellness programs can now be entirely accessed through a digital platform, making it inclusive of hybrid and remote employees.
All-Inclusive Employee Wellness Platform
An all-inclusive employee wellness platforms delivers an entire employee wellness program in one place. From the fragmented wellness apps and portals of 10 years ago, these platforms streamline participation reduce administrative load, remove barriers to participation, and make programs more seamless and effective.
The latest platforms start with interactive health assessments and build customized programing for individuals based on their answers and information provided. Using this data, they power fun heath challenges, suggest effective resources, and deliver educational content in an engaging way. As the program continues, HR and wellness managers are provided with regular reporting and communications.
What Does an All-Inclusive Wellness Platform Provide?
An effective, comprehensive wellness platform will include the following components:
Health Risk Assessments
Complete health risk assessments establish the groundwork for a population's wellness program. With a thorough assessment plus multiple add-on surveys for more pinpointed data, an organization can get exactly the data they need to establish specific programs tailored to their workforce. They also provide a point of reference for year-over-year tracking and progress of a program. The data is kept private, through secure data storage and aggregate reporting.
For more, see our Complete Guide to Health Risk Assessments
Targeted Recommendations and Resources
Using data from health assessments, biometric screenings and/or personal health records, the most up-to-date platforms can detect which resources would be the most helpful for individuals and offer precise recommendations. This way, each participant can start on their own health journey right from the start.
Telemedicine and Wellness Programs
Wellness programs, including health coaching, have become a common part of employee health programming. Virtual care, or telephone or virtual calls with professionals, is one common component. Other options and programs include digital, self-paced health coaching - a virtual type of coaching that involves an interactive software program that allows participants to set their own goals and work toward them at their own pace.
For more on health coaching, see our Complete Guide to Employee Health Coaching
Wellness Challenges
Ready-to-go virtual wellness challenges are a key part of a corporate wellness program. They offer fun, quick dives into a specific topic and can be done individually, with a buddy, or on teams for added social support. Research-based challenges usually deliver wellness in simple steps, lasting 4-6 weeks and can include all kinds of wellness-related topics, like mental well-being, nutrition, physical activity, and many more.
Lifestyle Tracking
When it comes to health outcomes, it's the simple daily activities that make all the difference. By tracking daily habits and forming new beneficial routines, participants are encouraged to make the best choices and are positively reinforced when they sustain their new habits. A variety of activities can be tracked, including steps or minutes of physical activity, sleep, servings of nutritious foods, and many more.
Communications and Personalized Reminders
The success of any corporate wellness program depends on excellent communication. Targeted, secure messaging helps employees learn about programming and engage (and stay engaged!) in activities.
Secure Data Storage
Secure storage of personal health information is crucial to an overall well-being program. A centralized document storage system helps wellness managers organize health records like vaccination records, prescriptions, and lab results, and allows participants to upload and view documents from their pharmacy and more. This health information can power personalized preventative communications such as health screening reminders, vaccine and booster recommendations, and more.
For more on data security, see Top 10 Ways Employee Wellness Programs Avoid Security Breaches
Aggregate Data Reporting for Wellness Managers
Employers rely on data aggregation to identify areas of opportunity to engage employees while maintaining privacy. With the right information, they can personalize interventions, target wellness campaigns and programs that will have the most impact, and more. Effective reporting dashboards on the latest employee wellness platforms make it easy for managers to access easy-to-read reports.
In Summary
The most recent advancements in wellness technology come together in all-inclusive wellness platforms. They now offer complete employee wellness programs in one place: everything you need with one login, one site and no hassle. A complete wellness program in one place can revolutionize the way wellness works. By meeting participants where they are, each one can get the support they need.
For more, see our Introductory Guide to Employee Wellness Platforms
About CoreHealth Technologies
CoreHealth by Carebook is a total well-being company trusted by global companies to power their health and wellness programs. Our wellness portals help maximize health, engagement, and productivity for over 3.5 million employees worldwide. We believe people are the driving force of organizations and supporting them to make behavior changes to improve employee health is in everyone's best interest. With the most flexibility, customizations, and integrations of any software in its class, CoreHealth's all-in-one wellness platform helps achieve great wellness outcomes.
From simple to sophisticated, it's up to you. For more information, visit the CoreHealth website.