Inclusivity: the Key to Designing Effective Employee Wellness Programs in 2023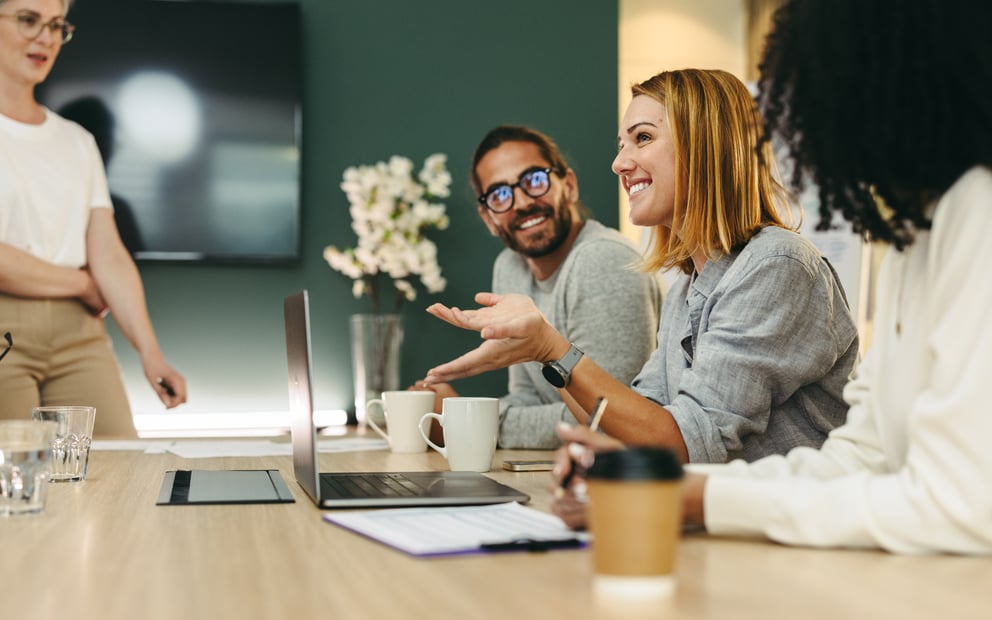 What distinguishes successful employee wellness programs in 2023? Inclusivity: the ability to engage all employees, wherever they're located. For virtual and hybrid teams, fully-digital programming is essential to include every participant.
Inclusive Employee Wellness Programs
Inclusivity in wellness challenges and programming is essential in the age of remote teams. Updated wellness apps and platforms allow employees to participate in every aspect of wellness programming - whether at home, in the office, or traveling. Here, we discuss the basics of creating an employee wellness program that is effective in engaging, uniting, and supporting entire teams, no matter where in the world they are.
1. Start with a solid foundation
Begin by offering a comprehensive Health Risk Assessment (HRA). These assessments provide essential data to inform leaders about overall workforce health, and to pinpoint what kind of wellness programming to offer. This information is important for developing a clear mission and direction for your wellness program, as well as providing baseline data to track progress and measure program success over time. Secure, consolidated wellness platforms make the process safe and seamless.
For more on the importance of HRAs, read our Complete Guide to Health Risk Assessments.
2. Use top technology
Technology plays a starring role in wellness in 2023, from mobile health apps to telemedicine. Integrate top tech into your program and encourage its use by making it easily accessible to all employees - remote, hybrid, and in-person participations should all have full access. This is only feasible with a fully-virtual wellness platform.
A comprehensive wellness platform makes participation smooth, seamless, and easy. Out dated tech can be bulky and create a barrier to participation. Instead, make sure that all parts of your program are accessible through a single login, so participants only need to log in once to access everything from steps challenges and health assessments, to pharmacy documents and telemedicine appointments.
For more about wellness platforms, read our Introductory Guide to Employee Wellness Platforms.
Wellness technology is constantly evolving. Technology vendors that are leading the way in innovation are regularly releasing new features and functionality to improve administration, security and user experience. These updates are automatic, keeping your program seamlessly up to date.
For more on wellness technology, read our Comprehensive Guide to Wellness Technology
3. Incentivize
To help motivate your team, create and offer a rewards system where those that participate in certain activities or meet certain health goals get rewarded. Again, wellness technology can make this seamless and automatic, and not an arduous task.
The best incentives are relevant and meaningful to a population. It will look different for every organization, but anything from virtual points and badges, to gift cards or additional PTO could apply. One we recommend: premium discounts on insurance.
4. Nurture healthy habits
Create a comprehensive range of wellness activities and initiatives that empower your employees to make healthy lifestyle changes. Effective wellness platforms use HRA data to customize the wellness experience by guiding participants to the activities or wellness challenges that are most relevant to them. This customized approach is key for engagement.
For example, if a participant reports that they have symptoms of depression or anxiety, the program can automatically suggest support programs for them to jump into immediately. Offering a range of programs means there's something for everyone to have a customized experience. The right technology will help guide them use offerings to their best advantage.
5. Prioritize mental health support
Mental health is an essential component of any successful wellness program - and it matters now more than ever. Make sure to offer resources like access to counseling or mental health days to keep your staff on a healthy path.
For more see our free infographic Stress and Well-being in the Workplace
For actionable tips on mental health support at work, read our free e-book Supporting Mental Health in the Workplace.
6. Focus on culture
Organizational culture impacts employees from the start, with hiring and retention, to daily work experience. Tactics to boost culture include prioritizing work-life balance, cultivating an organizational culture of mental health, and offering generous employee benefits including comprehensive worksite wellness programming. Culture is key.
7. Plan a reliable communication strategy
The best wellness technology will automatically tailor and send personalized messaging to individual participants (mass e-mails are a thing of the past). Personalized communications could include screening reminders, progress updates, push notifications for a gentle nudge, and announcements about relevant upcoming programs.
In summary
Designing an inclusive employee wellness program can seem like a daunting task, but with the right wellness partners, the process is be smooth and simple. CoreHealth offers well-being challenges, lifestyle assessments, digital lifestyle programs, a coaching program with secure video connection, and many other features that provide the ability to build a comprehensive workplace wellness program. It's a win-win.
For more about investing in your employees' health and happiness, contact us.
About CoreHealth Technologies
CoreHealth by Carebook is a total well-being company trusted by global companies to power their health and wellness programs. Our wellness portals help maximize health, engagement, and productivity for over 3.5 million employees worldwide. We believe people are the driving force of organizations and supporting them to make behavior changes to improve employee health is in everyone's best interest. With the most flexibility, customizations, and integrations of any software in its class, CoreHealth's all-in-one wellness platform helps achieve great wellness outcomes.
From simple to sophisticated, it's up to you. For more information, visit the CoreHealth website.