International Day of Happiness: Boost Organizational Culture for Employee Health Wellness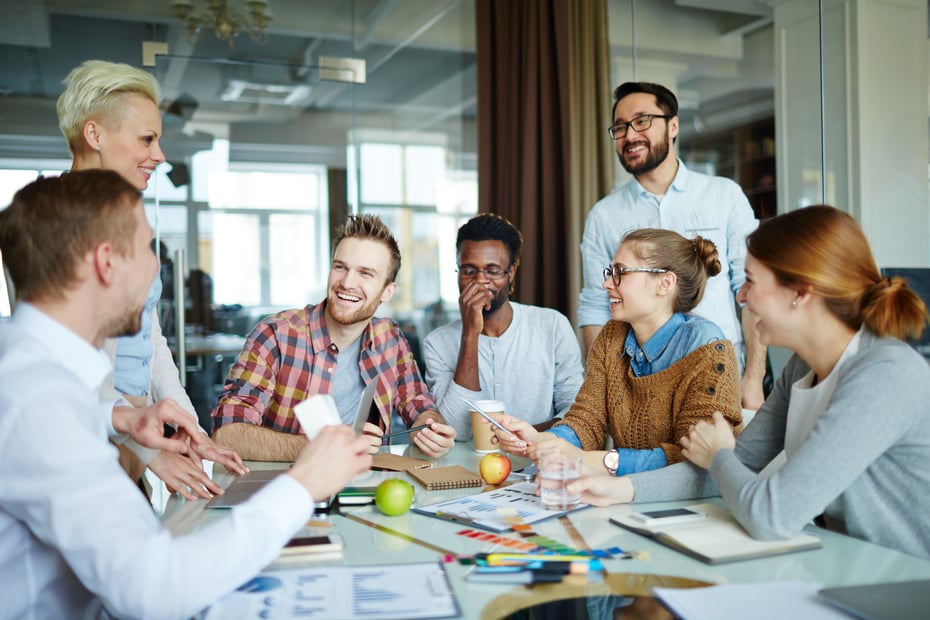 As the UN International Day of Happiness approaches, take the opportunity to look out for the mental health wellness and happiness of your workforce. It boosts organizational culture and makes business sense too.
It's a fact: happier employees are more better employees. They're more productive and enthusiastic and are less likely to quit. In fact, new research tells us that employees who have at least one close friend at work have better job satisfaction and are more likely to remain with the company. Further, work friendships are shown to reduce burnout, boost positivity, and improve business overall. That sounds like a happy solution. Let's take a look at how and why to boost happiness and friendship within your organizational culture.
Organizational Culture of Happiness to Boost Business Outcomes
Happiness (and unhappiness) is infectious. All it takes is one person to bring up or bring down the mood of the entire team. Happy employees are more creative and collaborative. They also have more positive interactions with clients and customers, which improves customer service and client experience, improving organizational outcomes overall.
Additionally, workers make better decisions when they're not anxious or stressed, according to a Swarthmore College study. When employees feel they're supported and are doing a job that's matched to their abilities, they make better, more educated decisions.
They're also less likely to quit: happy employees have higher job satisfaction and are in no hurry to leave (and likely won't be easily tempted away by a competitor). When it comes to employee retention, culture is key.
International Day of Happiness Encourages Employee Health Wellness
An organization's workforce is one of its top assets, so it makes business sense to keep employees happy and healthy. It's also costly to replace workers who quit. According to the Center for American Progress, the cost of replacing a low-paying position (under $30,000 a year) is around 16% of the annual salary. This rises to 20% for salaries up to $50,000—and for higher paid executive positions, it can be up to 213%.
To increase quality of life for employees (in other words, boost the likelihood that they'll be happy), there are several proven actions leaders can take. These include prioritizing work-life balance, cultivating an organizational culture of positivity, and offering generous employee benefits including comprehensive worksite wellness programming.
1. Prioritize Work-Life Balance
Many workplaces say they promote a healthy work-life balance, but don't do enough to actively encourage it. Leaders should recognize the signs of stress and burnout and regularly survey employees about their mental health needs. Reducing stigma around mental health by communicating openly about mental health concerns is also helpful. And while it's good to reward a job well done, it's not as healthy to reinforce overwork or hustle culture.
Scott Domann, the Chief People Officer at Calm, understands the value of this. He says, "To create engaged, productive and effective teams, we need to prioritize mental health at the center of the employee experience. And it's cost-effective to do so. Research has shown that for every $1 invested in the mental health of your employees, employers can save $2-$4 on other expenses such as health care costs."
2. Improve Organizational Culture of Health and Happiness
Day-to-day tasks may be interesting at first, but for a real sense of fulfillment, employees need to know they're working towards something bigger than themselves. This includes making staff aware of the different career opportunities available to them, and to involve staff directly in the progress of the company through regular updates, involvement in meetings, and opportunities to shape company growth through their work.
It also requires knowing where your employees stand in terms of health, mental well-being, and job satisfaction. Once armed with aggregate data and statistics gathered through comprehensive health risk assessments, leaders can make informed decisions about how to help employees. For example, if the assessments reveal that a high percentage of employees are experiencing anxiety and depression, appropriate steps can be taken to improve those outcomes. But it starts with understanding the population and current climate of the culture.
4. Offer Benefits That Go Beyond the Basics
Digital health and wellness programs are a proven way to look after your employee's health and happiness, and it's a benefit that employees want from a company. When it comes to employee well-being, the more flexible and personalized your wellness programs can be, the better. And while all wellness programs aim to improve quality of life, comprehensive programming can even include content about happiness and employee mental health.
For example, CoreHealth offers well-being challenges, lifestyle assessments, digital lifestyle programs, a coaching program with secure video connection, and many other features that provide the ability to build a comprehensive workplace wellness program. Healthier, happier employees are more likely to have a positive work experience and create better business outcomes. That sounds like a win-win.
For more about investing in your employees' health and happiness, contact us.
About CoreHealth Technologies
CoreHealth by Carebook is a total well-being company trusted by global companies to power their health and wellness programs. Our wellness portals help maximize health, engagement, and productivity for over 3.5 million employees worldwide. We believe people are the driving force of organizations and supporting them to make behavior changes to improve employee health is in everyone's best interest. With the most flexibility, customizations, and integrations of any software in its class, CoreHealth's all-in-one wellness platform helps achieve great wellness outcomes.
From simple to sophisticated, it's up to you. For more information, visit the CoreHealth website.