10+ Must Have's in Corporate Wellness Technology
May 17, 2016
Ever wondered what you should be looking for in wellness software? This is an introduction to a 10-part Must Have blog series outlining the essential components wellness providers should consider as they research and evaluate corporate wellness platforms to better deliver workplace wellness programs to clients.
New Wellness Providers On the Scene
As more organizations are implementing workplace wellness programs to support their employees to live the healthiest lives possible, they often look to corporate wellness providers to deliver engaging, unique and tailored programs to their staff.
Historically, it's the independent wellness companies that have specialized in delivering workplace wellness programs. However, we are increasingly seeing a diverse mix of organizations such as Employee Assistance Program providers, Insurers, Benefits Brokers, Health Coaching companies and Human Resources consulting firms providing wellness services too.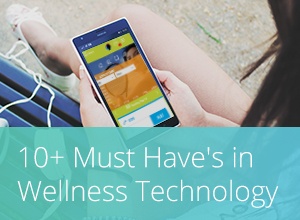 This definitely makes sense as we evolve to focus on preventative health vs. reactive health but this also creates a more competitive marketplace.
Finding Your Competitive Advantage
With so many new players delivering wellness programs, providers are looking to technology to give them a competitive advantage to help them grow their revenue. It can be daunting to come up with innovative solutions on your own but if you don't, your competitors will. It's important to find your competitive advantage to be successful and grow your business. Technology may be the solution.
The Corporate Wellness industry is getting competitive!
10+ 'Must Have' Features in Corporate Wellness Technology
Future Must Have blog posts will delve deepe into each of these features. The following provides an overview of what's to come:
Security & Compliance – Wellness platforms store a lot of personal and sensitive information so trusting that your platform is compliant with the strictest security and compliance rules is paramount. Security compliance and assessments can be complicated and lengthy so ensure your provider is capable and willing to complete them on your behalf. Plus, depending on where in the world you provide your services, security and privacy rules differ. Working with a provider that understands these differences is also top priority. The Top 10 Security Questions When Choosing a Wellness Platform provides further insight.
Apps & Integrations – almost all wellness providers are being asked to integrate their solutions with multiple systems such as HRIS, EAP systems, intranets, kiosks and much more. In addition, you may need to expand your offerings by implementing third-party wellness innovations. These innovations may include wellness content libraries, education and engagement providers, incentive providers, skills training, health risks assessments, wearables (e.g. FitBit), and so on. It's essential your chosen platform can seamlessly integrate to these tools, apps and components.
Platform Provider Focus – many platform providers are also wellness providers themselves. How do you feel about knowing your wellness programs and ideas reside in your competitor's system? If you aren't keen on that, finding a provider that only provides technology – not wellness programs may be very important to you. Plus, if the platform provider focuses exclusively on technology only, then there is comfort knowing that new features benefit all users vs. self-serving the wellness provider/platform provider's needs.
All-In-One – there are many wellness platforms out there (with new one's being launched all the time), it's important to recognize that some platforms may provide limited or select features.

Clearly understanding and knowing your requirements with YOUR prioritization (e.g. critical, nice to have, or not a requirement) BEFORE you start your research will serve you well. Otherwise, it's easy to be influenced when you see a demo and see so many cool 'bells and whistles' and potentially overlook what you really need.
Once you start the implementation stage, it's tough to turn back – definitely not a great time to discover there are missing features you wanted but overlooked or forgot about during evaluation. Having a platform that includes a variety of wellness features all-in-one may be a top priority for you.

Reporting ROI & Dashboards – your platform is a goldmine to discover program success, demographics, employee engagement, risks and more! In-depth reporting, analytics and graphical dashboards are an invaluable component to gaining and keeping executive support and commitment to wellness. You need to show results and correlate to actions!
Communication & Collaboration – Instagram, Facebook, SnapChat – the social media options are endless. Many of us love to share our journey and successes with friends, family or even the public. By doing so, we stay connected, motivate others (there is nothing like an inspiring story from a friend to get you going!) and engage those around you. It's this word-of-mouth and enthusiasm that contributes to successful wellness programs so it's important to have social communication in your platform too. Read our 13 Methods to Boost Your Employee Wellness Program Communications.
Wellness Incentives & Tracking – Building an effective wellness program is a given; however, research indicates that providing employee incentives are associated with higher participation in wellness programs plus, can contribute to overall program and personal success. Incentive tracking is highly personal, so a platform needs to be very configurable to support varying rewards and incentive programs for both participation-based or outcome-based programs.
Wellness Challenges & Engagement – There are many platforms on the market that focus exclusively on workplace wellness challenges. These platforms are really helpful to introduce wellness - especially for those wellness folks that are short on time or have run out of creative ideas to get people engaged. Depending on what you identify as your requirements, you may need a platform for challenges-only but for many providers, a platform that provides challenges AND other wellness features like those listed in this blog, may be top priority. Once again, it's important to iden

tify what features are 'mission critical' and those that aren't.

Gamification

- Plus, if wellness isn't fun, it's not going to run! Employees want to be entertained, some love competition and most love games. Platforms that marry gamification with activities, challenges and programs boost engagement helping you to achieve what's important to you – healthy employees contrib

uting to a healthy bottom line.

Health Coaching & Education

– Someone who keeps participants on track and accountable increases the likelihood of success. A platform that facilitates coaching one-on-one, as a group, or in self-paced format is a part of the formula for success. You may offer your own coaching or work with a third-party coaching provider and in both cases, it could be helpful to have this available as part of your platform so everything is all-in-one.

Global/Multi-Lingual Capabilities – Depending on the location of your clients, being able to implement a wellness platform beyond English could be a priority. As your business expands, it's important to consider your target market and future markets to determine if you can deliver wellness in other countries or languages – in which case, your platform needs to support this as well.
Mobile & Devices – With so many people attached to technology today, it's critical the platform is mobile accessible. Users want the freedom and flexibility to make updates on the go. Ideally, the platform should have site designs that are responsive and instantly adjust to whichever device you are on. Alternatively, an app downloadable for any device is the next best thing. A platform should also be able to integrate with wearables, apps and in-home devices.
Stellar Technical Support – We all know that a platform is only as good as the people behind it. Ideally, you don't need to be a programmer to do what you need to do in your platform but, as we all know, technology is always changing so you need to know that your provider has a support team that is ready and willing to help you, big or small, through to resolution. Solution-oriented and fast!
Researching New Wellness Technology?
Download this Corporate Wellness Technology Requirements Checklist to help you identify your requirements, priorities and evaluate vendors.
Additional Resources You May Like
Check out these other great resources to help you grow your wellness revenue.
Pick your business
About CoreHealth Technologies
CoreHealth Technologies Inc. is the leading corporate wellness platform trusted by more than 1000 organizations, ranging from medium-sized businesses to Fortune 500 enterprises. At CoreHealth, we believe that developing the best employee wellness programs is all about giving wellness companies the right code, design and access to the latest innovations. With the most customization, integrations and reliability of any software in its class, CoreHealth's powerful platform lets users focus on growing great companies. For more information, explore the CoreHealth website.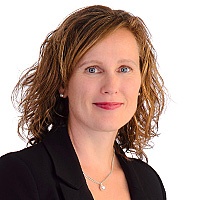 Cindy Danielson is CoreHealth's Marketing Maverick and team leader with a passion for connecting people and technology. In addition to marketing, she has experience as a Benefits Brokers, HR Professional and Project Manager. She loves sales and marketing process while leveraging systems such as Salesforce, Microsoft Dynamics CRM and HubSpot.