29 Tips: Improve Low Morale, Meaning and Engagement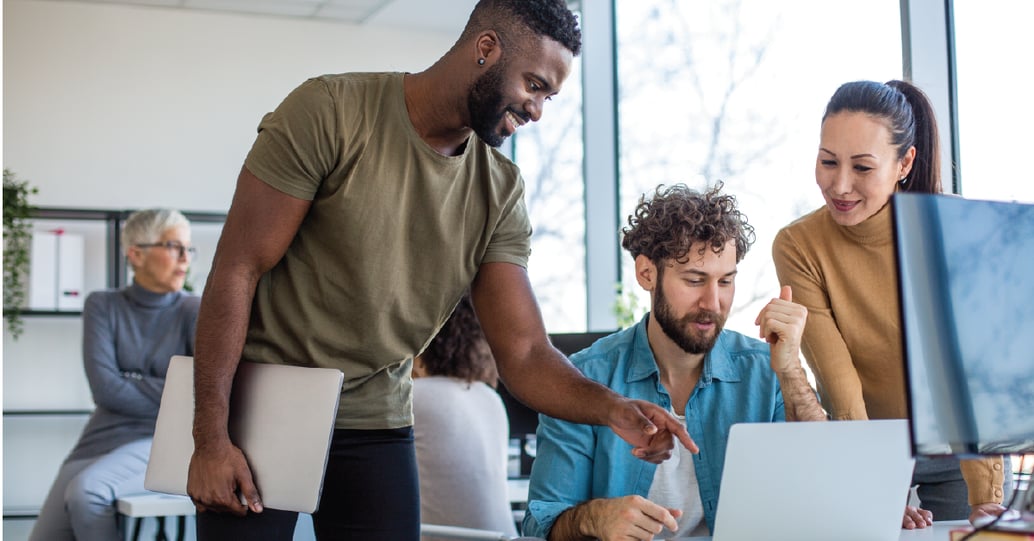 High employee morale results in improved productivity. Quite simply, when employees are happy at work, they are engaged, productive and want to stick around. Discover 29 morale boosters in this infographic.
Importance of Employee Morale
Fifty-three percent of employees polled by Glassdoor (2016) admitted feeling confident that if they left their current job, they could get another within six months.
What Does this Mean?
Employers need to build and sustain high employee morale to avoid employee turnover and top the competition.
Fortunately, it is possible to take such good care of your employees that they don't want to leave. And let's be honest – no employer can afford continuous turnover with the 1-2 years it takes most new employees to be productive. An engaging workplace is achievable with today's access to wellness programs, ways to provide better work-life balance, better communication strategies, and new norms (and expectations!) for workplace culture.
Another Benefit of High Employee Morale
High productivity. Not only will you lose fewer people, but the ones who stick around will do better work. Employees with higher morale are better engaged, more productive, and take fewer sick days than their lower-morale counterparts. That means greater output and a boosted bottom line.
Creative Morale Boosters
Here are 29 data-driven ways to boost employee morale, improve office culture, enhance meaning at work, and improve engagement. Level up your office culture with a few creative changes. Thanks to our friends at Fundera for sharing their insight.

Sources: Forbes | Entrepreneur | Paycor | Entrepreneur | Globoforce | Mckinsey | CCL.org| DynamicSignal | GetBridge | TheLadders | Salesforce | SHRM | Gallup | CornerstoneOnDemand | Forbes
A Step Further
Let's delve a little deeper into how improving morale and engagement makes a difference:
Incentives
Pay competitively
Having a competitive salary package, including regular salary increases, motivational incentives, and benefits (more on that below), is proven to boost morale, motivation, and engagement.
Offer a variety of benefits
Add perks like a cushy benefits package to an employee's salary, and you're sure to encourage their loyalty. Basic benefits are medical, disability, retirement, PTO, and life insurance. Additional benefits include a wellness program, dental, vision, flexible spending accounts, health savings accounts, critical illness insurance, pet insurance, and more.
Prioritize health insurance
Employees need great health insurance. Not only will it keep them from finding employment elsewhere with a better benefits package, but it also shows an investment in their future. That's a strong way to boost morale.
Recognize hard work
Praise and recognition are essential to a strong work environment. When people are praised, they're more likely to continue doing good work. Accentuate the good your employees are doing and they'll not only be more likely to stick around, but they'll flourish and be more productive.
Offer career development
Professional development shows investment in your employees' future and keeps everyone up to date on their field of expertise. It can also help employees have a clear career track, leading to their staying at your organization and rising through the ranks.
Allow flexible schedules
Allowing flex time lets employees schedule their personal lives and work around each other. It gives employees greater control over their schedules, enhances work-life balance, and instills a sense of trust from managers.
Work Culture
Practice Gratitude
Just like with recognition and praise, employees who are shown gratitude for their efforts are more likely to be productive, happy, and loyal to your organization.
Create a mentoring program
Mentoring isn't only good for the mentee – the mentor benefits as well. Fostering relationships, trust, career guidance, clarity of career development, and satisfaction from imparting knowledge are all results of workplace mentorships.
Prioritize company values
Are your organization's values clearly stated? Ideally, these are the core values on which your company is based. As the foundational principles of your workplace, they can enhance the overall tone and meaning behind everyday work.
Promote work-life balance
Work-life balance is a basic part of a healthy, happy work environment. It gives employees more control over their personal and professional lives, as well as boosting morale and lowering stress.
Help employees stay healthy
A great benefits package and a wellness program are the best ways to keep your employees healthy. And healthy employees are proven to be more engaged, productive, and less likely to search for employment elsewhere.
Communication
Communicate effectively
Good communication is a basic building block of workplace productivity and efficiency. One way to improve communications: an open door policy between higher and lower-ranking employees.
End meetings with attainable goals
A savvy manager makes sure people leave meetings knowing what is expected of them. Reduce confusion and you'll automatically boost productivity and morale.
Reduce email chains
Email overload can be a source of continuous stress. Before sending a group email, consider whether emails is the right format, and who the essential players are that really need to be included in the message.
Communicate during work hours
With the advent of smart phones came the loss of structured working hours. Consider setting restrictions on email sending (perhaps only during work hours, or set a cutoff of, say, 7pm).
Facilitate teamwork
By encouraging employees to work together, you can facilitate friendship, trust, efficiently, stronger communications, creative solutions, and an open, friendly culture.
Provide multiple ways to communicate
Think outside the email inbox. Face-to-face meetings, phone calls, and apps help coordinate teamwork and improve communications.
Office
Use the latest technology
Bring in office plants
Studies show that indoor plants can reduce stress, fight off fatigue, and can make your office more cheerful.
Allow pets in the office
Provide snacks
More and more employers are offering healthy snack delivery services at their office. Benefits of workplace snacks include sustained energy, appreciation, less time away, and encouragement of short, healthy breaks.
Supply multiple screens
Multiple screens are shown to encourage higher productivity and greater ease of work – meaning less stress and burnout.
Find an office with natural light
The best way to enhance your workplace? Natural light and views to outside. Studies have found that these are more important to employee morale and longevity than on-site cafeterias and fitness centers.
Management
Choose your managers wisely
The people in charge can make or break your workplace culture. By having good managers, you can boost the likelihood of happy, engaged, and productive employees.
Help them grow
It's important that managers get regular training and professional development to help them be their best.
Give weekly feedback
Regularly checking in with employees fosters good communication, provides an opportunity for praise and appreciation, and allows employees to refocus on what is expected of them.
Focus on their strengths
In other words – stay positive. Accentuate what your employees are doing well. And if they show strengths in certain areas, give them work that's focused on that strength to help them feel valued and be successful.
Give them freedom
By giving employees the chance to have flex time, the freedom to choose which projects to work on, and even other possibilities like working remotely, you'll boost morale and a common sense of trust.
Mind their workload
A stressful work environment can lead to burnout, apathy, and loss of employees. Workloads that are challenging but not overwhelming help people feel valued, needed, and engaged, without being overly stressed.
Remember, even if you can't implement all of these great 29 tips, even some will help make a different and put you on the road to improving employee morale, engagement and productivity.
New Solution Breaks Down Barriers
As a wellness technology company, we work with leading organizations and wellness companies everyday so we know the value of good employee engagement, morale and health. Unfortunately, we consistently see silos of information and departments and want to be the driver of change in our industry.
CoreHealth is about ready to launch our new solution called the Complete Health Program (what we call CHP). CHP is designed to eliminate the barriers between employee engagement, health and productivity.
What is CHP?
CHP integrates health, employee engagement, readiness for change, psychographics and personalized programming into ONE solution. Health is a multi-dimensional, complex and the single most important asset a person or organization can have. Employee Engagement is one of the most significant business drivers organizations are interested in today. CoreHealth is uniting them all with our new CHP solution ready for launch in late Q2 2019.
Stay tuned for more details or contact us TODAY to get early-bird details.
About CoreHealth Technologies
CoreHealth Technologies Inc. is a leading all-in-one corporate wellness platform trusted by wellness providers to power their health and wellbeing programs for 3+ million employees worldwide. At CoreHealth, we believe that developing the best employee wellness programs is all about giving providers the right code, design and access to best-in-class innovations. With the most customization, integrations and reliability of any software in its class, CoreHealth's powerful platform lets users focus on growing great wellness companies. For more information, visit the CoreHealth website or visit our YouTube Channel.