Ways to Help Employees Manage Stress During a Pandemic
By Your Friends in Health at CoreHealth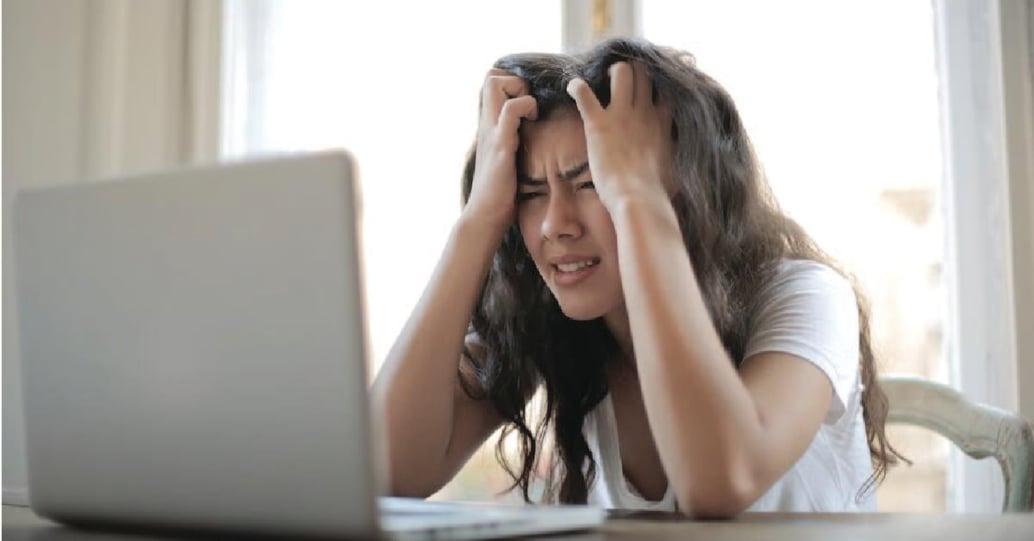 Workplace stressors can have damaging consequences to employee wellness, company morale, and overall productivity. This year, employee wellness and stress management must be a priority.
Uncertainty breeds anxiety and COVID-19 has undoubtedly created a lot of uncertainty. Employees have had to navigate changing work conditions, concern over economic instability, and a slew of other stressful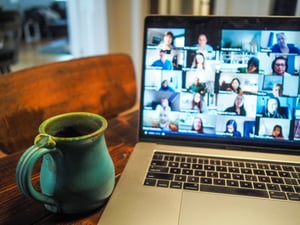 circumstances, all while juggling their daily job responsibilities. As a result, many employees are suffering from stress and anxiety, which can manifest itself into complete burnout if not addressed.
To prevent employee burnout, employers have had to help workers navigate new challenges related to COVID-19's prolonged effect on their staff's physical and mental well-being. This requires an understanding of common stressors employees carry, as well as resources to support them. What can employers do to prioritize employee health and assist with stress management?
Common Remote and On-Site Employee Stressors
Common, systemic workplace stressors can result from organizational controls, like workload and performance objectives, to situational stressors like changes in consumer demand, or a global pandemic. Workplace anxiety was already mounting pre-pandemic, but those numbers are rising, with nearly 72% of employees experiencing stress interfering with their daily responsibilities. What's more, 40% of employees report persistent anxiety linked to their jobs and 28% suffer from job-related panic attacks.
Normally, working remotely is seen to offer many benefits including increased productivity, reduced stress and absenteeism, and better work-life balance, but this isn't a normal situation. Businesses transitioned remotely overnight and employees were tasked with having to figure out new workplace dynamics, sharing remote working space with family members, and operating new digital tools to support this dynamic. Similarly, employees deemed essential for onsite operations have had to deal with mounting concern over their own health and public safety during a pandemic.
Considering nearly $500 billion in productivity is lost each year due to stress and businesses need to be aware of the common stressors for their remote and onsite employees.
General Workplace Stressors: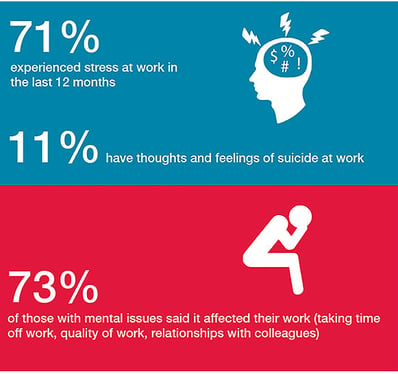 Juggling competing deadlines or short turnaround times
Managing interpersonal relationships in the workplace
Maintaining a healthy workload and having work-life balance
Feeling constantly connected to the workplace
Poor staff management
Remote Workplace Stressors:
Adapting to new technology or digitized processes
Working collaboratively with distributed team members
Securing space and equipment to allow business continuity at home
Missing context clues in digital communication
On-Site Workplace Stressors:
Following updated procedures for workplace sanitization
Added exposure to illness by being present in the workplace
Coming in contact safely with customers, vendors, or other onsite personnel
Recognizing When an Employee Is Struggling with Mental Health
Once an employer takes time to understand the causes of workplace anxiety, the next step is recognizing how it manifests in employees. For some employees, signs of stress can be obvious to spot, such as a panic attack. For others, mental health stressors can manifest in less obvious ways, including:
Constant feelings of anxiety or depression
Easily irritated or temperamental attitude
Difficulty sleeping and chronic fatigue
Apathy or indifference
Increased use of sick days
The uncertainty of the continued pandemic may also affect employees' abilities to cope with stress and change management. Times of unprecedented change, currently affecting many businesses, can affect an individual's ability to accept and adjust to changes. In turn, this stress can manifest in physical, emotional, and behavioral challenges that affect employee health, personal and professional relationships, mental alertness, and overall wellbeing.
Support Employee Stress and Wellness
To address the issue of uncertainty and emotional wellbeing during the COVID-19 pandemic, organizations should focus on providing holistic resources to support employee health and wellness. The first priority is to establish clear and consistent communication.
Inefficient communication in the workplace has been known to increase stress levels, cause project delays, lower company morale as well as productivity. In fact, 86% of employees cited ineffective communication as a leading reason for workplace failures. Companies can help employees minimize stressors by adopting a transparent workplace culture with open two-way communication, informed leadership updates, and collaboration tools. Especially during a pandemic, businesses should commit themselves to sharing information from trusted public health sources and supporting the message across the company's leadership.
Additional steps employers can take to support employee stress and overall wellbeing include:
Follow best practices and policies provided by the World Health Organization.
Make decisions with the wellbeing of local and global communities in mind, not just individuals in your workplace.
Implement a stress survey to measure and track stress levels across your organization and provide targeted resources and tools.
Practice compassionate leadership: employers are unaware of employees who have vulnerable family members, who already suffer from anxiety, or who experience anxiety more acutely. Leading with compassion and empathy is more critical than ever.
Offer digital wellness programs for employees to access mental and physical health resources.
All-In-One Wellness Programs for Employee Health
Well-being technology is providing organizations with the infrastructure to identify mental and physical health risks at every level. By doing so, they can develop and deliver all-in-one wellness programs that are targeted to motivate, engage, and support employees during times of unprecedented change.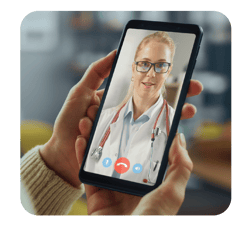 All-encompassing wellness programs, like CoreHealth, leverage cutting-edge technology and online tools so employees can easily take advantage of resources from the comfort of their own home. Personalized health programs allow employees to prioritize their mental and physical health by providing 24/7 access to healthcare services, allowing them to choose personalized benefits, and to join group challenges for weight management, nutrition, or even stress management. You can also incorporate mindfulness training, financial wellness, lifestyle questionnaires, health coaching, and more to target the common causes of employee stress and find healthy, sustainable ways to manage them.
Employee stress management and wellness should always be a priority. CoreHealth's all-in-one wellness program helps employers support their staff in tackling change and new stressors while building healthy habits, leading to a happier workforce. Contact us today to learn more.
About CoreHealth Technologies
CoreHealth Technologies Inc. is a total well-being technology company trusted by global providers to power their health and wellness programs. Our wellness portals help maximize health, engagement and productivity for 3+ million employees worldwide. We believe people are the driving force of organizations and supporting them to make behavior changes to improve employee health is in everyone's best interest. With the most flexibility, customizations and integrations of any software in its class, CoreHealth's all-in-one wellness platform helps grow great wellness companies. Simple to sophisticated, based on you. For more information, visit the CoreHealth website.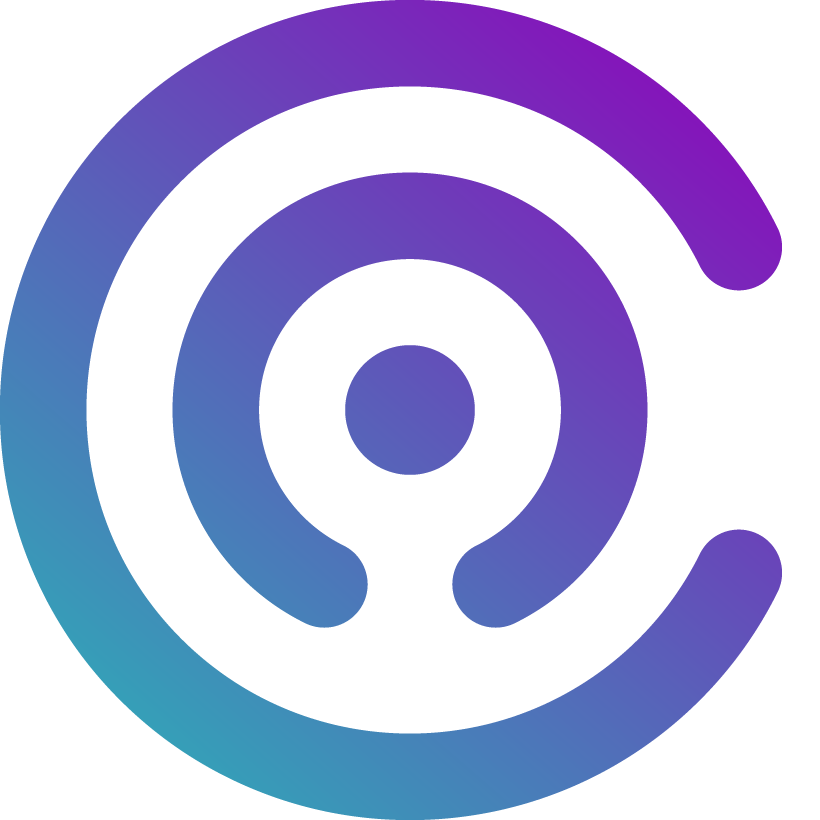 About The Author
Your Friends in Health at CoreHealth
CoreHealth by Carebook's Health and Wellness Team works hard to bring our readers informative and research validate health and well-being blog articles and resources that support your workplace wellness culture and wellness technology purchase decision.