CoreHealth Launches Wellness Compass to Revolutionize Corporate Wellness Programs
Apr 11, 2017
The Wellness Compass is a new technology for organizations to engage employees in their path to achieving health and well-being, enabling employees to choose a personalized health journey.
As published by PRweb April 11, 2017.
Kelowna, BC – April 11, 2017 – CoreHealth Technologies announced today it has launched the Wellness Compass - a new technology for organizations to engage employees in their path to achieving health and well-being, enabling employees to choose a personalized health journey with the ability to track and celebrate their progress and success at critical milestones.
CoreHealth is constantly innovating and evolving their corporate wellness technology to meet the ever-changing needs of their customers. Employees no longer want a one-size-fits-all approach – they want the flexibility and choice to control their journey to health rather than prescribed approaches, a method common in wellness programs today.
"Since our customers are corporate wellness companies delivering wellness programs to workforces around the world, we receive valuable insight about what employees like and don't like in programs. We consistently hear that an employee's health journey must be personal, flexible, and trackable so they can see and celebrate their progress. If this doesn't happen, then employees and employers don't see the results or realize the ROI they are looking for. The Wellness Compass gives employees choice and control in a different way than most traditional programs do today," said Anne Marie Kirby, Founder and CEO of CoreHealth Technologies.
Wellness Compass' new functionality is part of the 2017.1 product release and allows organizations to give employees choice and control in a simple, fun and engaging interactive format.
FEATURES OF THE WELLNESS COMPASS:
Users can learn about themselves via lifestyle surveys and biometrics to identify areas for improvement. Users then decide the key health areas they wish to focus.
The technology presents available tools including: health coaching, content, reminders, activity challenges, biometrics screenings and so on.

Users choose tools that are tailored to their focus areas to support them with long-term behavior and lifestyle changes.

At each step in the process, users track progress and are rewarded along the way.
The feedback from CoreHealth customers was instrumental to the Wellness Compass development process to ensure the workflows, tools and capabilities were exactly what employers and employees wanted - a personal, flexible, and trackable experience.
"The talented team at CoreHealth has come up with an individualized way for people to achieve their own wellness goals at their own speed. I love the personalized concept and can't wait to integrate this feature with our clients. Finally, a tool that will help us to meet employees where they are in respect to their readiness to change," said Amy Cohen, President of Inspired Perspectives.
CoreHealth, in conjunction with their customers and third-party, best-in-class wellness vendors, continue to work together to revolutionize today's corporate wellness programs to deliver new concepts in a different format than what is currently available with today's wellness technology, giving customers a competitive advantage in the marketplace.
EXAMPLE WORKFLOWS
For Corporate Wellness Programs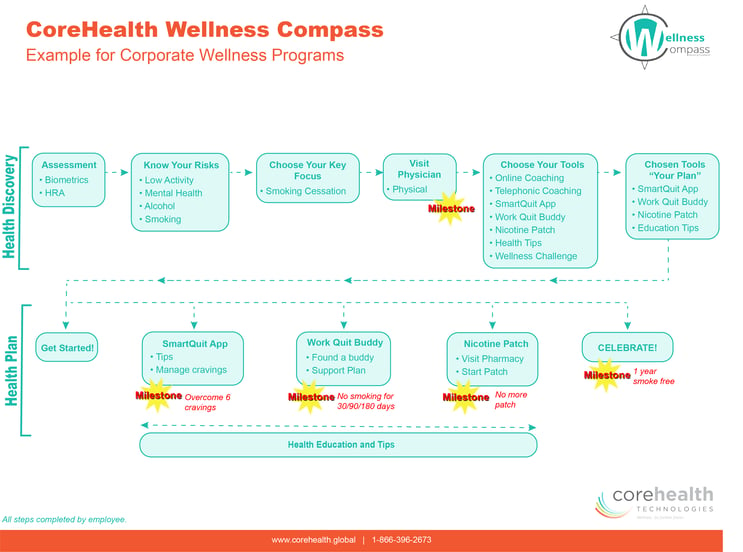 For Health Providers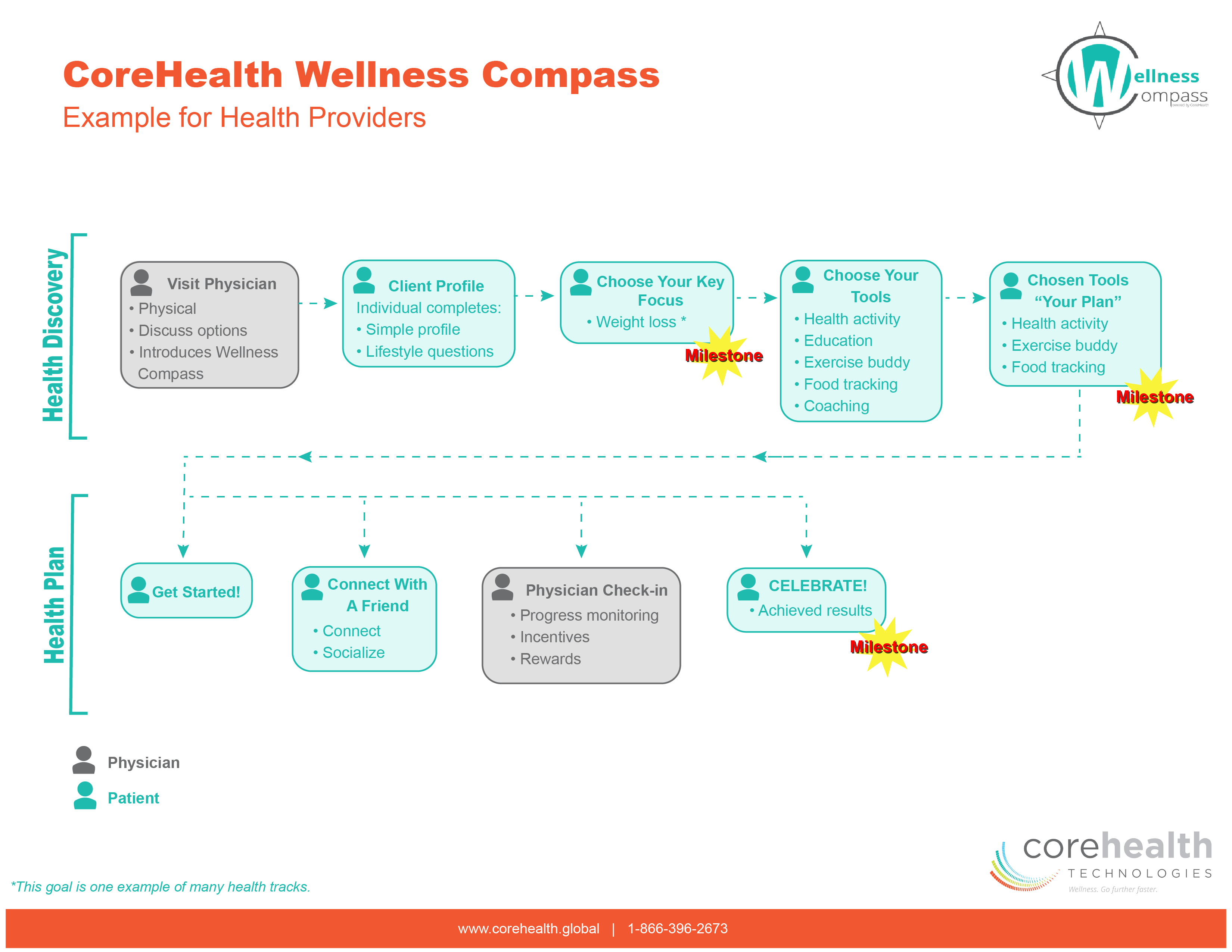 ABOUT COREHEALTH TECHNOLOGIES:
CoreHealth Technologies Inc. is the leading corporate wellness platform trusted by more than 1000 organizations, ranging from medium-sized businesses to Fortune 500 enterprises. At CoreHealth, we believe that developing the best employee wellness programs is all about giving wellness companies the right code, design and access to the latest innovations. With the most customization, integrations and reliability of any software in its class, CoreHealth's powerful platform lets users focus on growing great companies. For more information, visit the CoreHealth website.
MEDIA CONTACT: