Ideas for Step Challenges at Work Using a Step Challenge App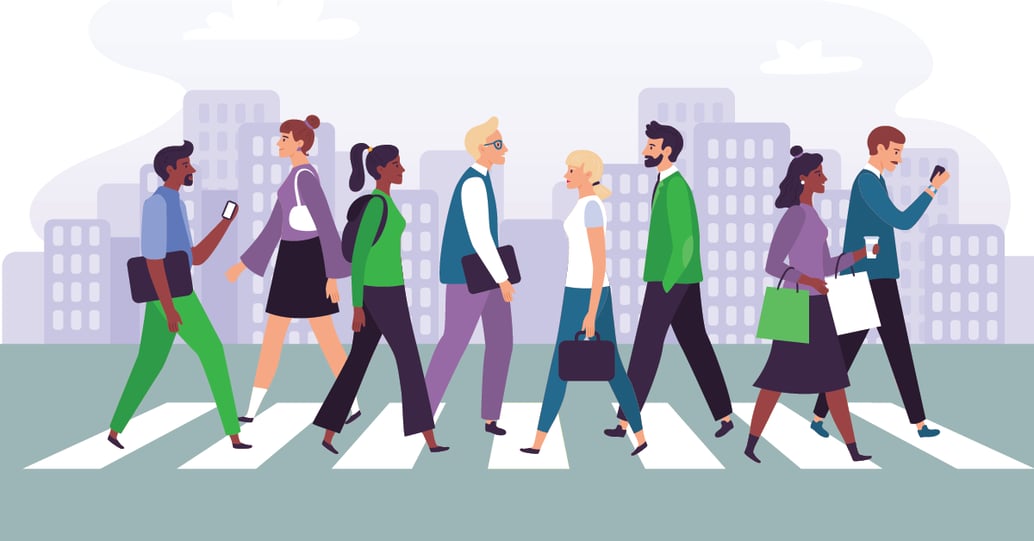 Employees who are physically active take 27% fewer sick days. Offer engaging step challenges at work with a step challenge app to improve employee health outcomes.
Did you know that employees who are physically active take 27% fewer sick days? That's two days working instead of being sick annually per employee. The best part is that encouraging healthy physical activity in the workplace is easy. Simple activity like daily walking is accessible to employees at every fitness level, and can create a culture of health in your workplace.
Creative Ways to Implement Walking at Work
Walking can become part of your workplace culture no matter your budget for wellness or your employees' current fitness level. Here are a few ways to easily add more activity to your employees' workday routines.
Encourage walking meetings: offer tips on how to host a walking meeting, and start at the top: if employees see managers and leaders hosting walking meetings, they'll feel encouraged to do the same.
Provide maps or signs to nearby walking paths: help employees be active during their breaks by pointing out nearby walking paths. You could even put signs up near your workplace to create your own 'walking trail' just outside your office doors. If weather is an issue, provide umbrellas or portable fans to encourage walking.
Make it a game: nothing encourages activity quite like healthy competition! Incentivize walking by giving points to those who reach a certain number of steps per day, or create teams and give a prize to the team who gets the most steps. Simple rewards like the best parking spaces, a healthy lunch or their picture on a 'wall of fame' are effective motivators!
Take the stairs: encourage stair use by placing posters in locations that lead employees toward the stairwell. We know of a company that put framed artwork made by employees' children by the stairs to encourage employees to walk past them every day. Feel free to get creative!
Host walking challenges at work: Walking challenges create a healthy sense of competition and boost morale in your workforce. Keep it simple by encouraging employees to get up to 10,000 steps per day, or host a fun virtual-adventure walking challenge like the ones listed below.
Encourage employees to use a step challenge app: take your step challenges a step farther by incorporating an app, which can track steps, motivate, and encourage healthy behaviors. CoreHealth's MyWellApp lets users track steps and access their entire wellness program in one place.
How Step Challenge Apps get People Moving
With today's mobile culture, apps are one of the best ways to increase employee wellness program participation and make programs accessible for employees and their dependents all around the world.
Count Steps
Almost everyone needs to get more exercise, and walking is one of the easiest ways to do it. Encourage employees to use an app to see how far they've moved in the course of a day. Adding a little more walking every day can make a huge difference. Just a 20-minute walk around the block will bring you up to the recommendation of 150 minutes of moderate-level activity per week.
Motivate
What makes challenge apps and wearables like FitBit so motivating? They put a number on our physical activity efforts. A realistic goal is between 8,000 and 10,000 steps per day. On average, 2,000 steps equals about a mile. You may be surprised how quickly steps add up by daily activity like walking in the office, through grocery store, and around the block!
Create healthy competition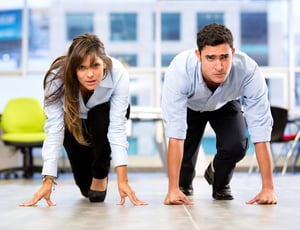 To reinforce tracking daily steps or other forms of physical activity, offer incentives for reaching a daily or weekly goal. Simple incentives often work best – recognition in your monthly staff newsletter, a free healthy lunch, or the opportunity to choose the next wellness challenge may be all that you need to spark some competition.
Increase participation
Wearable step counters like FitBit and even basic pedometers are options that can help reinforce your walking challenge. CoreHealth's MyWellApp allows users to track their steps while accessing every other part of your wellness program, too, like the ready-to-use, virtual walking challenges below.
Ready-to-use walking challenges
Lots of companies create their own walking challenges by setting a worksite goal (say, of 9,000 steps per day) and offering incentives to those who reach it. There's nothing wrong with these kinds of programs – they can be a great starting place for wellness. But after a few weeks employees generally lose interest and participation drops. For long-term behavior change and improved health outcomes, choose challenges that are designed to effectively change health behavior and keep participants engaged year after year.
CoreHealth has done the legwork for you by creating fun, virtual experience challenges based on tracking steps or other activities. These integrate with an overall wellness program to create a robust wellness offering for your workplace. By offering different walking challenges throughout your wellness program, you'll keep your employees engaged and consistently participating in activity. Here are a few of our step (or other activity) based challenges.
Around the World: Grab your compass and map, and get ready for an epic journey around the world!
Amazing America: Experience the splendor of the beautiful US in this virtual challenge.
Mystery Fitness Challenge: Solve a mystery as you track your activity and take a virtual walk through London, finding clues along the way.
Route 66: This 2,100-mile (3,400km) virtual journey begins in Chicago, winds along Route 66 through different states to finish in Santa Monica, California.
Lost City Trek: Journey to the lost city of Ciudad Perdida in the jungles of South America.
Race to Mount Olympus: Travel through the Greek countryside as you race the Greek Gods to the top of Mount Olympus!
Tour de France: Follow the 2011 Tour de France route by tracking daily walking or activity.
The Night Before Christmas: Watch for the map pop-ups along Santa's route to learn about how different countries around the world celebrate the winter holidays!
Summary
There are so many fun ways to engage your team in activity challenges that are both easy to implement and track – especially with the help of a step challenge app. If you are looking to boost the physical activity of your workforce, contact CoreHealth to learn how our wellness platform gives you full control to design, deliver and administer all your wellbeing programs including challenges for nutrition, physical activity, stress management, weight management and wellness.
About CoreHealth Technologies
CoreHealth Technologies Inc. is a leading all-in-one corporate wellness platform trusted by wellness providers to power their health and wellbeing programs for 3+ million employees worldwide. At CoreHealth, we believe that developing the best employee wellness programs is all about giving providers the right code, design and access to best-in-class innovations. With the most customization, integrations and reliability of any software in its class, CoreHealth's powerful platform lets users focus on growing great wellness companies. For more information, visit the CoreHealth website.