This is Part 3 of a 10-part Must Have blog series which explains the difference between a wellness platform vs. wellness software application.
It's ironic that two of the most over-used and misused words in our vernacular these days are "wellness" and "platform".
"Wellness" has been used to represent anything from individuals achieving vitality to crystal healing…and everything in between.
The same goes for "platform". Organizations refer to their "nutrition platform" or their "exercise platform". More often you will hear people referring to their "wellness platform" which may not be a platform at all.
Platform vs. Software
To clear up any confusion, we define platform vs. application:
Platform - The underlying hardware or software for a system. The platform defines a standard around which a system can be developed. Once the platform has been defined, software developers can produce appropriate software and purchase appropriate hardware and applications.
What's the Difference?
The biggest difference between an application and a platform is the amount of flexibility you have. A platform pulls a multitude of features, products, software, hardware together and is typically designed to work seamlessly together. Platforms are designed to meet the vast needs of many, in limitless form, while an application is designed for a specific scenario with limited flexibility.
The following table outlines major differences between a platform vs. software application: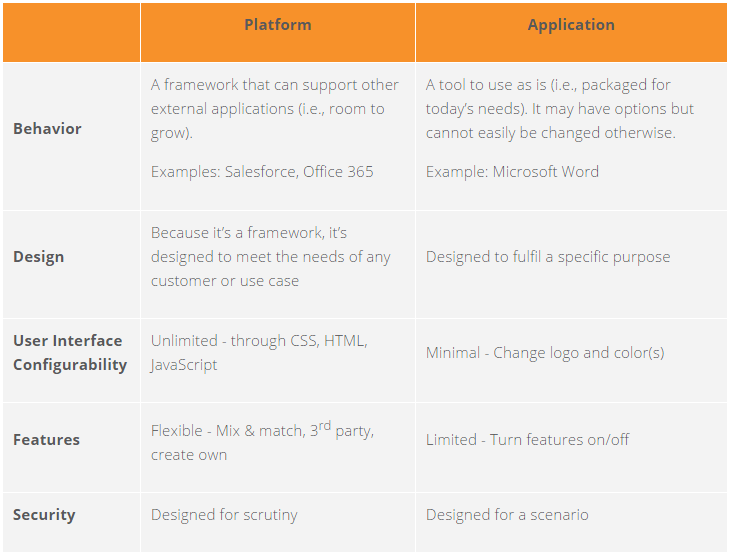 Partner Focus: Technology vs. Wellness
There are many workplace wellness companies that have good technology and have since started offering it as a separate product – often times called a 'platform'. But in essence, it is not a 'true' platform because it has been designed to fulfill their own needs, not the needs of many organizations. If their 'platform' does exactly what you want it to, then it could be a great fit today! But if your business or marketplace changes, you can't count on the 'platform' to evolve the way you need it to.
Working with a technology company allows you to be future-proofed. Because technology is the core expertise of tech companies, they are constantly monitoring developments in the industry and adjusting their technology to keep up with market demands.
---
Technology in the fastest changing industry of our time
---
Technologies companies are willing and eager to invest in updating their underlying architecture quickly to take advantage of new developments, of which there have been many in the last 10 years (devices, wearables, mobile, slick graphical designs, etc.)
---
Technology Companies Operate Differently than Wellness Companies
---
As a tech company, CoreHealth devotes 50% of its development resources to keeping our underlying technology up-to-date to ensure our all-in-one workplace wellness platform is flexible and responsive to customer and market demands.
Workplace wellness companies that also develop/sell wellness technology, typically have competing priorities (primarily keeping business software running and catering to their own wellness team).
When you work with a tech company, technology is their focus and passion. Customers win because they can trust they are getting the latest and greatest technology - never having to worry about outdated software making it future proofed.
All-in-One Platform
So, now that you understand the difference between an application vs. a platform, it's apparent that a platform is the route to go if you want flexibility and scalability.
Wellness providers prefer to minimize third-party integrations so finding an all-in-one wellness platform with all these features is ideal:
health assessments
biometric management
education
wellness challenges
self-help programs
coach facilitation
incentives
surveys, and
conversations/social media.
However, third-party integrations are often unavoidable; in which case, using a platform proves its power and value with seamless third-party integrations. Think Salesforce – the #1 CRM platform and their AppExchange of thousands of apps that seamlessly 'plug-in' to the platform.
This is a similar model CoreHealth is striving to replicate with our Wellness Network of over 140 unique wellness innovations with unlimited configurability and design options which are all tightly integrated to run seamless with the platform.
Looking for a Total Well-Being Technology Provider?
About CoreHealth
CoreHealth Technologies Inc. is a technology company and the leading corporate wellness platform trusted by more than 1000 organizations, ranging from medium-sized businesses to Fortune 500 enterprises. At CoreHealth, we believe that developing the best employee wellness programs is all about giving wellness companies the right code, design and access to the latest innovations. With the most customization, integrations and reliability of any software in its class, CoreHealth's powerful platform lets users focus on growing great companies. For more information, contact CoreHealth or explore the CoreHealth website.