Are wearables still leading the pack in wellness programs or are they becoming an outdated fad? Some say it's the latter but others are at the forefront of advanced technology that's breaking the barriers of health and wellness.
The Future of Wearables
At the popular CES conference in Las Vegas this past week it's apparent that wearables aren't fading into the backdrop anytime soon. In fact, it looks like the complete opposite as smartwatches get smarter, and fitness trackers are tracking much more than just your daily activity. Fitness technology and wearables are racing forward with advances in sensor technology, cloud computing and more to help track activity and keep you connected.
The future is already here with current wearables allowing you to track your heart rate, blood glucose, and other biomarkers right from your wrist.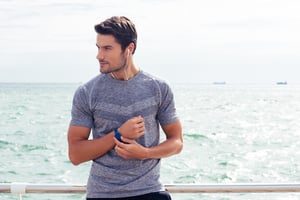 Being curious in nature, I did an Internet search on "wearables" and got numerous hits. Here are some of the top exciting wearable tech innovations we may see appear in 2019.
Apple Watch 5
Although the Apple Watch 4 already offers ECG and GPS tracking fans are hoping for a longer battery life with the next version. You can never have enough juice!
Google Pixel Watch
The new version is rumored to offer a longer battery life while listening out for voice commands without impacting on how much charge is left. This should offer a great way to use Google Assistant without draining smartphone battery life too.
Garmin Fenix 6
Although the Garmin produces one of the best wearables on the market its bulky size makes one think twice before sleeping with it on. Signs are pointing to the Fenix 6 having a smaller size as well as everyone's favourite - wireless charging as well.
Wearables in Workplace Wellness
Creating an effective workplace wellness program with wearables relies on engaging the entire workplace. Wearables in the workplace provide employee's with the ability to immediately and effectively capture, evaluate and track their progress in real-time. Having such accessible data results in an increase in employee engagement in health and wellness initiatives, positively impacting productivity through improving employee health.
Some argue wearables have been priced too high for a large share of the market, especially for employers to incorporate in their wellness programs. However, as the market has matured, other companies such as YOO Fitness are making wearables accessible to employers for an affordable price.
Questions about Wellness Technology and Integrating with Wearable Devices?
About CoreHealth Technologies
CoreHealth Technologies Inc. is a leading all-in-one corporate wellness platform trusted by wellness providers to power their health and wellbeing programs for 3+ million employees worldwide. At CoreHealth, we believe that developing the best employee wellness programs is all about giving providers the right code, design and access to best-in-class innovations. With the most customization, integrations and reliability of any software in its class, CoreHealth's powerful platform lets users focus on growing great wellness companies. For more information, visit the CoreHealth website.