CoreHealth Strengthens Global Presence With Belgian Based Partner AG Insurance
Nov 18, 2020
CoreHealth Technologies continues to strengthen its position in the global wellness technology industry through partnerships with leading global wellness providers such as Belgian insurance company AG Insurance.
As distributed via press release on November 16th, 2020.
KELOWNA, British Columbia, November 16, 2020 - Corporate wellness technology company CoreHealth Technologies is pleased to announce its newest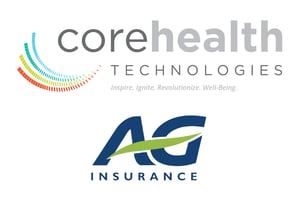 European customer AG, the market leading Belgian insurance company. CoreHealth is supporting their new corporate well-being service provider, AG Health Partner. CoreHealth's flexible, all-in-one, white-labeled, multi-lingual wellness platform will be used by AG Health Partner to support businesses by helping them define, plan and implement their corporate well-being vision.
"There is high demand from companies for a powerful digital communication tool that will foster connection and help workers thrive, particularly in the context of COVID-19 and the massive, abrupt shift to remote working," comments Ellen De Vleeschouwer, General Manager of AG Health Partner. "Now more than ever, it's important to engage and connect with remote employees, not only to provide them with individual support, but also to bring them together as a group, even if only virtually. CoreHealth's technology offers the necessary flexibility to optimally support us in this endeavour."
CoreHealth powers workplace wellness programs for top corporate wellness companies, insurers and their wellness divisions, health coaching companies, employee assistance providers, group benefits brokers, Human Resources consulting firms and health systems and their wellness divisions.
"AG is a longstanding and innovative market leader from CoreHealth's perspective, and forming AG Health Partner was a natural extension into the well-being market. People throughout the world need digital health and prevention solutions. With the capabilities that CoreHealth Technologies brings to their newest offering, this partnership will offer a unique value proposition to the Belgian market," said Anne Marie Kirby, Chief Executive Officer of CoreHealth Technologies.
About CoreHealth Technologies:
CoreHealth Technologies is a total well-being technology company trusted by global providers to power their health and wellness programs. Our wellness portals help maximize health, engagement and productivity for 3+ million employees worldwide. With the most flexibility, customizations and integrations of any software in its class, CoreHealth's all-in-one, multi-lingual, white-labeled wellness management platform helps grow great wellness companies. Simple to sophisticated, based on you. For more information, visit www.corehealth.global.
About AG Health Partner:
AG Health Partner supports businesses by helping them define, plan and implement their corporate well-being vision. They enable futureproof HR policies through audits, personal action plans, tailor-made well-being programs and unique digital tools to promote them. Surrounded by best-in-class technology and partners, their approach is both holistic and personalized as they address the physical, mental and social aspects of well-being while keeping in mind that the balance is different for everyone.
Founded in 2019, AG Health Partner is a subsidiary of AG, the leader in the Belgian insurance market. For more information, visit www.aghealthpartner.be.
Media Contact:
CoreHealth Technologies
Lindsay Walters, VP Business Development & Marketing
lindsay.walters@corehealth.global
1-866-396-2673