How to Improve Employee Mental Health, According to the U.S. Surgeon General's New Framework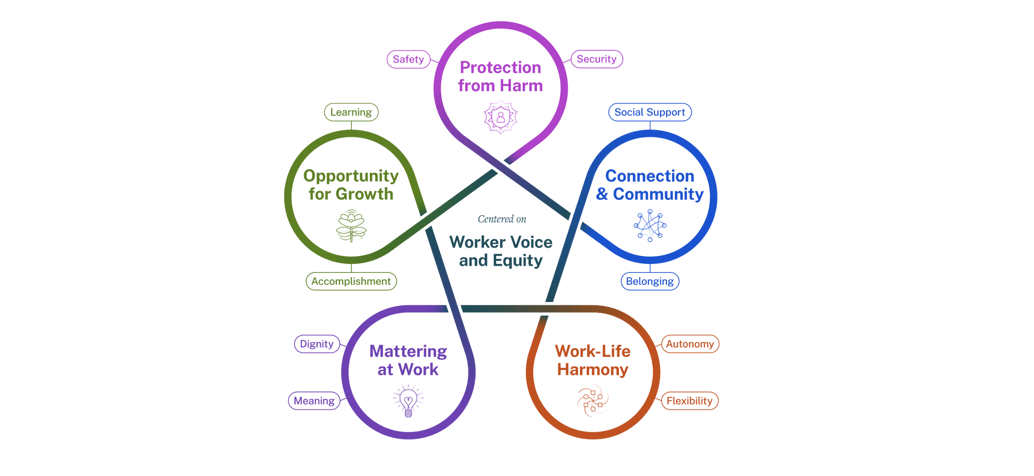 Last month, U.S. Surgeon General Vivek Murthy, M.D. released a groundbreaking framework of recommendations for improving employee mental health and well-being policies and procedures in the workplace. Titled The U.S. Surgeon General's Framework for Mental Health and Well-Being, the document comes in the wake of "Quiet Quitting" and "The Great Resignation," and confirms the need for worksite wellness initiatives focused on supporting employee mental health.
The need for employee mental health support
Murthy cites surveys which report that 84% of respondents feel that their workplace conditions contribute to at least one mental health challenge, and that 81% of workers are looking for workplaces that support their mental health. Additionally, recent research shows that 1 in 5 adults in America experience mental illness. In a worker's market where many employers are scrambling to find and keep top talent, these statistics matter.
Mental health concerns – including anxiety, depression, unhealthy levels of stress – increased dramatically during the pandemic, and have yet to come back down to pre-pandemic levels. In fact, 76% of U.S. workers reported experiencing at least one symptom of mental health conditions in 2021. There are many reasons for this spike in mental ill-health, including isolation and loneliness from quarantine and remote work; continued uncertainty regarding major world events; widespread economic issues like job loss.
How can companies help?
Fortunately, employers can make a difference, and the Surgeon General has outlined clear ways to take action. He offers a framework of 5 suggestions to improve corporate policies and procedures regarding mental health. The ultimate goal is for workplaces to create a foundation of mental health support for their workforce and communities.
"A healthy workforce is the foundation for thriving organizations and healthier communities," said U.S. Surgeon General Dr. Murthy. "As we recover from the worst of the pandemic, we have an opportunity and the power to make workplaces engines for mental health and well-being, and this Surgeon General's Framework shows us how we can start. It will require organizations to rethink how they protect workers from harm, foster a sense of connection among workers, show workers that they matter, make space for their lives outside work, and support their growth. It will be worth it, because the benefits will accrue for workers and organizations alike."
US Surgeon General's 5-part Framework
The 48-page document covers 5 suggestions. We break down each of them, below.
Protection From Harm
Preventing issues before they begin is the way to create a foundation of mental health and well-being in the workplace. Just as we go to great lengths to ensure physical safety, we can take action to improve psychological well-being. The Framework divides this section into two parts: Safety and Security.
Safety refers to creating a workplace culture that is free from stressors that could cause psychological harm. These include bullying, harassment and discrimination. Security means ensuring that employees are stable financially and in their role within the organization.
Additional information and resources on this topic are available here.
Connection & Community
Overcoming challenges related to a remote or hybrid workforce includes addressing the loneliness and isolation that often accompany it. These issues can lead to unmanaged stress, depression and anxiety. Fostering an organizational culture of inclusivity and positive relationships can overcome these challenges, even for remote and hybrid workers.
Social support can help employees feel included and supported, and can decrease feelings of loneliness and isolation. Employee-sponsored programs can help boost social support in the workforce including remote employees. A sense of belonging among a workforce, where employees feel that they're an important part of the group, can add to a positive workplace culture.
Additional information and resources on this topic are available here.
Work-Life Harmony
Managing work and personal time has become harder for many individuals, especially those who work from home. One of the repercussions of this has been the phenomenon of 'quiet quitting,' a movement of employees no longer working longer hours than they're paid for, as has historically been expected. Instead, employees are taking back their time – and their mental health.
Responsibilities at work and in personal life can support each other and coexist harmoniously. Greater autonomy, or the amount of control a worker has over their workload, can improve well-being, as well as improved flexibility to allow employees to schedule their days in ways that work best for them.
Additional information and resources on this topic are available here.
Mattering at Work
The need for positive recognition is part of human nature. When employees feel recognized and appreciated at work, it can make a significant difference in their work experience and overall mental well-being. This topic is broken down into the ideas of dignity and meaning. Dignity, or the sense of being respected and valued, is important in preventing depression. Meaning found in one's work helps employees feel that their efforts create a positive impact - a sense that also boosts positive mental health.
Additional information and resources on this topic are available here.
Opportunity for Growth
Chances to learn and improve help employees stay engaged, and prevents feelings of boredom and depression at work. This includes continued learning, and opportunities for accomplishment. When employees feel that they're continually getting better at their job, and are working toward achieving goals, there can be a greater sense of enthusiasm and optimism in the workplace culture.
Additional information and resources on this topic are available here.
The global events of the last few years have proven that employee mental health and well-being needs to be taken seriously and addressed. Employers can take action by following these 5 suggestions, while fostering a more motivated workforce that can attract and keep top talent. With the right organizational culture, the workplace might be the best opportunity to improve the mental health of our communities. Learn about CoreHealth's suite of employee mental health solutions.
About CoreHealth Technologies
CoreHealth by Carebook is a total well-being company trusted by global companies to power their health and wellness programs. Our wellness portals help maximize health, engagement, and productivity for over 3.5 million employees worldwide. We believe people are the driving force of organizations and supporting them to make behavior changes to improve employee health is in everyone's best interest. With the most flexibility, customizations, and integrations of any software in its class, CoreHealth's all-in-one wellness platform helps achieve great wellness outcomes.
From simple to sophisticated, it's up to you. For more information, visit the CoreHealth website.