How the Pandemic is Giving Telehealth Services Their Day in the Sun
By Your Friends in Health at CoreHealth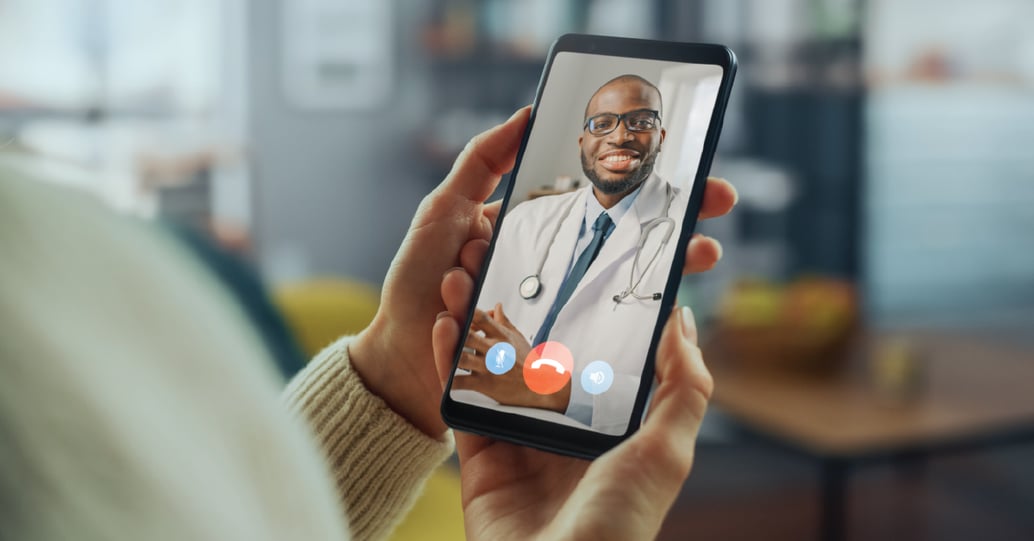 Telehealth is heralded as a revolution in health service that can potentially democratize and modernize medicine by reducing costs, increasing access to care, and improving efficiency.
Although 10% of Americans use telehealth services, the novel coronavirus pandemic is quickly changing this. With more than 1.8 million Americans infected by COVID-19, people are forced to stay home in lockdown and look to alternative means of help like virtual care services.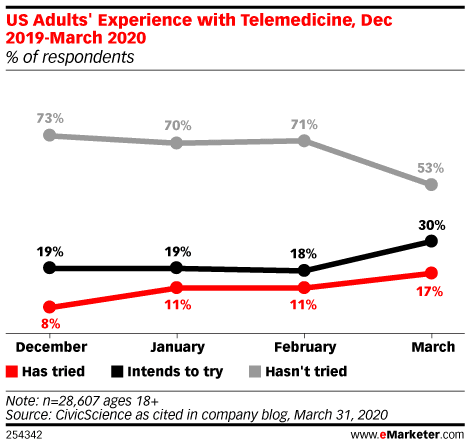 Today, we're seeing a more than 50% increase in the usage of telehealth services. Although it's taken extraordinary circumstances to push telehealth services into the spotlight, the odds are its popularity will continue beyond the pandemic. Below, we'll explore what exactly telehealth is, why it's currently gaining popularity, and where to go if you're interested in bringing the convenience of telehealth directly to your employees.
What is Telehealth?
According to the American Telemedicine Association, Telemedicine or Telehealth is the exchange of medical information from one site to another through electronic means with the goal of improving a patient's health. Telehealth involves a growing number of technologies, including two-way video streaming, video conferencing, email communication, smartphone apps, and other forms of secure remote communication.

In terms of benefits, telehealth services help improve clinical workflow, boost practice efficiency, reduce patient costs, and allow patients to access healthcare online 24/7 in the comfort of their homes.
Telehealth During COVID-19
Telehealth services are experiencing a growth explosion during the global pandemic crisis because they allow the wider population to gain access to medical experts without breaking lockdown rules or overwhelming the healthcare system.
While telehealth services weren't widely used in the US previously, the coronavirus pandemic has increased awareness of the value of virtual visits. Forrester analysts estimate there will be more than 1 billion virtual care visits in 2020, which includes 900 million COVID-19-related visits.
This growing acceptance of telehealth services is opening new doors for the telehealth industry, especially when it comes to diagnosing, managing, and treating clients. Below, we'll explore telehealth services and how they are currently used in the global pandemic.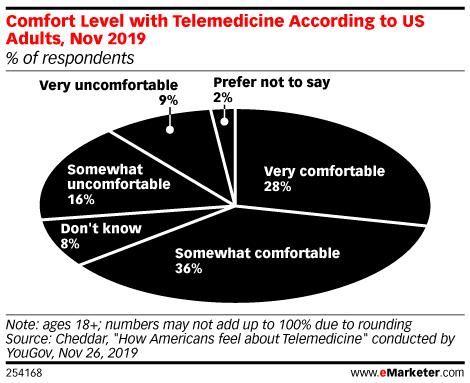 Coronavirus-Related Visits
There are many people who can benefit greatly from telehealth services during COVID-19.
According to the Kaiser Family Foundation, this includes:
Patients who may have no symptoms of COVID-19, but have been in contact with an infected person and may want to be evaluated
Patients who are infected with a mild case of COVID-19 and require a further checkup
Patients who are suffering from severe symptoms of COVID-19 and need a consultation with a specialist doctor in a remote location
Providers who are quarantined due to COVID-19, so they can continue to see patients from their home with virtual visits
Many hospitals are instructing patients who have suspected coronavirus symptoms to look to telehealth services first before going to the emergency room. This is also in line with the CDC's advice, which recommends all patients with mild cases of COVID-19 call their doctors before going for in-person care.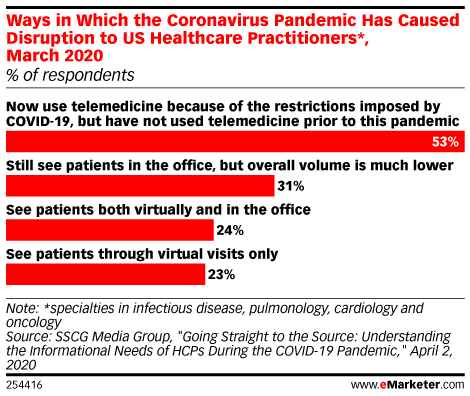 According to Dr. Bob Murry, the chief medical information officer at telehealth-platform provider NextGen Healthcare, "These virtual visits are literally a lifeline for the business or the practice, and then the real lifeline for the patients, because otherwise, those people would not be able to be seen."
Even the US Centers for Medicare & Medicaid Services has looked to telehealth services. In mid-March, it was announced that they were expanding "telehealth services for Medicare beneficiaries" and that they were mitigating "HIPAA enforcement."
Visits From High-Risk Patients
High-risk individuals who require routine in-person medical checkups and are unable to receive these checkups due to COVID-19 restrictions and fear of being exposed to coronavirus are also looking to telehealth services as a viable alternative. With the mix of virtual and in-person visits it will also provide better care for patients.
Bringing Telehealth Services Directly to Your Employees
CoreHealth has been supporting virtual business practices for far longer than COVID-19 has been keeping us inside. Our coaching platform has an embedded, secure video connection that makes it possible for participants to interact with their coaches completely privately. However, video is not just for coaching! We can support health systems as their practices necessarily shift to virtual appointments, support mental health providers with a new modality to interact with patients, or virtually anyone who wants to be able to see and speak to a participant completely securely.
There's no denying that the global coronavirus pandemic is transforming the way we see and use telehealth services. Even health providers who previously didn't offer telehealth services are now implementing the technology so they can maintain patient-care standards and keep their businesses running.
While telehealth services should not be compared to in-person checkups, virtual care services can be extremely useful for screening and triage as well as monitoring and managing symptoms. The rising popularity of telehealth services goes to show that telemedicine and telehealth options are going to be a large part of the future of healthcare.
If you're interested in equipping your organization with telehealth services, virtual business or secure video connection through our coaching platform, contact us today.
About CoreHealth Technologies
CoreHealth Technologies Inc. is a total well-being technology company trusted by global providers to power their health and wellness programs. Our wellness portals help maximize health, engagement and productivity for 3+ million employees worldwide. We believe people are the driving force of organizations and supporting them to make behavior changes to improve employee health is in everyone's best interest. With the most flexibility, customizations and integrations of any software in its class, CoreHealth's all-in-one wellness platform helps grow great wellness companies. Simple to sophisticated, based on you. For more information, visit the CoreHealth website or YouTube Channel.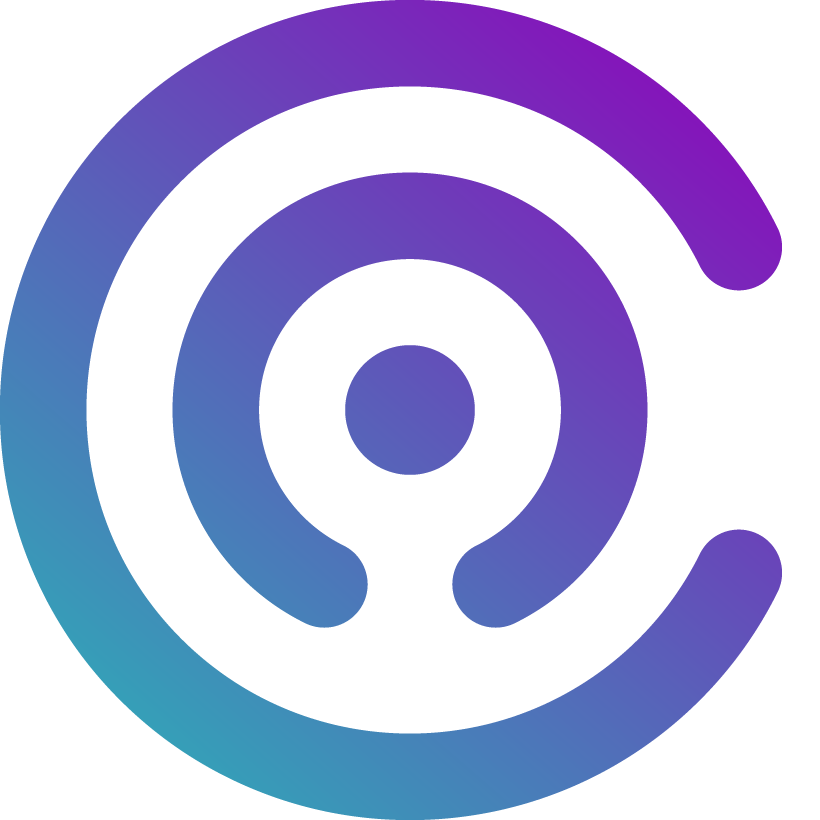 About The Author
Your Friends in Health at CoreHealth
CoreHealth by Carebook's Health and Wellness Team works hard to bring our readers informative and research validate health and well-being blog articles and resources that support your workplace wellness culture and wellness technology purchase decision.