Growing Healthy Employees in the Right Corporate Culture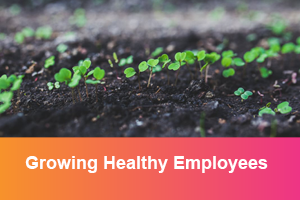 Access Information is the second largest privately-held records and information management company in the world. They are recognized as one of the fastest growing and most dynamic companies in the industry. Their mission is clear: to advance how the world manages information with the very best service.
NURTURING A CULTURE OF HEALTH AND COLLABORATION
Running one of the largest records operations can prove to have its own challenges but pairing this with the very best service team in the industry comes across as quite the feat. The company of over 1,100 employees has always stood apart by being positively different with a fun, caring and collaborative company culture. They recognize each employee can be empowered to make a difference and encourages entrepreneurial and family oriented values. When Access Information decided to focus on a new wellness initiative they knew they had the right foundation to grow a sustainable wellness culture.
GROWING A CULTURE OF WELLNESS
More and more employers are realizing that for their corporate culture to be truly supportive of their employees it needs to help them adopt and maintain a healthy way of living. Access Information knew they could use the opportunity of their unique culture and core values to successfully build a wellness culture that would support their employees on the road to achieving a higher level of wellness. Read the full case study and learn how CoreHealth's corporate wellness solution was able to meet all of their needs.
EXPANDING ON TOTAL WELL-BEING
Managing health in the workplace has historically been a reactive industry focusing on disease management, that mainly provides a quick fix – a pill for every ill. Now we are starting to see a shift in that mindset as the health and wellness industry has evolved to learn that the fundamentals of healthy living are realized through behavior changes. In order to maintain a higher level of well-being for the long-term, people are realizing that a short-lived diet or workout won't cut it. Habits and behaviours need to change in order to truly commit to a healthier lifestyle.
Access Information was already one step ahead of the game mainly because they
understood that a healthy corporate culture cannot be created simply by investing in a wellness provider. It's through the culture of a company, in this case one of positivity and praise, that a culture of health and wellness can grow.
SHIFTING THE MINDSET OF WELLNESS
Access Information wanted their employees to get behind the wellness initiative and feel a level of authenticity and responsibility. They utilized their supportive and inclusive culture to focus on activity based challenges built around healthy activities. The top priority was to create their own custom wellness challenges that both onsite and remote employees could access and engage with each other to realize healthy living.
HARVESTING THE POSITIVE OUTCOMES
Indeed, employees encouraged their peers and shared their tips and tricks throughout the wellness challenges. Healthy competition even led to a network of wellness champions evolving to help motivate their co-workers in challenges both in and out of the office, across the country.
They also benefited from the following:
Increased Activity and Improved Health – overall feedback was resoundingly positive and the reports have shown progression in terms of physical activity and overall health.
Improved Communication – being able to clearly track results with real-time reporting, they could see the effectiveness of their programs and what their employees responded to best.
Innovators of Wellness – with improved communication, they had better insight into the effectiveness of each program. With better visibility they could further improve their programs.
WANT TO LEARN MORE?
CoreHealth corporate wellness solutions help wellness companies, insurers and their wellness divisions, health coaching companies, employee assistance providers, group benefits brokers and human resources consulting firms find their competitive advantage. We can help you find yours.
ABOUT COREHEALTH TECHNOLOGIES
CoreHealth Technologies Inc. is the leading corporate wellness platform trusted by more than 1000 organizations, ranging from medium-sized businesses to Fortune 500 enterprises. At CoreHealth, we believe that developing the best employee wellness programs is all about giving wellness companies the right code, design and access to the latest innovations. With the most customization, integrations and reliability of any software in its class, CoreHealth's powerful platform lets users focus on growing great companies. For more information, explore the CoreHealth website.
About The Author
CoreHealth Marketing
CoreHealth Technologies Inc. is a total well-being technology company trusted by global providers to power their health and wellness programs. Our wellness portals help maximize health, engagement, and productivity for 3+ million employees worldwide.