Corporate Health Coaching - Does it Work?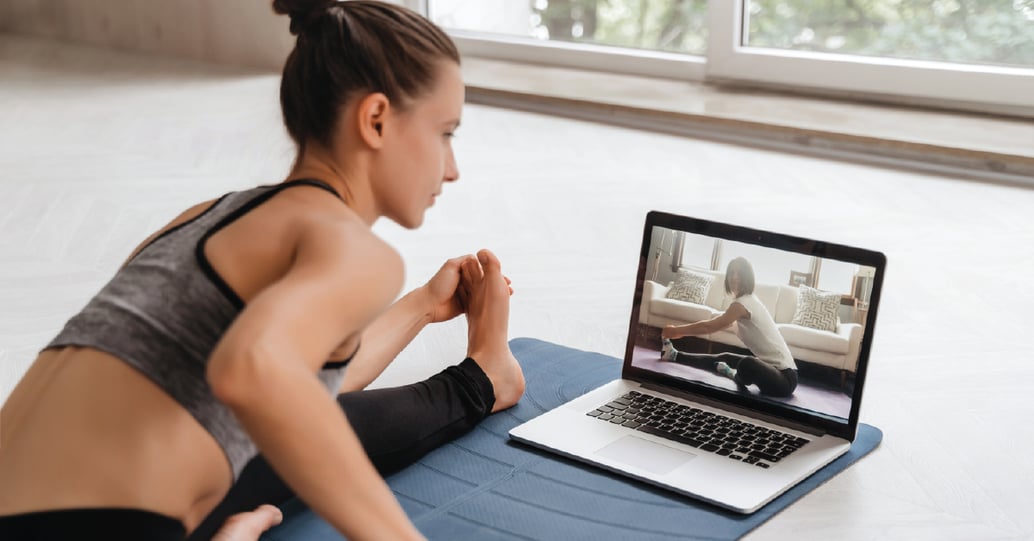 Online health coaching has become increasingly popular with employers. But what is online health coaching? Why offer it? Does it actually work? We answer these questions and more here.
Health coaching has been a common component of worksite wellness programs in North America, Australia, and the UK for several years. Online health coaching has growing in popularity and here's why.
What is Online Health Coaching?
The term 'health coaching' has a variety of meanings, but usually it refers to one-on-one or group meetings of individuals with a certified health expert. This expert, or coach, helps the individual or group achieve specific or general health outcomes. Common topics for specific health coaching include diabetes management, weight loss, and stress reduction.
One of the latest developments in health coaching is online coaching. Similar to in-person health coaching in most ways, online health coaching is done from a distance: over the phone, via email, messaging, video conferencing, etc. These virtual meetings are sometimes the best option for busy employees, especially those who are serious about improving their health but don't have the flexibility in their schedule to get to another location for meetings.
Health coaching has been a common component of worksite wellness programs in North America, Australia, and the UK for several years. More recently, online health coaching has become increasingly popular.
Why Offer Health Coaching at Work?
Health care costs are rising – and fast. According to a 2016 study by Kaiser Employer Health Benefits report, the average cost of a family health insurance plan rose faster than wages and inflation – up 3.4% to over $18,000. That's the steepest increase in over 30 years.
Additionally, in 2015 the CDC reported $225 billion in losses due to employee absenteeism. This doesn't account for presenteeism, a phenomenon that happens when employees have low performance due to illness or stress at work, resulting in even more lost revenue.
Billions of dollars are lost from the economy due to employee absenteeism and presenteeism. Health coaching helps to combat this by cultivating and encouraging positive health choices.
What can employers do to offset this negative health culture? One solution is health coaching. Offering health or wellness coaching to employees can increase morale, decrease burnout, and improve employee productivity. So the reason more and more companies hire workplace health coaches is because of the chance that it will improve the bottom line. Research shows that workers perform better when they are healthier and feel that their employer cares about them. The idea is that health coaching will, with any luck, lead to healthier, and happier, employees.
That brings up the obvious question: does health coaching work?
Does Health Coaching Work?
There is mixed evidence about the effectiveness of health coaching. A literature review of 43 studies on the effectiveness of health coaching found that 84% of the studies reported improved health outcomes in employees who regularly worked with health coaches. Health markers such as cholesterol, blood pressure, blood sugar control and weight loss can be improved with coaching, but improvements cannot not be guaranteed.
However, there is still evidence in support of health coaching. Let's look at an example involving one of the most common – and expensive – chronic diseases: diabetes. In a study by the Joslin Diabetes Center, health coaching helped participants have an average 2.0-point drop on HbA1c in three months. When combined with a worksite wellness platform, the numbers dropped even lower - to 3.2 in three months on average. In comparison, those who did not participate in diabetes health coaching and instead did a year of insulin therapy and occasional doctor visits, saw a 0.5 – 1.0 average drop.
Health coaching helped diabetes participants have an average 2.0-point drop.
Online Health Coaching Removes Obstacles
Like most approaches to health improvement, there are no guarantees that health coaching will suddenly and dramatically improve employee wellness. However, if an employer is willing to give it a try, the next obstacle they may face is the fact that coaching can take precious time from productive work hours. That's where online coaching comes in. Instead of requiring employees to leave the office during working hours, online health coaching allows employees to work with a coach from the convenience of their office or home.
This simpler, faster approach increases the likelihood of employees to actually work with a coach (since it's easier) and makes it faster to do so (no travel time required). Making it easier for employees to participate in health coaching makes coaching itself more effective – coaching won't work if no one uses it!
Online health coaching can also be less expensive than in-person coaching.
The Benefits of Health Coaching for Wellness Providers
As a wellness provider, the first thing you should know about health coaching is that it is expensive. In fact, it can be the single most expensive part of a large, multi-faceted worksite wellness program. Workplace health coaching can be a great benefit to add to an existing, larger worksite wellness program, and in many cases, it's an additional tool that will help employees feel valued and cared for.
However, having one-on-one time with a healthcare provider comes at a steep price. Online health coaching can help reduce these costs. Instead of having a professional come into the workplace, hire a remote coach to work with only the highest-risk employees through video conferencing. This way you'll get the most bang for your buck by limiting the amount of coaching to only the most impactful cases.
With wellness technology it can be easy to provide health coaches with the tools they need to create and manage programs and communicate with participants. With the right corporate wellness technology, health coaches can:
Develop renewable online coaching programs
Schedule coaching appointments
Share lab results and action plans through screen sharing
Communicate in real time using video chat conferencing to encourage and educate
Create custom education campaigns and self-learning programs
and much much more!
When used as part of an effective, overall wellness program, health coaching can make a positive difference in the health and wellbeing of your employees. However, wellness providers have to be careful to ensure that they are using coaching wisely: in just the right amounts, and just with those who truly need and want it.
Watch How CoreHealth Does Coaching
CoreHealth's wellness platform gives you lots of flexible options to deliver health coaching. Watch how.
Learn How Wellness Technology Can Help Your Coaching Program
The CoreHealth corporate wellness platform enables wellness companies to create custom education campaigns, self-learning programs plus online group, digital, one-on-one/telephone coaching programs. Or, if you want to use a third-party health coaching company instead, we have several providers available on our wellness network or use your preferred coach. We can integrate with the provider and have it all seamlessly accessible from within the platform.
About CoreHealth Technologies
CoreHealth Technologies Inc. is the leading corporate wellness platform trusted by more than 1000 organizations, ranging from medium-sized businesses to Fortune 500 enterprises. At CoreHealth, we believe that developing the best employee wellness programs is all about giving wellness companies the right code, design and access to the latest innovations. With the most customization, integrations and reliability of any software in its class, CoreHealth's powerful platform lets users focus on growing great companies. For more information, explore the CoreHealth website.