CoreHealth Technologies - 50 Fastest Growing Tech Companies 2016
Jan 4, 2017
Corporate wellness technology company CoreHealth Technologies recognized for fast growth and for its unique business model that focuses exclusively on software - not wellness services.
The Silicon Review magazine selected CoreHealth Technologies as one of the 50 Fastest Growing Tech companies for 2016 in their December 2016 issue.
The Silicon Review, published from Silicon Valley, California, is a business and technology magazine that is distributed to 70,000 senior leaders and decision makers in the global IT community.
MESSAGE FROM COREHEALTH'S CEO & HEALTH REVOLUTIONARY
CoreHealth CEO and Health Revolutionary Anne Marie Kirby says "We are excited to be acknowledged as a fast growing tech leader. We are pleased that leading wellness providers around the globe choose our technology to power the wellness programs for their clients. We have invested a lot of time and resources in ensuring that our corporate wellness platform can be easily branded and tailored to meet most any customer requirement while ensuring the user experience is fun, engaging and insightful. As a technology company only, we are laser focused on giving providers the tools they need to do what they do best - deliver the best wellness programs possible."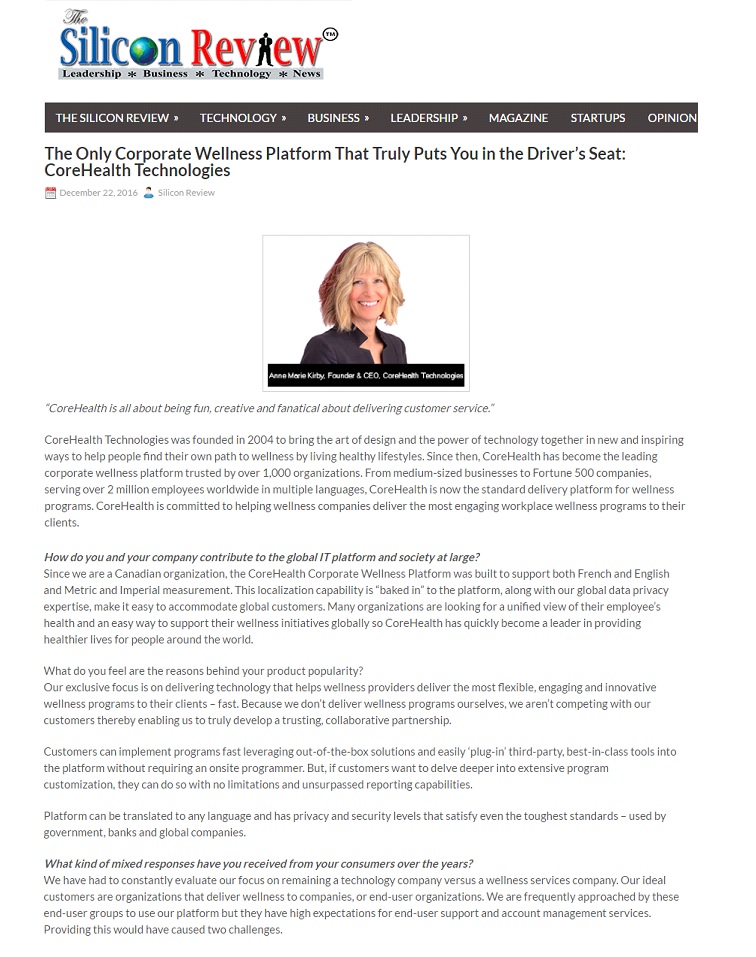 ALSO READ THE ARTICLE ONLINE
The Only Corporate Wellness Platform That Truly Puts You in the Driver's Seat
ABOUT COREHEALTH TECHNOLOGIES
CoreHealth Technologies Inc. is the leading corporate wellness platform trusted by more than 1000 organizations, ranging from medium-sized businesses to Fortune 500 enterprises. At CoreHealth, we believe that developing the best employee wellness programs is all about giving wellness companies the right code, design and access to the latest innovations. With the most customization, integrations and reliability of any software in its class, CoreHealth's powerful platform lets users focus on growing great companies. For more information, explore the CoreHealth website.