CoreHealth Technologies Ranks on 2019 Growth 500
Sep 12, 2019
CoreHealth Ranks 420 on 2019 Growth 500 of Canada's Fastest-Growing Companies - the authoritative ranking of Canada's top 500 private and public companies by five-year revenue growth. #Growth500
For the third year, Canadian-based total well-being technology company CoreHealth Technologies is recognized for its continued revenue growth and commitment to employee satisfaction, ongoing innovation and providing exemplary service to global customers.
CoreHealth Ranks No. 420
On September 12, 2019 Canadian Business and Maclean's ranked CoreHealth Technologies No. 420 (up from 448 in 2018) on the annual 2019 Growth 500, the definitive ranking of Canada's Fastest-Growing Companies. Produced by Canada's premier business and current affairs media brands, the Growth 500 ranks Canadian businesses on five-year revenue growth. Growth 500 winners are profiled in a special print issue of Canadian Business published with Maclean's magazine and online at CanadianBusiness.com and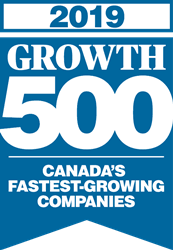 Growth500.ca.
CoreHealth made the 2019 Growth 500 list with five-year revenue growth of 141%. This is the third consecutive year CoreHealth ranked on Growth 500 (also see 2017 Profit 500).
#Growth500
"The companies on the 2019 Growth 500 are truly remarkable. Demonstrating foresight, innovation and smart management, their stories serve as a primer for how to build a successful entrepreneurial business today," says Beth Fraser, Growth 500 program manager. "As we celebrate over 30 years of the Canada's Fastest-Growing Companies program, it's encouraging to see that entrepreneurship is healthier than ever in this country."
"CoreHealth is thrilled to be on the Growth 500 ranking for the third year in a row," says CEO Anne Marie Kirby. "We continuously strive to evolve our total well-being technology and assist our customers (who are leading wellness providers) Inspire program participants, Ignite their wellness programs and Revolutionize their business. We are proudly Canadian and honored to support customers located around the world who are committed to helping people improve their health and well-being."
About the Growth 500
For over 30 years, the Growth 500 has been Canada's most respectable and influential ranking
of entrepreneurial achievement. Ranking Canada's Fastest-Growing Companies by five-year
revenue growth, the Growth 500 profiles the country's most successful growing businesses. The
Growth 500 is produced by Canadian Business. Winners are profiled in a special Growth 500
print issue of Canadian Business (packaged with the October issue of Maclean's magazine) and
online at Growth500.ca and CanadianBusiness.com. For more information on the ranking, visit
Growth500.ca.
About CoreHealth Technologies
CoreHealth Technologies Inc. is a total well-being technology company trusted by global providers to power their health and wellness programs. Our wellness portals help maximize health, engagement and productivity for 3+ million employees worldwide. We believe people are the driving force of organizations and supporting them to make behavior changes to improve employee health is in everyone's best interest. With the most flexibility, customizations and integrations of any software in its class, CoreHealth's all-in-one wellness platform helps grow great wellness companies. Simple to sophisticated, based on you. For more information, visit the CoreHealth website or YouTube Channel.
Media Contact
CoreHealth Technologies
Anne Marie Kirby, CEO & Founder
AnneMarie.Kirby@corehealth.global
1-866-396-2673, ext. 101