CoreHealth Named Most Outstanding Corporate Wellness Platform
Nov 28, 2016
Leading corporate wellness technology provider CoreHealth Technologies recognized by Corporate Livewire Emerging Technology Awards which recognizes innovation and technology breakthroughs.
CoreHealth has been awarded the 2016 EmTech Award for Most Outstanding Corporate Wellness Platform by Corporate LiveWire, a UK-based publication.
Leading Corporate Wellness Solution
This is the second award CoreHealth has received for their leading corporate wellness solution. The first received by CV Magazine – 2016 Technology Innovator Awards recognized as the Best Corporate Wellness Platform.
CoreHealth is the #1 all-in-one corporate wellness platform for more than 2 million employees worldwide.
CoreHealth brings all corporate wellness programs into one place. Health assessments, biometric management, education, challenges, self-help programs, coach facilitation, incentives, surveys, conversations — and more.
CoreHealth Platform - A Wellness Company's Secret Sauce
Organizations trust CoreHealth because we provide the technology only and leave the health and wellness programs to the wellness experts — making sure that every wellness provider's ideas and innovations are safe, secure and protected.
This article was originally published by EmTech.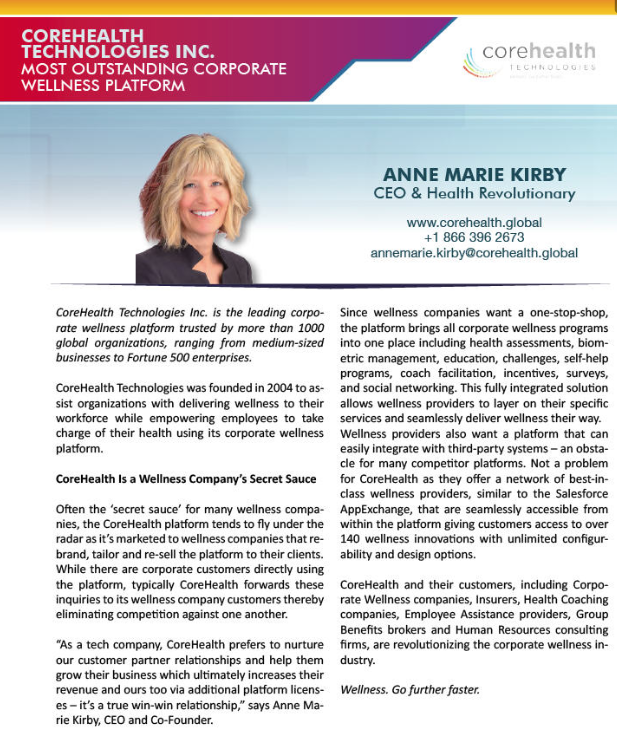 HELPING WELLNESS PROVIDERS BE ROCKSTARS
Our goal is to help wellness providers deliver the most innovative, engaging and helpful wellness programs to their client's workforces around the world. These wellness providers include: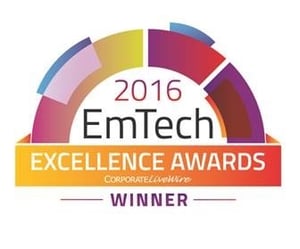 Insurers and their wellness divisions
Health Coaching companies
AWARD SELECTION PROCESS
The Corporate LiveWire Emerging Technology Awards recognize innovation and technology breakthroughs in the year. Over the last 12 months the judging panel at Corporate LiveWire have closely monitored the rapid growth of the Emerging Technology sector, and the guide showcases businesses that have proven themselves to be particularly commendable over the course of the year. Winners were nominated and underwent a rigorous selection process.

Corporate LiveWire looked for companies that displayed innovation, creativity, vision, and a willingness to take risks, and take great pride in sharing their accomplishments with the world.

View a full list of winners.
LOOKING FOR AN AWARD-WINNING CORPORATE WELLNESS SOLUTION?
We would love to learn more about your organization and needs to determine if we can be your partner in wellness.
ABOUT COREHEALTH TECHNOLOGIES
CoreHealth Technologies Inc. is a leading all-in-one corporate wellness platform trusted by wellness providers to power their health and wellbeing programs for 3+ million employees worldwide. At CoreHealth, we believe that developing the best employee wellness programs is all about giving providers the right code, design and access to best-in-class innovations. With the most customization, integrations and reliability of any software in its class, CoreHealth's powerful platform lets users focus on growing great wellness companies. For more information, visit the CoreHealth website or visit our YouTube Channel.