Anne Marie Kirby Makes Top 50 Healthcare Technology CEOs of 2019
Oct 31, 2019
Anne Marie suffered from an immune system disorder that sparked action and inspired CoreHealth's start and evolution to one of the world's leading total well-being technology partners Powering Up Preventive Health and Wellness.
CoreHealth's CEO and Co-Founder Anne Marie Kirby continues to be recognized for her "one-track mind" and relentless vision to make preventive health a priority for workforces and people everywhere. Anne Marie is pleased to be recognized alongside 49 other Top HealthCare Technology CEOs by Technology Innovators Magazine.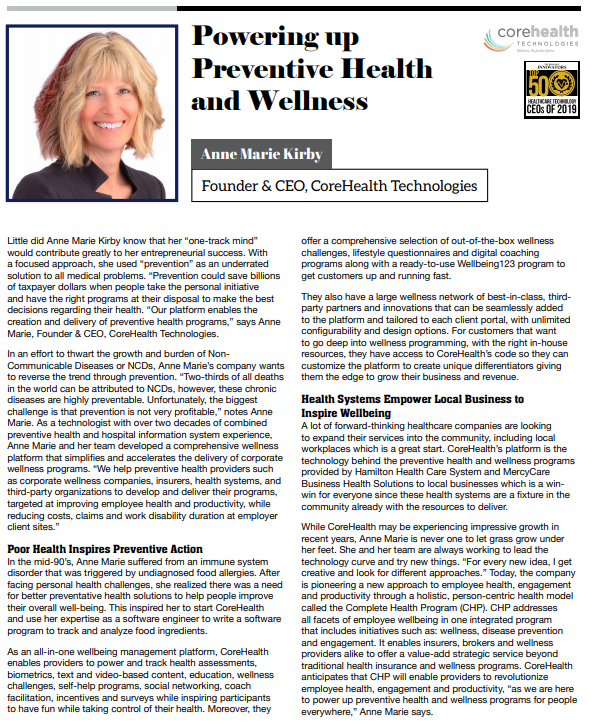 Thanks to Technology Innovators Magazine for recognizing Anne Marie Kirby in healthcare, technology and beyond.
Interested in other CoreHealth news?
Read News About Our Customers, News About Other Awards & Accolades and all our Press and News.
Questions About This Article?
Contact CoreHealth Technologies
Cindy Danielson, Marketing Director
Cindy.Danielson@corehealth.global
1-866-396-2673, ext. 108
About CoreHealth Technologies
CoreHealth Technologies Inc. is a total well-being technology company trusted by global providers to power their health and wellness programs. Our wellness portals help maximize health, engagement and productivity for 3+ million employees worldwide. We believe people are the driving force of organizations and supporting them to make behavior changes to improve employee health is in everyone's best interest. With the most flexibility, customizations and integrations of any software in its class, CoreHealth's all-in-one wellness platform helps grow great wellness companies. Simple to sophisticated, based on you. For more information, visit the CoreHealth website or YouTube Channel.
About Technology Innovators Magazine
In the modern era, the transformative power of technology is revolutionizing every aspect of businesses across industries. Companies are in fact adopting mega trends and digital strategies for dynamic problem solving and intelligent decision-making. Apart from leveraging new technologies, they are also developing capabilities that enable them to predict customer needs and continuously stay ahead of changing customer desires.
In such a scenario, organizations increasingly need the digital expertise to transform their business model to new levels of speed, agility, efficiency, and precision. Moreover, today, companies globally are desperately seeking to acquire the skill to understand their customer challenges, needs, behaviors, and experiences in real time. This is where Technology Innovators comes in. Based in Lemoore CA, they are a new age knowledge sharing platform that acts as a connecting link between the technology vendors and the buyers worldwide. They help companies by providing the right insight to select the right solution provider at the right time to optimize customer experience and enhance business outcomes.
Technology Innovators MAGAZINE serves an audience of more than 3.5 million readers spread across the globe, with the majority of the readership located in North America, Europe, MENA, APAC, & other countries.