National Wellness Institute Interviews Technology Founder Anne Marie Kirby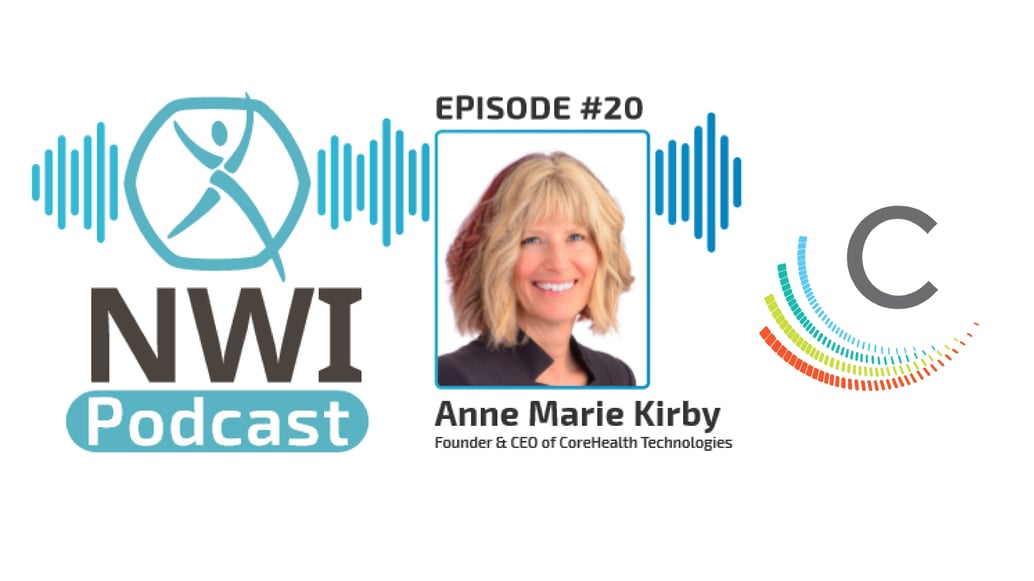 CoreHealth CEO Anne Marie Kirby was interviewed by Caroline Carlson from the National Wellness Institute on the latest developments in health and wellness innovation.
The Latest in Health and Wellness Innovations
The National Wellness Institute (NWI) provides health promotion and wellness professionals unparalleled resources and services that fuel professional and personal growth. Caroline's podcast is for wellness enthusiasts who want to amplify the quality of their lives in all six dimensions of wellness.
Listen to Podcast interview here!
Questions for Anne Marie

These questions were asked during the podcast. Listen to the hear Anne Marie's insightful responses:
Q: You've written a number of articles, all with such a different focus. Why is that?
Q: In order to succeed, wellness programs must have buy-in from a company's management. You have developed a tool that keeps executives informed and engaged in their internal wellness programs. What problem is that solving?
Q: What problem does Gamification solve?
Q: When it comes to gamification, what are the types of game players found in workplace wellness?
Q: How can the wellness "industry as a whole do a better job of catering to specific archetypes rather than a one-size-fits-all approach?"
Q: Is there a tie-in between gamification and wearables in engaging employees in wellness programs?
Q: There are those who say that wearables are just a passing fad. What will it take to keep them relevant and out of kitchen junk drawers
Q: What problem are you working on now?
Anne Marie answers these great questions and provides some invaluable insight into some exciting new changes with diabetes management, wellness management software and the future ahead.
Download Show Notes with Resource Links
During this podcast, several references were made. Please view the notes for a comprehensive list:
NWI_Podcast_Interview with Anne Marie Kirby_episode20_notes
CoreHealth Podcasts
In addition to being featured in reputable podcasts like this one, CoreHealth also produces a health podcast sharing information about health and wellness and interviewing inspiring people.
This interview and all CoreHealth podcasts are also available on iTunes.
Learn about Wellness Management Software
CoreHealth are leaders in the wellness technology space and would be happy to talk tech with you.
About CoreHealth Technologies
CoreHealth Technologies Inc. is the leading corporate wellness platform trusted by more than 1000 organizations, ranging from medium-sized businesses to Fortune 500 enterprises. At CoreHealth, we believe that developing the best employee wellness programs is all about giving wellness companies the right code, design and access to the latest innovations. With the most customization, integrations and reliability of any software in its class, CoreHealth's powerful platform lets users focus on growing great companies. For more information, contact CoreHealth or explore the CoreHealth website.